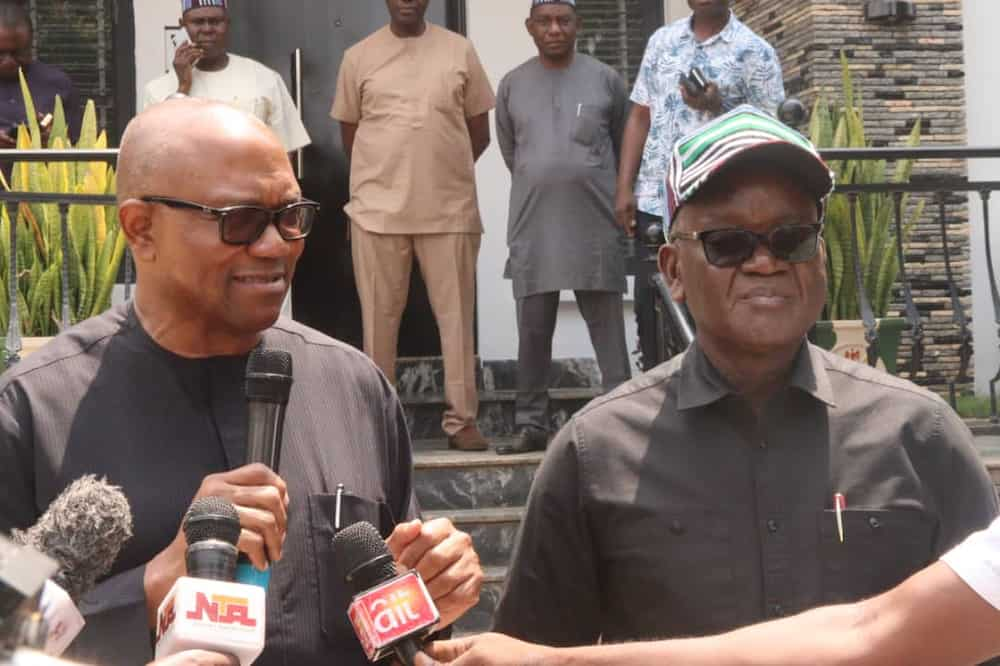 Samuel Ortom, governor of Benue, says he is ready to sacrifice his senatorial bid for the victory of Peter Obi, the presidential candidate of the Labour Party (LP).
Ortom, who is a member of the Peoples Democratic Party (PDP), is contesting for Benue north-west senatorial seat.
He is also part of a five-member group of PDP governors at loggerheads with the national leadership of the party.
Speaking to members of the Igbo community in Benue on Monday, Ortom said supporting the LP candidate ahead of the election is "an opportunity that should not be missed".
"For me, it's not even that I'm contesting an election. Yes, the form was bought for me by the people of Benue State. I've gone round, they have accepted that they will vote me," he said.
"But if I'm to sacrifice my senatorial ambition for Peter Obi to win, so shall it be. I know that if [any group of] people are connected in this world, they are the Igbo. This is the opportunity you have to say that an Igbo man from the South-East is president.
"So, let us not miss this opportunity that God himself is providing. The youth have told me, my own people have told me – stakeholders here, traditional rulers, party people across party lines. Obi's matter is not about APC or PDP or SDP or any other party. It's about Nigeria.
"That is why when I hear some prominent Igbo personalities castigating Peter Obi for contesting the election – is it not you people that have been saying you have been marginalised since after the war?
"The opportunity has come today and you're still complaining. What do you want?! What are you looking for?
"The whole country – north, south, east, and west are saying Peter Obi and you hear some people say 'We don't want it'. Haba! Those people should be outcasts."
This comes days after the Benue governor endorsed the presidential bid of Obi at a townhall meeting in Makurdi.
Ortom had cited the failure of the PDP and the ruling All Progressives Congress (APC) to cater to the welfare of Nigerians as his reason for supporting Obi.