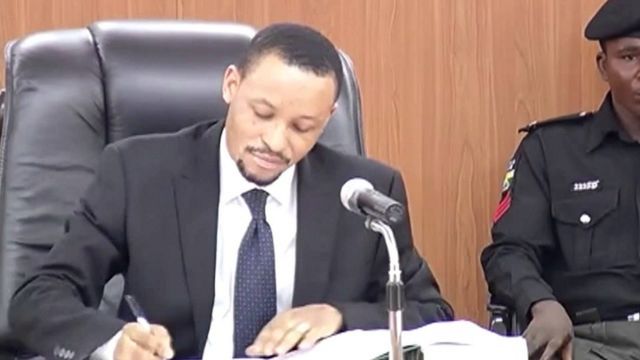 The Chairman of the Code of Conduct Tribunal, CCT, Justice Danladi
Yakubu
Umar and the man he allegedly assaulted, Clement Sagwark, have been summoned by the Senate Committee on Ethics, Privileges and Public Petitions on July 13.
The Senate intends to clarify withdrawal of petition against Umar by his alleged assault victim, Sagwark, a 22-year old employee of Reliable Guards Services Ltd.
The withdrawal of petition is presently submerged in controversy, due to claims and counterclaims by the petitioner, said the Chairman of the Committee, Senator Ayo Akinyerule, (PDP Ondo Central), in an interview with newsmen in his office.
He said the recent summons extended to Umar and his alleged victim was because of the withdrawal of the petitioner which was based on family advice.
The young Sagwark appeared on the African Independent Television, AIT, denying the fact that he had withdrawn from the case.
However the Chairman of the panel made the letter of withdrawal available to the newsmen. It was titled, 'Re: The petition of Mr. Clement Sagwark against the Brutal Assaults and Violent Attack by the Code of Conduct Tribunal Chairman, Danladi
Umar
'.
The letter, dated June 16 and addressed to the Chairman Senate Committee on Ethics, Privileges and Public Petitions read: 'I, Clement Sagwark, the petitioner in this matter, hereby discontinue and/or withdraw my petition wholly against Mr. Danladi Umar, the Honourable Chairman of the Code of Conduct Tribunal. Thank you. Yours faithfully, Clement Sagwark'.
Senator Akinyelure however noted that the petitioner must appear before the panel on July 13 to explain fully what was really happening. He said that the CCT Chairman was also expected to answer the summons in order to clarify the matter once and for all.
Recall that Justice Umar recently assaulted Sagwark at the popular Banez Plaza and his conduct sparked off a social media frenzy that his colleagues in the legal profession had to initiate a disciplinary process against him for what they termed his 'unbecoming conduct' which violates the rules of professional conduct for Legal Practitioners.
The Legal Practitioners Disciplinary Committee, LPDC, which was established by law to handle disciplinary cases involving the breach of professional conduct for lawyers called to the bar, was urged by their officers to commence the process and prosecute Umar for violating the sacred provisions of the rules of professional conduct.
They noted that Mr Umar 'is a legal practitioner duly called to the Nigerian bar with his name on the roll of lawyers kept at the Supreme Court' and the Chairman of CCT who 'presides over complaints bordering on acts of misconduct by civil and public servants.'
They added that by virtue of that position, Mr Umar 'is expected to exhibit a higher standard of conduct, civility, temperance and decency when conducting his affairs particularly with members of the public'.
The viral video clip which sparked public outrage showed Mr Umar, slapping and kicking Mr Sagwark because he was told to park his car properly in the premises of Banez Plaza, where the incident happened on March 29, 2021.