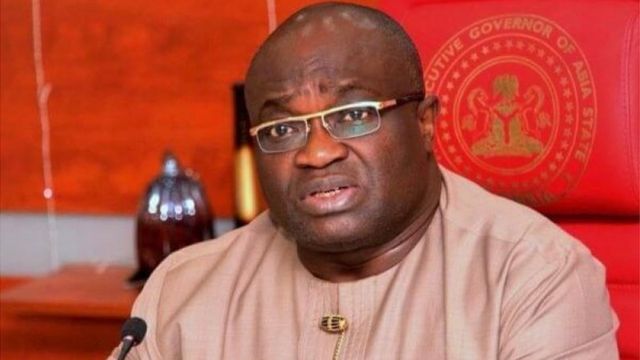 By Uche Amunike
Abia State Governor, Okezie
Ikpeazu
has warned the Chairman of the Aba South Local Government Area of the state, Hon Clinton Ebere and his female deputy, Princess Peace Nwobilo, over quarrels attributed to sexual harassment between the duo.
Nwobilo, in a three-page petition titled, 'Sexual Harassment and Abuse of Office Conduct' addressed to the Local Government Area stakeholders, alleged that the chairman had made attempts to sexually harass her on two occasions but that she escaped all his traps 'by the grace of God'.
She alleged that he first harrassed her on the eve of the Gubernatorial Primary Election in 2018, adding that he made the second attempt to rape her after they were sworn in, precisely on January 14, 2021 when he invited her over for a meeting at Trace Garden hotel, Brass Street, Aba.
On his part, the Chairman, Hon Clinton Ebere denied all the allegations, describing them as calculated falsehood.
He explained that a fact-finding panel was set up to investigate the allegations and they have cleared him on all counts, while promising to shed more light on his innocence at a later date.
His deputy on her part, insisted that a few days after their swearing-in, her boss, Hon Ebere, listed out a retinue of revenue opportunities in the Local Government Area, to her, telling her all she stood to gain if she worked harmoniously with him throughout their tenure.
She stated in her petition that she did not understand that 'working harmoniously' well with the Local Government Area boss actually meant that she should make herself available for a romantic relationship with him.
She claimed that on the said day, he invited her for an official meeting with some Local Government Area staff in January, she was surprised to discover that she was the only one present during the said meeting. When he made the romantic moves towards her on the supposed venue of the meeting she rejected all overtures, she claimed.
She maintained that her Christian faith and social-political beliefs helped in overcoming the alleged sexual advances of her boss which he tried achieving true financial overtures.
In her petition, she pleaded with the Aba South stakeholders to intervene in her alleged travails.
The Local Government Area Chairman insisted that her claims were shrouded in falsehood and blackmail.
Governor Ikpeazu, in a statement released by his Chief of Staff, Prof Anthony Agbazuere, reminded the Chairman and his Deputy that they were elected to provide democracy dividends to the people of Aba South and not to fan the embers of rancour and discord.
He cautioned both officials 'in their interest, to refrain from such dissension and begin to work together for the good of the people, except they were imploring the Councillors to review their commitment to service.
 'A word should be enough for the wise', the statement concluded.