His wet clothes frozen stiff and feet sinking into the deep snow, Mamadou allowed himself a shred of hope when he glimpsed a faint light in the distance.
Many hours earlier, he had set out for the border just as the sun was setting, trudging through thick woods near Plattsburgh, New York, towards Canada.
Temperatures plunged to -15C and a bitter wind whipped snow-laden tree branches into his face. Several times, he was forced to wade through rivers or lakes.
"I was so cold. I was soaked. I didn't think I was going to make it," said the 46-year-old, choking back tears as he recalled his ordeal earlier this month. "I didn't know where I was going – I had no map, no lamp, no light – nothing."
What he did know, he said, was that he had no other option. "Because I'm no longer safe in the United States, and in my country – I'm going to be killed."
In recent months, more than 1,000 asylum seekers have braved freezing temperatures, fields of waist-deep snow and icy rivers to cross into Canada from the US by foot.
Entering the country at remote, unguarded locations allows migrants – many of whom are anxiously fleeing Donald Trump's crackdown on immigrants – to skirt a longstanding pact that bars most refugee claimants in the US from applying for asylum in Canada.
Earlier this week, the Royal Canadian Mounted Police said they had intercepted 1,134 people entering the country irregularly in January and February. In all of 2016, police said, 2,464 people were intercepted.
Mamadou, whose full name is not being published for his protection, decided to cross into Canada after more than a decade of living legally in the US.
He had fled from the Ivory Coast in 2006 soon after rebels killed his father and burned down his family home.
American authorities denied his request for asylum, but a judge allowed him to stay in the country on the grounds that deportation would endanger his life. Mamadou found work – legally – as a taxi driver in New York: "I worked hard and paid taxes."
But when Trump was elected president of the US,Mamadou, a Muslim, wondered nervously what the news might mean for him. The answer came swiftly: in early March, immigration officials visited his apartment in the Bronx.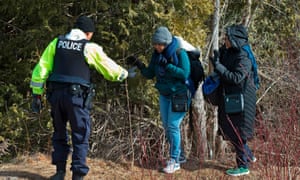 After their third visit – each time Mamadou was out working – he decided to seek refuge in Canada.
Days later he took a taxi to a border crossing near Plattsburgh, and explained his situation to Canadian immigration officials. They denied his asylum request, pointing to the Safe Third Country Agreement, which prohibits most people who have already sought asylum in the US from making a refugee claim in Canada.
But the agreement only applies at official border crossings; if refugees can slip into the country elsewhere along the 5,500-mile frontier, they are eligible to make a claim.
Mamadou felt he had no more options. As the sun set, he began making his way through the snowy woods, doing his best to stay warm as the temperature plummeted.
He was shuffling across a frozen river when he heard a loud crack and felt himself plunging into the frigid waters. "I started fighting for my life," he said. Eventually he managed to climb out. "All my clothes were sticking to my skin. They became ice."
About three hours after he first spotted light, he managed to make out the faint sound of a car. Gripped by cold and exhaustion, he made his way to a road.
"But I didn't know if it was Canada or the United States," he said. The clue was in a street sign that read arrêt – or "stop", in French. Relief overcame him as he realised this was the end of his nine-hour trek. Seconds later, he collapsed.
A police officer on patrol found him on the side of the road, clinging to life. As Mamadou lay unconscious, paramedics cut his frozen clothes and shoes off with scissors. Four hours later, he came to in a local hospital. He was still shivering and unable to speak, and his feet were swollen from frostbite.
Canadian authorities had handcuffed him to the hospital bed until they could confirm his identity and ensure he had no criminal record. "I spent six days in the hospital," he said. "There was pain everywhere in my body."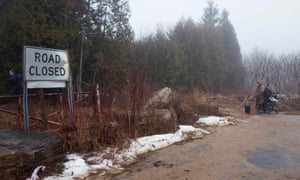 His ordeal hints at the extreme risks being taken by some to make an asylum claim in Canada, said Mamadou's lawyer, Éric Taillefer. "We found him," he said. "But what if there's someone we haven't found? I really hope we're not going to find a body in the spring."
For months, advocates on both sides of the border have been urging the Canadian government to suspend the Safe Third Country Agreement, arguing that doing so will allow asylum seekers in the US to simply apply at official border crossings rather than making hazardous journeys.
So far the Canadian government has said it has no plans to suspend the agreement.
If he hadn't applied first through proper channels and only crossed through the woods, he would now be eligible to make a refugee claim. Instead, he now faces deportation to the Ivory Coast, said Taillefer. His lawyers are pushing for him to be granted the right to stay in Canada on humanitarian grounds, hoping he might be the exception in a program with a success rate of around 3%.
Sitting in his room at a Canadian YMCA, Mamadou fought back tears as he weighed all he had gone through in hopes of finding the protection that had eluded him for much of his life.
"I'm asking the Canadian government to give me the opportunity to stay in this country where my life can be safe," he said, his voice shaking. "I want to contribute to Canada – I'm somebody that is hardworking, I'm not a criminal, I'm a good citizen."
Courtesy: THE GUARDIAN