Every day, as they hear the whine of the drones overhead, the Tuaiman family waits for Donald Trump to finish killing them.
The drones used to hover about once a week over al-Rawdah, the Yemeni village where the family lives, sending children running for cover.
Now, according to Meqdad Tuaiman, the drones come every day – sometimes three or four times. Usually they arrive in the afternoon. Other times they come after sundown and linger until sunrise.
The drones have not fired their weapons in four months, but their patrols have intensified since late January, when Trump took office. Meqdad, a 24-year-old used-car salesman and occasional pipeline guard, considers it no coincidence.
In October 2011, Meqdad's father, Saleh, and his 17-year-old brother Jalal were killed in a drone strike after they drove into the desert to find some missing camels. Another brother who was with them – Ezzaldeen, 14 – escaped the blast and hid until morning, when he found the two shattered bodies.
In 2014, the Guardian gave Meqdad's 13-year-old brother a camera to record his daily life. In January 2015, he too was killed in a drone strike.
US drone strikes in Yemen are a key part of the campaign against al-Qaida in the Arabian Peninsula (AQAP), but the Tuaiman family denies any links to terrorism and say the family has never received any explanation from either US authorities or their Yemeni government allies.
According to Meqdad, his brother Ezzaldeen has started to say: "They're going to kill me next."
Under the Trump administration, airstrikes have escalated dramatically in Iraq and Syria, sending claims of civilian casualties skyrocketing.
Airstrikes have also increased in Yemen, where the US campaign against Islamists has played out alongside a tangled civil war, which has already drawn in regional rivals Saudi Arabia and Iran.
The Trump administration is considering plans to deepen US involvement in the civil war, which pits Iranian-backed Houthi rebels against the Persian Gulf states who support the exiled president Abd-Rabbu Mansour Hadi.
The Tuaiman family feels pinioned between the two campaigns: its support for Hadi aligns them with the US – even as they fear being marked for death by US drone strikes.
In Washington, Obama was criticized from the right for being too risk-averse even as human rights monitors said his administration's guidance on avoiding civilian casualties was to lax.
And under Trump, the guidance is a dead letter, an administration official recently told the Guardian.
"Under Obama, Republicans constantly expressed concerns that White House micromanagement of how and where drones were deployed – and unrealistic rules of engagement for drone strikes – hampered US counterterrorism strategy. Even without formal guidance, Trump can reverse this by devolving strike authority to lower-level officials, and signal an acceptance for more strikes and thus more civilian casualties," said Micah Zenko, who studies counterterrorism at the Council on Foreign Relations.
Meqdad fears that Trump intends to make good on a promise he made in 2015: "When you get these terrorists, you have to take out their families."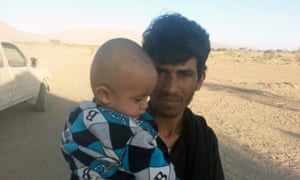 US officials deny plans to implement such a policy, which legal experts say would constitute a war crime. But with three dead relatives, Meqdad is disinclined to rule it out.
"Basically, we felt that [Trump has] no respect for human life. We felt very afraid", Meqdad said, in a telephone interview arranged by the human rights group Reprieve.
Meqdad said that if the US possesses any evidence against his family, "please bring it to court. We're ready to explain in any US court."
From the Tuaiman's Yemeni home to Iraq and Syria, the pace of US airstrikes has increased in recent weeks.
Central Command has denied relaxing any relevant rules of engagement. Yet it has acknowledged, a December devolution of decision-making that made it quicker for US military "advisers" fighting alongside Iraqi forces in Mosul to call in airstrikes.
"I think philosophically the president has made it very clear that he wants to give the commanders on the ground much more flexibility to execute their mission, especially when it comes to defeating Isis," White House press secretary Sean Spicer said on Monday.
US air force statistics show that since December, the US dropped vastly more bombs on Iraq and Syria than ever before in the two-and-a-half-year old war.
In January, US warplanes loosed 3,600 munitions, followed in February by another 3,440. (March statistics are not yet available.) That blew away the previous high-water mark for monthly weapons releases: 3,242 in November 2015.
The UK-based monitor group Airwars has said claims of civilian casualties caused by the US and its allies have risen so sharply that it lacks the resources to continue monitoring those alleged to have been caused by Russia, which the US had once criticized for indiscriminate bombing.
In March 2017 alone, Airwars has tracked allegations of nearly 1,000 civilians killed in Iraq and Syria attributed to the US-led coalition.
The Pentagon says it investigates credible claims of civilian deaths. But in Mosul, mass deaths apparently resulting from a 17 March US airstrike have caused international outcry and prompted the Iraqi government to pause its offensive.
A similar trend is at work in Yemen. As of Wednesday, Trump's 69th day in office, the US had conducted 37 drone strikes or raids beyond declared battlefields, at a rate of one strike every 1.8 days, said Zenko. Those strikes and raids have overwhelmingly focused on Yemen. The most recent came on Wednesday in Yemen's southern Abyan province.
Zenko found that Obama approved strikes every 5.4 days.
Late in the Obama administration, the Pentagon came to worry about the resilience of AQAP, a fear that has carried over into the Trump administration. Central Command told the Guardian in February that the Trump administration is considering designating Yemen a formal battlefield, which would lower the threshold for airstrikes and raids to a standard comparable to Iraq and Syria.
Yet Meqdad told the Guardian that al-Qaida capitalizes on the drone strikes in direct ways.
"Al-Qaida always tries to contact family members, neighbors and friends after each strike", said Meqdad.
"When our own government doesn't protect us, when we feel they're irresponsible, or putting the relationship with the US ahead of protecting their own citizens, then the message of al-Qaida starts resonating. We're simple local people and al-Qaida is trying to exploit these incidents. It's easy."
US Central Command and the CIA declined comment on the Tuaimans' case. A Pentagon spokesman said that Yemen not yet been designated a formal battlefield.
"Day-to-day US operations in Yemen are authorized by the commander, US Central Command, based on authorities granted by the president and secretary of defense," said Christopher Sherwood, the spokesman.
Kate Higham, who runs Reprieve's assassinations project, said it was a "grave injustice" for Yemeni civilians like the Tuaimans to live in fear of drone strikes.
"This family, and many more across the Middle East, are terrified by President Trump's mounting civilian casualties and worry that they will be next in line for assassination. President Trump must urgently review the entire targeting program and investigate the huge numbers of civilian deaths caused so far," Higham said.
Meqdad fears neither al-Qaida nor the US is done with his family. With three dead blood relatives, has no answers, only questions and foreboding.
"When Mohammed was killed in 2015, the whole family realized it's not a random incident – the whole family might be targeted," he said.
"We might be accused of something that no one officially charged us with. Right now, I'm asking everyone in America: give us the reason for killing our family."
Courtesy: THE GUARDIAN