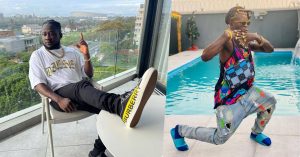 Popular music promoter Kogbagidi, drops shade on how it is unadvisable to wrestle with a pig as it would only bring dirt.
This comes following the heated exchange between the promoter and a fast-rising singer, Portable, who claimed to be ripped off by him.
Taking to Instagram to share a photo of himself, Kogbagidi emphasized being born in the dirt is a stain that may be impossible to wipe off.
"You don't wrestle with a pig in the mud. You both get dirty but the pig likes it 👌. If you are born in the mud. You are gonna be dirty and people don't understand that.
Not only do we live among Stars.
Not only do we make Stars.
Stars live within us ✌🏿✌🏿
2022 CODE OF HONOR
Ejeh Kogbagidi Noni," he wrote.