To follow Prof. Okey Ndibe on his powerful weekly exposés and other interesting political and entertainment news from Nigeria, click HERE to subscribe to the Life and Times newsletter…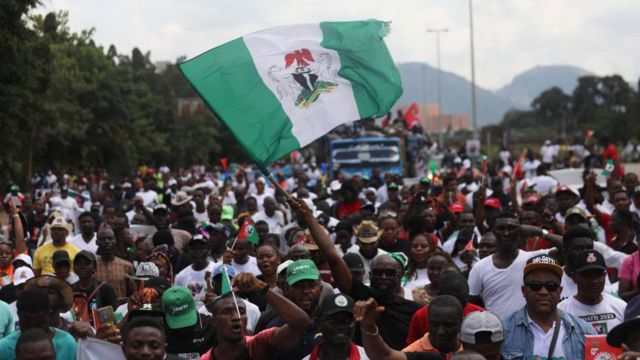 Here's one of the key takeaways from the first week of political campaigns in Nigeria: it's a chronicle of two campaigns.
On the one hand, there's the Labour Party campaign – or, more appropriately, the Peter Obi movement; on the other hand, we have the Peoples Democratic Party (PDP), the All Progressives Congress (APC) and sundry other parties.
In sum, Obi's supporters seemed to be the only ones with energy. They showed up, staging mini-carnivals in a number of cities, including Lagos, Jos, and Uyo. Their numbers were quite impressive, especially given the other contenders' near absence and stunning lack of animation.
It's as if, by the week, Obi's fans grow in confidence. At one point, I mistook them for a ragtag collection of rowdy partisans. I imagined them filled with an excess of youthful enthusiasm and innocence, bound to peter out in the course of a long, grueling political game.
I confess that they have confounded me and defied many a pundit's projections. It's still morning yet in the electoral season, to paraphrase the title of Chinua Achebe's first book of essays. In fact, Obi and his zestful acolytes have won no trophies. Indeed, if they may end up flaming out if they assume that the ease with which they fill the streets is a guarantee of victory in next year's elections.
As I suggested in a recent column, a solid, disciplined ground game is the best formula for victory. If Obi and his team are to translate his amazing edge in energy and enthusiasm into a winning performance, then they must begin now to recruit and embed like-minded loyalists at each polling booth.
It's one thing for youngsters to anoint Obi as the embodiment of their desire for a different, better-run Nigeria. But it's not enough to chant heady slogans at rallies or post "Obidient" photos and videos on social media. There's the messy business that takes place at polling booths. Are the youth willing to volunteer as party agents at these polling stations? Are they willing to resist the lure of cash that some other parties will offer? Do they realize that they're up against opponents with two and a half decades' worth of tricks for stealing votes? How are they to fend off the shenanigans of rogue security agents and electoral officials who throw elections for pay?
For sure, last week belonged to Obi, politically speaking. His two main opponents seemed flatfooted. The PDP's flag bearer, Atiku Abubakar, spent the week trying to put out fires within his own party, to little effect. Since securing the ticket in a battle royale decided by the amount of dollars doled out to delegates, Atiku has not been able to smooth the feathers of the runner-up, Governor Nyesom Wike of Rivers State.
Atiku cannot afford to call the governor's bluff. Wike has considerable cash and political leverage. If he withholds those two assets, he'll render Atiku's path to victory rather bleak. Both men know it. Wike knows too that, if their standoff stays unresolved, Atiku has more to lose.
The governor has parlayed that advantage into a high stake's maneuver, turning himself into a veritable beautiful bride. To his party, he's given a firm irreducible condition: to fire its national chairman, Iyorchia Ayu. He's accused Ayu of pocketing illicit cash and then tipping the scale in a way that boosted Atiku. Now, he wants to make the chairman pay. A surprisingly astute politician, he has found an altruistic cloak for his revenge plot. Invoking the PDP's constitution, he has contended that Ayu – being, like Atiku, from the northern part of Nigeria – must relinquish his post for a southerner.
As he awaits a definitive answer from Atiku, Wike has left himself open to being wooed by other parties' presidential candidates. He's flown to London twice for meetings with former Governor Ahmed Bola Tinubu, the APC's candidate. Last week, he hosted Obi in Port Harcourt.
Meanwhile, with the Wike insurgency unresolved, Atiku's campaign appeared all but inert. Improbably, the state of Tinubu's campaign was worse. In a weird move, the APC's candidate traveled to London. His timing – the same week campaigns officially took off – was awful. He had famously declared it his turn to rule Nigeria. Yet, just when he was expected to open his case, he skipped out of town.
His campaign tried their best to put a positive spin on his trip, but could not douse speculations that the man's health may be frailer than many suspected. No question, his absence dampened his supporters' mood. If he's going to be a serious contender, he must shake off the habit of escaping to London. President Muhammadu Buhari spent much of his first term in office on foreign trips for medical treatment. I doubt that Nigerians are in a hurry to elect another president whose primary burden would be his health woes.
For all the excitement generated by Obi's youth-led movement, neither his campaign nor his major opponents' took the trouble of sketching out an agenda for saving a tottering country. Unless that comes, all the hype about 2023 may be another wasted opportunity.
Okechukwu Ndibe, better known as Okey Ndibe, (born 1960) an acclaimed Nigerian novelist, political columnist and essayist  was born in Yola, Nigeria. He is the author of Arrows of Rain and Foreign Gods, Inc.
Ndibe has worked as a professor at several colleges, including Connecticut College, Bard College at Simon's Rock, Trinity College in Hartford, Connecticut, and Brown University.
We are honored that he brings his sharp intellectual depth and years of political activism to write for Life and Times.