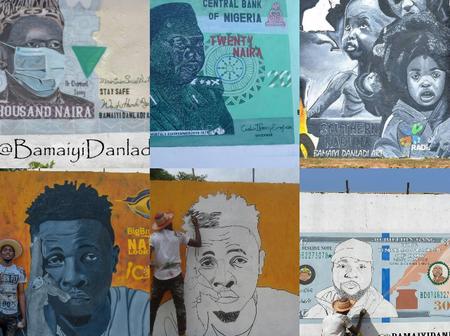 One of the coolest ways or professions to earn a living is by being an artist. The occupation of an artist is oftentimes underrated as many seem to forget that it has it unique benefits.
Some persons are of the opinion that the job of an artist doesn't have lots of potential and thus, do not pay much attention to the profits that could be gotten from such a profession.
In fact, an average Nigerian parents wouldn't want to willingly send their children to study Fine-Art in the university because for them it's an uncommon profession and waste of resources.
Meanwhile for those who would want to believe that it could rake in some form of income, do not hold strongly to the view that its advantages are bigger than its disadvantages especially because of the stress involved in becoming a very good and professional artist.
Furthermore, there are those who genuinely appreciate the work of art and aesthetics. Such persons who are mostly wealthy, have a knack and hobby of collecting great work of arts by renowned professional such as Michelangelo, Da Vinci etc.
Just recently, a Nigerian stunned Social media users with an awesome paiting of Davido and Laycon the winner if the just concluded BBnaija lockdown edition.
The painting was so unique and amazing that many who saw it, commented that once the 'Haven' crooner (Davido), sees the artwork, he would be rewarded with millions of naira.
Others Tweeted and wondered how he was able to pull off such art that looks so real. Meanwhile many just couldn't hide their accolades and acknowledgement of how talented an artist he was, as they continued to praise him online.
The artist who was Identified as Bamaiyi Danladi, was just a simple street artist who casually painted popular Nigerian singer, Davido, on the wall. He painted him as a photo-insignia on a currency. Danladi also drew the picture of BBNaija Lockdown winner, Laycon, the same way he did the 'A Better Time' crooner art. In his art of N1000 note, he made the photos on the currency wear nose masks.
As usual these paintings generated lots of reactions online from Nigerians especially. Here are few of the comments made by viewers;
– @T_kelvin5 said: "All these drawings, nah for pesin wall u dey draw am? E get why."
-@Ameen38324651 said: "As much as am not a fan of obo …. but da*n na this guy deserve that 2mill. The art has stirred massive reactions on Twitter.
– @AndPrecise said: "As lazy as I am the first frame don do for me. I am not drawing further."
-@MaTew87653399 said: "This one go soon collect 1m make Davido just see am."
-@Yechemania said: "Reason why I keep praying God bless me quick. Some talents juss needs huge platform to excel beyond what they av. If this is not talent I don't know what is. I pray you dominate the art market."
Hopefully, this raw talent of Danladi would be finally noticed by a genuine and well meaning organisation or philanthropist who would invest in him to enable him fulfil his dreams and soar his career to a higher and much profitable level.
Gift Joseph Okpakorese
Staff Writer