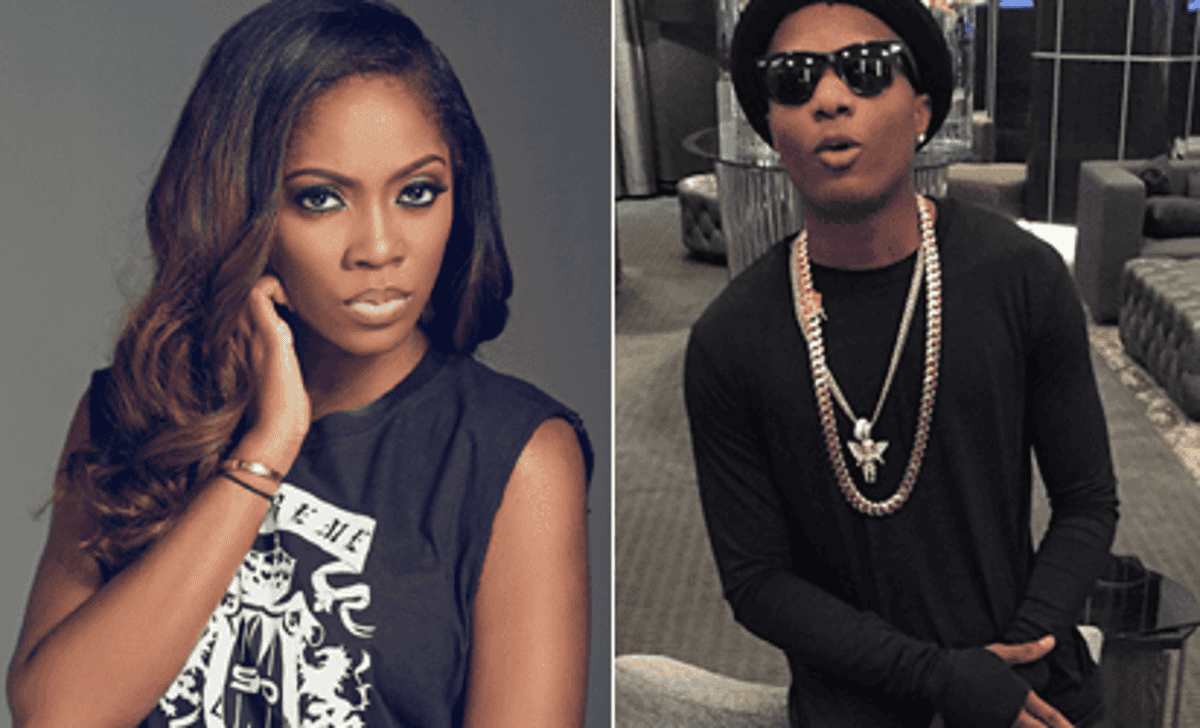 Wizkid the popular Nigerian musician and award winning contemporary singer and artiste, was obviously missing from the list, as Tiwa Savage took to her social media platforms to appreciate musicians who had been very supportive of her.
The 49-99 crooner, recently thanked celebrities who attended a listening party held to commemorate the release of her latest album "Celia', in Terse Post.
Fans attention was however drawn to the gifted singer's appreciation when she specifically mentioned Davido, DJ Spinall and Naira Marley, and described them as "men who support women". She also sent her regards to all who came out as well. People are just wondering what's going on? Especially, given her close relationship and friendship with Wizkid, as well as the connection between them which is evident in the numerous collaborative work they have done together in the past, with regards to music.
The two music stars, had consistently portrayed and inflamed controversies from fans and viewers for staging romantic displays at shows and events as well as openly expressing affection for each other, and leaving their fans and followers the burden of wondering, pondering, and insinuating what they are actually up to?
During a concert organized by Flytime, at the Eko Hotel titled "Everything Tiwa", she described Wizkid as someone very special to her.
"The last person am going to introduce is special to me" she said… it's not just any kind of relationship, it's a one- on- one relationship and I owe him and don't care what people say about us… I might be older but the older the berry the sweeter the juice she concluded.
In other News: Nollywood actor battling with kidney disease set to be ejected from hospital due to lack of funds.
A Nollywood veteran actor, James Uche who is in dire need of funds for kidney disease treatment is set to be evicted from the hospital due to lack of funds to continue treatment.
The actor is in need of ₦11 million naira to undergo a kidney transplant and an eye surgery abroad.
Reports claims that the veteran actor has been bedridden for the past few years, as a result of a kidney related ailment and only cried out recently, as a result of lack of funds.
His son, James Uche Junior recently begged Nigerians to come to the aid of his father with the necessary funds to complete his treatment and enable him travel for surgery.
The actor himself appealed to the goodwill of Nigerians in an Instagram video and said that, " I want to be alive please help me". Meanwhile his son appealed to the Abia State governor Okezie Ikpeazu, to assist his father financially.
He said in his appeal " living a happy life of contentment was our family's greatest plan until our father Prince James Uche took ill and everything turned upside down.
He continued, "Our lives and a that of our dad has been in the mercy of some good Samaritans who have assisted us all these while in paying dad's hospital bills, clothing us and making sure we feed twice or thrice a day but today, we are helpless because these Samaritans say they have also run out of funds and can no longer afford to continue to offer the assistance they once rendered to us especially with regards to dad's treatment".
"Its indeed a precarious situation for us, as we are now hopeless and helpless because the hospital which we live our lives with our dad are threatening to throw us out the son added.
The sick Uche, was once a former president of the Actors Guild of Nigeria (ACN).
Nigerians just recently raised ₦10 million for Leo Mezie, another Nollywood actor, who also required a kidney transplant to stay alive.
Gift Joseph Okpakorese
Staff Writer