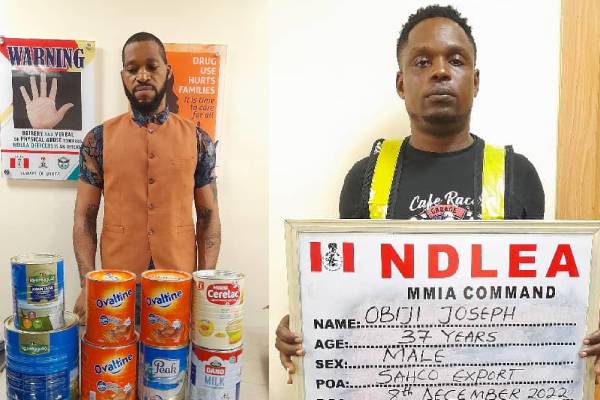 By Uche Amunike
The Nigerian Drug Law Enforcement Agency (NDLEA) has uncovered 11.5Kg of Cannabis concealed in a giant wooden statue in Lagos state, Friday, as the carrier was attempting to have it shipped into the United Kingdom, which according to records, is the final destination of the drug.
According to the NDLEA Spokesperson, Femi Babafemi, in a statement released, Sunday, the narcotics was discovered at a courier company in Lagos. He clarified also that it was imported from Ghana, but its destination was clearly specified to be London.
The statement also read that a certain Ogunsina Damilare was also arrested, January 6, as he attempted exporting 1.5Kg of drugs hidden in between foodstuffs being shipped to Dubai, UAE, through the SAHCO export shed of the Murtala Muhammed International Airport.
It partly read: 'While a similar attempt to ship 11.5kgs of the same substance to the United Kingdom was frustrated when the consignment concealed in a giant wooden sculpture was intercepted by NDLEA operatives of the Directorate of Operations and General Investigations (DOGI) at a courier company in Lagos. Curiously, the latter emanated from Ghana with London as the destination.'
Babafemi averred that numerous attempts by drug dealers to 'use various disingenuous modes of concealment to import consignments of illicit substances into Nigeria and export same to the United Kingdom, and United Arab Emirate through the Murtala Muhammed International Airport, MMIA, Ikeja and Tincan seaport in Lagos have been thwarted by operatives of the National Drug Law Enforcement Agency, NDLEA.'
He further stated that in recent times, 37.5 Kilograms of such illicit packages were intercepted by the anti-drug agency, even as arrests have been made of 11 suspects in Kano, Kaduna and  Lagos, adding that almost four tons of cannabis drugs were sieved during the operation in those states.
His words: 'At the Tincan port in Lagos, a shipment of 24.5kilogrammes cannabis indica to Nigeria from Montreal, Canada was intercepted by operatives while an N8 million bribe offered NDLEA officers by the importer has been secured in an account for the prosecution of the case,'  Babafemi said.
'While the importer, Cedrick Maduweke is still at large, one of his accomplices, Steve Isioma Adigwe has been arrested. The consignment was hidden in a used Toyota Sienna vehicle that arrived at the port along with three other cars in a container marked MSMU 5082733', stated Babafemi.
According to him, over 230kg of cannabis and 28,400 tablets were seized during raid operations in Lagos Island and Festac areas of the state. They also arrested some suspects. They are Pelumi Alejandro Banna Maina who are actually distributors of illicit drugs disguised as despatch riders, as well as Rukkayat Eshinlokin who is also a dealer.
The NDLEA arrested another suspect in Imo state, Amechi Moses,whose arrest took place during a follow- up operation, January 6, after 29,800 tablets of tranadol 225mg was intercepted in a commercial bus along the Onitsha-Owerri Road, as it headed to Aba in Abia state.