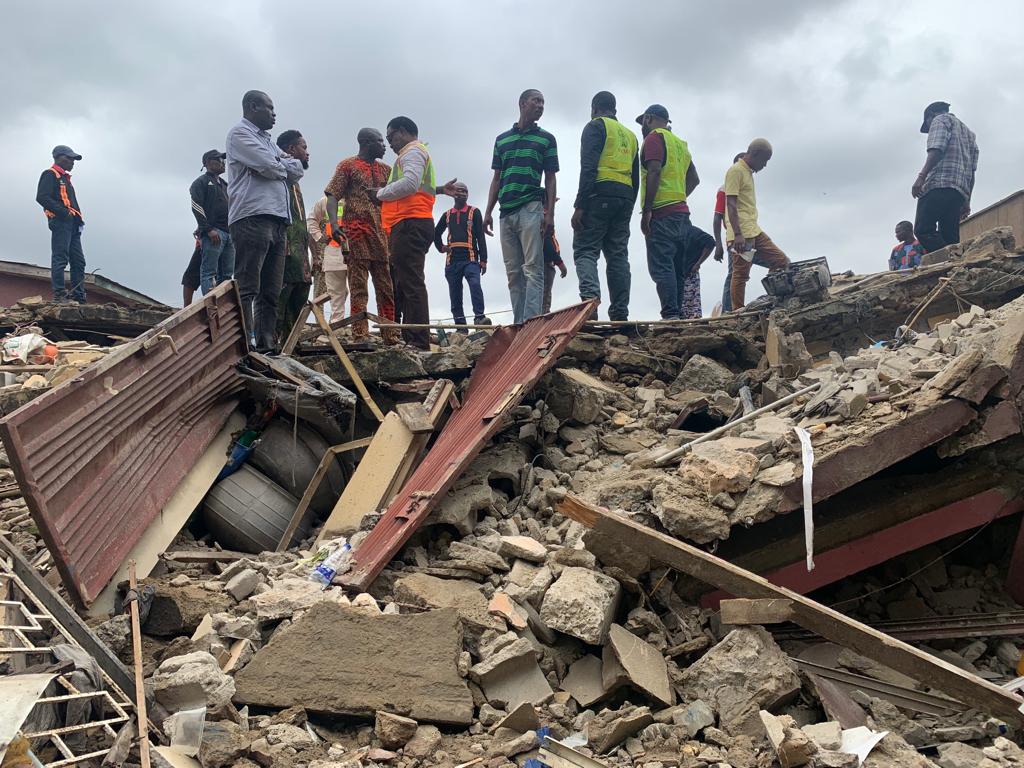 By Uche Amunike
Just about four weeks after an uncompleted 5-Storey hotel building collapsed at Awosika, in Ibadan North Local Government Area of Oyo state, another Ibadan building collapse had just been recorded, leaving no casualties in its trail.
According to some residents, there was a pharmacy, a church and a supermarket in the collapsed building. They confirmed that there was no life lost because the only occupants of the building, who is the security guard was rescued successfully.
One of the residents, Sade Aderibigbe explained that they were woken by 'a loud shaking noise' at midnight and were filled with fear as they assumed that it was armed robbers. However, on rushing to the scene of the crash, they realized that the building had already collapsed.
Goods and appliances were crushed under the fallen building, but caterpillars were brought in eventually to clear the debris with the hope of salvaging some of the goods and appliances.
Speaking to newsmen, another resident, Mr Tunde Abulesowo explained that the land on which the present Ibadan building collapse occurred, used to be a graveyard before the land was sold to the current owner.
Hear him: 'When the land was sold, the corpses in the cemetery were exhumed before the building was erected, the building was built during former Governor Akala's administration'.
'The building has been given a sign of crack before it later came down, millions of goods and property were trapped in the rubbles.'
'We are making efforts to salvage the goods and make sure hoodlums do not have access to it so that they won't cart them away. We have called the Police and NEMA, no life was lost and nobody was injured', he said.
The Coordinator, National Emergency Maintenance Agency, South West,  Saheed Akiode also confirmed to newsmen that no lives were lost, neither was anyone hurt in the Ibadan building collapse.
His words: 'We went there today and we heard that the building has been there for about 30 years. But nobody was there when it collapsed because it happened at around 2am.'
'The building is an office complex and efforts were being made to salvage some of the appliances and other valuables there. But we are happy that no life was lost and nobody was injured because nobody was there when it collapsed.'
Recall that not less than seven people who were feared dead were eventually rescued in another Ibadan building collapse that happened four weeks ago when a hotel crashed at the Bodija area of the town, at about 5.45am as Muslim faithful were returning from their morning prayers.
All seven of them were rescued by a combination of passers by and rescue teams of the State Fire Service and received Medicare at the University College Hospital, Ibadan.
Recently, a seven storey building also collapsed at Oniru street in the Lekki area of Lagos state, leaving six people dead, eventually leading to the resignation of the Lagos state Commissioner for Physical Planning and Development as the recurring cases of collapsed buildings became embarrassing .