Bianca Ojukwu has an impressivecredential. A former beauty queen, she's a daughter of the late C.C. Onoh (a maverick lawyer, businessman and politician)and wife to the deceased Biafran leader, Emeka Odumegwu Ojukwu. She's also a lawyer, entrepreneur and politician.
To that remarkable list, we must now add the office of saint. I'm not kidding. On March 17, 2022, she unleashed a furious, open-handed slap on Ebelechukwu Obiano, wife of the immediate past governor of the state. On the strength of her ferocity, Bianca received the kind of effusive adulation reserved for A-list celebrities, charismatic religious leaders, or triumphant war generals.
The extraordinary event took place asCharles Chukwuma Soludo was being sworn in as the governor of Anambra State.Mrs. Obiano, whose husband was exiting office, arrived late at the ceremony. Etiquette required that she make herself as inconspicuous as possible. Instead, she sashayed to whereMrs. Ojukwu sat, and began to heckle the former beauty queen. As the taunts intensified, Bianca rose to her feet and stunned the insolent ex-first lady with that slap.
Just like that, Bianca was sanctified! Overnight, fans composed prayers to their new-minted saint. They sang songs of praise to her. She inspired numerous comedic revues on social media. Even Governor Soludo chimed in. In an interview with Arise TV, he assured that the slap hadneither eclipsed his inauguration nor would become a lingering distraction. The whole thing, he said, was merely comic relief.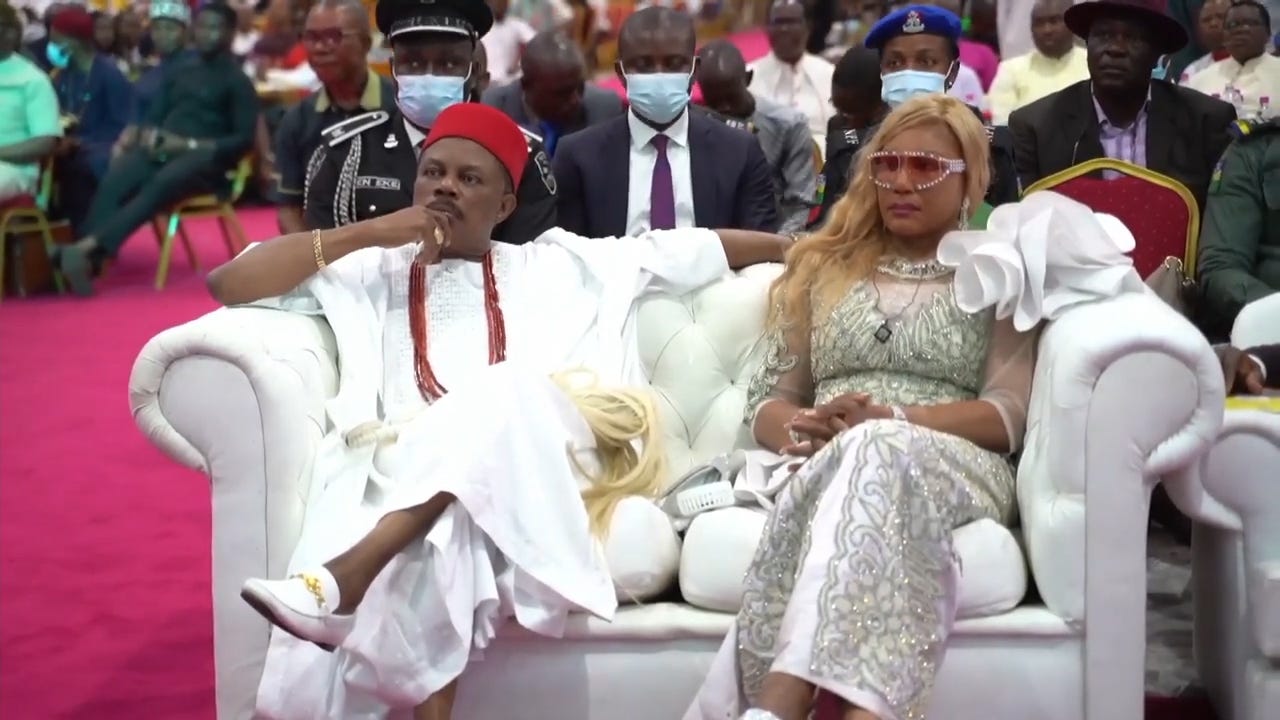 Why did so many people rise to celebrate the public shaming of Mrs. Obiano? What lessons can we draw from the whole frenzy of excitement?
Part of the answer emerged in the slap's aftermath. Media reports revealed that Mrs. Obiano was, in fact, quite notorious for slappingothers. Her list of foes and victims include Senator Uche Ekwunife and Oby Okeke, the wife of former Deputy Governor Nkem Okeke.
My conjecture is that Ojukwu's widow was aware of Mrs. Obiano's agility in handing out slaps. If so, perhaps she decided to slap the slapper in order to stop her in her tracks.
The emotional windfall that followed the slap was fascinating to observe. It represented a collective heaving of a sigh of relief by people who for eight years had watched, helpless, as the former governor's wife smacked people around. Finally, in the nick of time, theerstwhile assaulter-in-chief received a sizzling taste of something she had served others. It was primetime comeuppance!
A few people who've known ex-Governor Obiano for long or worked for him suggest that he was a victim of his wife's excesses. That may well be true, but it's neither here nor there. Twice, the people of Anambra elected him to run their state. They did not elect his self as well. Mrs. Obiano strikes me as possessing an outsized sense of grandeur. Even so, she knew – or her husband should have reminded her – that she was not part of a tag team governorship.
Let's never forget that the Nigerian constitution stipulates no role for the first spouse – first lady or first guy. Unfortunately, this absence of constitutional warrant has not curbed ostentatious behavior by many presidential or gubernatorial spouses. They've relished being called "Mama" or "Mummy" by obsequious government officials.
There are examples galore of spouses who exercise political power that voters never entrusted them with. Many of them meddle in political appointments, champion contract seekers,and even seek to drive policies.
For months, while her husband lay comatose in a Saudi hospital, Turai Yar'Adua and her circle of confidants contrived to run Nigeria. Even if she were a genius, she was never mandated to direct the country's affairs. Former first lady Patience Jonathan was a cottage industry of political theater. When hundreds of schoolgirls were kidnapped from Chibok, she orchestrated a made-for-TV event to which she summoned law enforcement officers, community leaders and school officials. And she went on a viral rant when some of those she ordered to appear failed to show up.
First spouses may well possess great personal gifts. They may be keen-nosed crime busters, excellent at contract negotiation, astute personnel managers, fire-spitting prayer warriors or even world-class slappers! But theyhave no business intruding into governance.
In Leviathan, the philosopherThomas Hobbesconsidered a theoretical question. What if humans lived in a "state of nature," ruled by their unruly passions, their affairs unregulated by a central government?The outcome, he speculated, would be profoundly grim. In his famous coinage, life would be "solitary, poor, nasty, brutish, and short."
For the vast majority of Nigerians, what Hobbesimagined as a theoretical idea is an everyday, unrelenting reality. Despite the existence of a central government – in fact, largely because of it –Nigeria has evolved into a sort of Hobbesian hell. In fact, the instrument of government in our country tends to serve two broad purposes. The first: itenables the powerful few, usually government officials and their cronies in the bureaucratic, political and business sectors, to empty public funds into their private pockets. The second purpose is tied to the first. It is to keep the generality of citizens perpetually in a supine state, their brows crushed under the heels of the gluttonous,power-wielding minority.
Whereas Hobbes' nightmare assumed a climate where a government was absent, in Nigeria's peculiar situation it is the government itself that has emerged as the chief architect of chaos and disorder. Those who run the government, aligned with their cohorts in other exploitative stations, designand enforcean absurd social arrangement. It is one in whichall laws and forces within the state are arrayed against the led. The same laws and forces authorize the leaders to do as they damn well please. If they wish to rape, plunder or kill, the ever-indulgent law lends a cover to their impunity. The law legitimizes illegal acts.It goes further, adorning powerful criminals with the halo of veneration. The more mindless a leader abuses office, the more vociferous the praise that's heaped on him or her. Thus, Nigeria is not merely a Hobbesian laboratory; it is also an Orwellian canvas. In it, black is white, up is down, and evil is virtue.
Nigeria's political and moral order is thoroughly higgledy-piggledy. With life being so intolerable, is itany wonder that amini-drama,such as Bianca Ojukwu's slapping of a cheeky former first lady, would become such a celebratory event?
Okechukwu Ndibe, better known as Okey Ndibe, (born 1960) an acclaimed Nigerian novelist, political columnist and essayist  was born in Yola, Nigeria. He is the author of Arrows of Rain and Foreign Gods, Inc.
Ndibe has worked as a professor at several colleges, including Connecticut College, Bard College at Simon's Rock, Trinity College in Hartford, Connecticut, and Brown University.
We are honored that he brings his sharp intellectual depth and years of political activism to write for Life and Times.