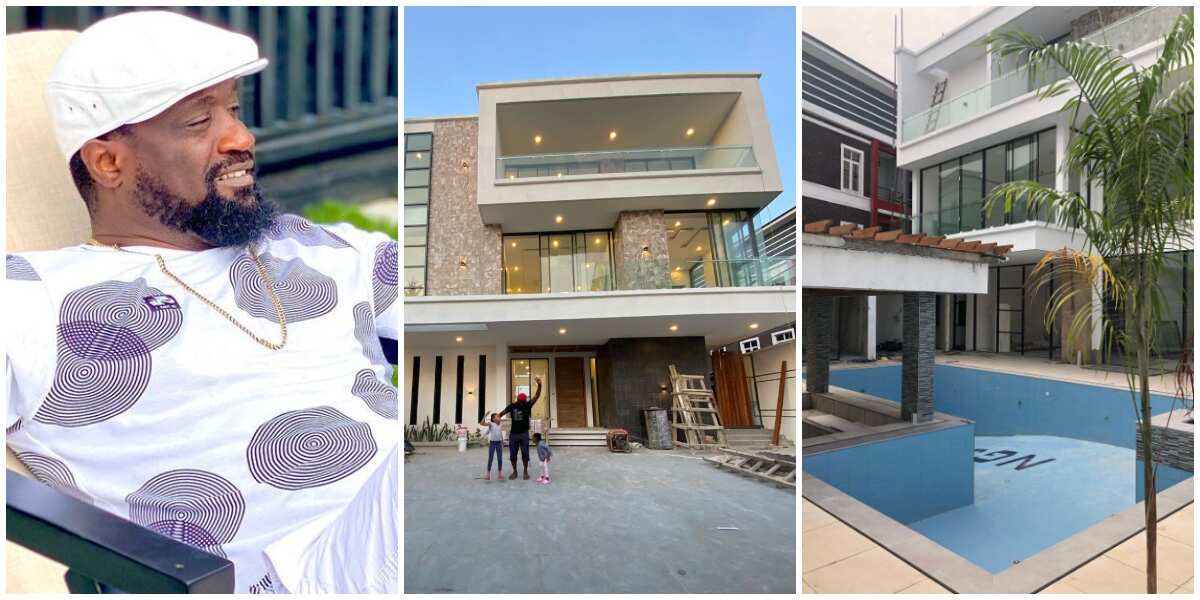 Jude Okoye, a renowned Nigerian music director and executive, A.K.A Engees, has recently taken to social media and to announce and flaunt his newly built mansion worth several millions of Naira.
His newly acquired massive Christmas gift, is located somewhere in Parkview, Ikoyi area of Lagos state.
The remarkable entertainment guru had earlier shared photos of the mansion while work was still in progress on his Instagram page sometime last month. Now he's super excited and fulfilled that he has and is now excited he has finally been able to finish up the luxurious project.
Hash tags used in his photo caption reveals the new mansion is one of his several real estate investments.
Jude Okoye, who posted numerous mind-blowing picture views of his new crib, remarked that "Let's say Xmas gift came early. #realestate #realinvestment #builtfromscratch."
Jude Okoye is one of the most influential figures in the Nigerian entertainment industry and the chief executive office of Northside Music LTD. The first artist to get signed into the Northside Music was Cynthia Morgan. She got into the label after leaving in August, 2013 and released a number of hit songs, including 'German Juice' under the label.
Jude, who is also the elder brother to the Pop duo Psquare and C.E.O of Square Records has been handling Paul Okoye's music careers during and after the twins' first record deal with Timbuk2 Music. Peter Okoye left the label in 2014 after a series of issues with his twin brother, Paul and their elder brother, Jude
Jude Okoye was born on the 25th of April, 1977 in Jos, Nigeria into a family of 7 children. His siblings include Mary Okoye, Paul Okoye, Peter Okoye, Lilian Okoye, Tony Okoye, Henry Okoye and Ifeanyi Okoye.
Jude Okoye started his entertainment career in 1994 when he developed an interest into movie production. After that, he ventured into music and released his first rap album in 1995.
As his entertainment career started gaining grounds, he relocated to Lagos and a new phase of his career started. After a while, he stopped singing when his younger twin brothers ventured into the music industry.
Many music insiders say that he is behind the rise and success of the Psquare group within the last decade. He also worked with the likes of Cynthia Morgan and May D but the deals didn't later end so well.
Jude Okoye's life hasn't been entirely free of controversies. For instance, many Psqares' fans accused him of being the reason behind the duo's breakup. This was probably because of the fact that he sided Paul during the course of the problems.
In addition to this, his former signees, May D and Cynthia Morgan have at different points, come out to lament on how badly they were treated during the periods of their deals with Jude
Jude Okoye got married to former Miss Tourism, Ifeoma Umeokeke on the 17th of July, 2014. Ifeoma, a graduate of Industrial Chemistry at the University of Port Harcourt was the Second Runner-Up in the 2012 MBGN.
The marriage is blessed with two lovely children, Emma and Eleanor Chisom Okoye.
Jude Okoye is one of the richest entertainers in Nigeria. He is the CEO/President of Northside Music LTD and Square Records. He is one man who doesn't shy away from displaying his luxurious lifestyles on Instagram.
Cars in his garage include different brands of Mercedes, including a Mercedes G Wagon worth millions of Naira.
Gift Joseph Okpakorese
Staff Writer