To follow Prof. Okey Ndibe on his powerful weekly exposés and other interesting political and entertainment news from Nigeria, click HERE to subscribe to the Life and Times newsletter…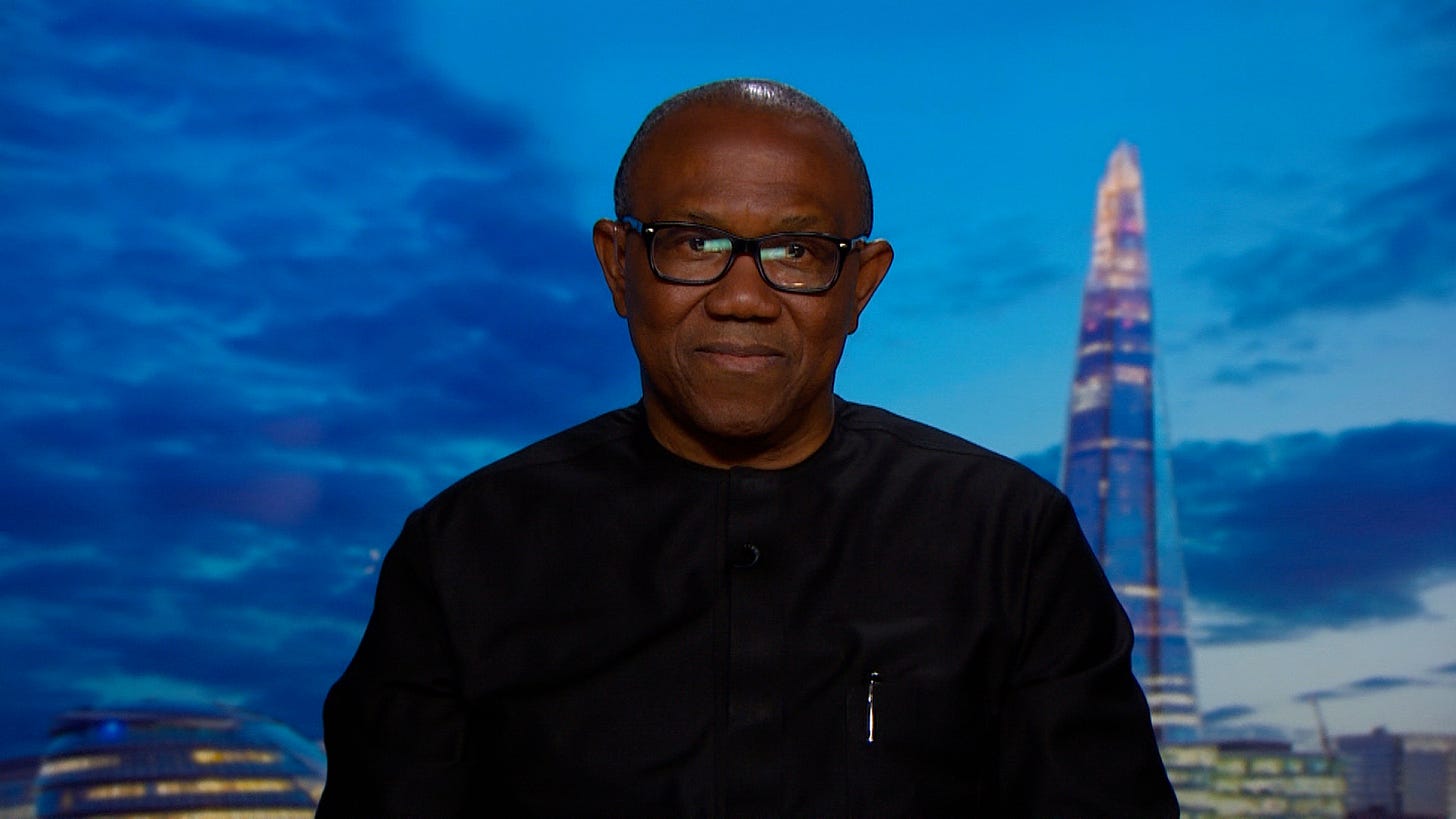 Last week, Peter Obi – former governor of Anambra State and presidential candidate – finally made his much-anticipated appearance on CNN. It was, all things considered, an impressive outing. By which I mean not just that Obi held his own – which he did – but, even more critically, that the program clarified for me something that, hitherto, had been somewhat mysterious.
Why has Obi's campaign been so far so undeniably electrifying? What accounts for his palpable momentum? How do we explain the seeming ease with which he has galvanized young Nigerians across religious and ethnic lines? Put differently, what's the defining source and element of the Obi Mystique?
I had flirted with an intuitive answer. Obi's CNN interview confirmed it. Interestingly, that confirmation came less from Obi than from a young Nigerian woman named Weyimi Lube.
Lube is a member of a youth group that's fishing voters for Obi. A CNN correspondent interviewed her prior to Obi's appearance. "The Obidient movement is pretty simple," Lube said in a self-assured manner. "We're just a group of frustrated Nigerians who want good governance. It's as simple as that. And we're running for the presidency. Each and every one of us in the Obidient movement is running for the presidency through Peter Obi."
Then, more to the point, she explained the relationship between the #EndSARS movement and the groundswell for Obi. "EndSARS was the catalyst that started all of this," she told the correspondent.
Let's do a quick recap for the benefit of readers unfamiliar with that explosive episode in Nigeria's recent political history.
In October of 2020, Nigerians – most of them youngsters – fanned out in the country's major cities to demand an end to police brutality. Their initial goal was to force the government to disband a notorious police unit styled the Special Anti-Robbery Squad (SARS). SARS was formed in 1992 to counter festering violent crimes. In short order, its agents transformed into monstrous torturers, often of innocent people. For decades, hapless Nigerians writhed under the brutal heels of lawless SARS officers. Far from operating as law enforcement agents, many SARS officers evolved into lawless louts. They created a grotesque cottage industry, reputed for battering their civilian victims and – on occasion – carrying out extra-judicial executions.
It was this man-sized virus that outraged Nigerian youth rallied to erase in 2020. For me, the protests represented a particularly heartening moment. It had been, in my estimation, close to three decades since Nigerians witnessed a focused youth-led mass action. In a country where such protests often quickly fizzle out, #EndSARS seemed intent on going for the long haul.
President Muhammadu Buhari was clearly rattled, as were other occupants of elective offices. Buhari consented to institute reforms. Buoyed by the power and effectiveness of their movement, the protesters sought to wring broader concessions out of the government.
Their ambition and boldness collided with the ruling elite's duplicity and desperation. In a sign that Buhari's reformist rhetoric was hollow, he had hardly finished delivering his sweet pledge when soldiers blockaded protesters in Lagos and unleashed deadly force. Many lives were snuffed out, many more maimed.
Ever since that devastating denouement, I had wondered how the distraught youth would respond, in the short and long terms. Would they fold up, utterly crushed by defeat? Would they reconcile themselves to the idea that their station was that of serfs, seen but hardly heard? Would they accept the implicit bargain that Nigerian politics was the exclusive reserve of geriatrics, with the young providing – at best – the recruiting pool for thugs, praise singers and lowly apprentices?
It appears that a growing number of Nigerian youth have not forgotten the injustice done to them and their fellows during EndSARS. They seem set to exact revenge, determined to use their country's 2023 elections to make a point. And that point may well be that Buhari's hounds, far from draining the fighting spirit out of Nigeria's youth, instead fueled the youth's stamina. Buhari's fiends, thank God, did not altogether extinguish the youths' fire. Instead, the government's deployment of excessive force has remade that fire into a fiercer force.
Ms. Lube buttressed that point. As she told CNN, "We harnessed that [EndSARS] pain, that energy, and said we're not just going to let this die. It's not really about Peter Obi. Definitely, Peter Obi is the quote, unquote poster child for good governance. But it's about us Nigerians. When do we start to speak up for ourselves?"
Hers was an entirely eloquent and illuminating summation of the Obi factor in 2023. In and through Obi, Nigeria's youth – a much maligned, marginalized, brutalized and underestimated demographic – seem bent on seizing the center of their country's politics, infusing their nation's space with that measure of competence, vision and imagination that's eluded Nigeria.
Should Obi win – and nobody who has encountered the grit, energy and passion of his foot soldiers can discount the prospect – it would be a victory powered by the resurgent, smoldering fire from the days of EndSARS. His victory, if it comes, would be less a personal triumph than a vindication of the youth's collective effort.
In that event, his presidency will follow a predictable trajectory. In his statecraft and policies, he can't afford to ignore his youthful sponsors' aspirations. If the country holds any promise, it resides in the ingenuity, energy and resilience of its youth. It is they – betrayed and broken though they are – who incubate what remains of their country's dimmed prospects.
If Obi wins, and if he desires to make "a clear, visible, measurable" difference – as he told the CNN – then he must invite the youth to lend their creativity.
That, for me, was the key takeaway from CNN's spotlight on him and the fervent league of Obidients.
Okechukwu Ndibe, better known as Okey Ndibe, (born 1960) an acclaimed Nigerian novelist, political columnist and essayist  was born in Yola, Nigeria. He is the author of Arrows of Rain and Foreign Gods, Inc.
Ndibe has worked as a professor at several colleges, including Connecticut College, Bard College at Simon's Rock, Trinity College in Hartford, Connecticut, and Brown University.
We are honored that he brings his sharp intellectual depth and years of political activism to write for Life and Times.