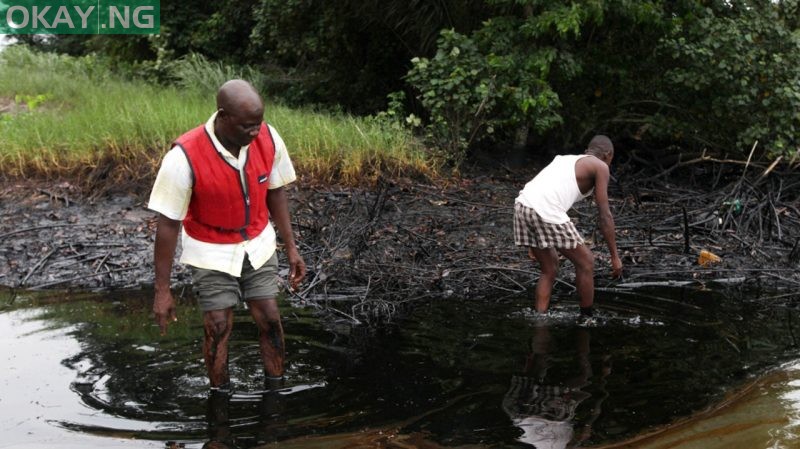 Gift Joseph Okpakorese
The news has been reported of the recent oil spillage of a popular international oil firm whose pipelines were witnessed to have cause hazardous scene and environmental pollution in the Niger Delta region of the federation.
According to media sources,
the Okordia-Rumekpe 14-inch crude truck line operated by Shell Petroleum Development Company (SPDC) has discharged 110 barrels of crude oil into Ikarama community in
Bayelsa
state.
The SPDC's media relations manager, Mr. Bamidele Odugbesan substantiated reports of the leakage on Thursday, 22nd of April 2021 and claimed that an investigation has been carried out by the appropriate authority to this effect and that conclusions have been documented on evaluations regarding the current circumstance.
According to media reports,  by TheCable, news, it was revealed that the International oil production company, Shell, in a combined investigative visit, with JIV, observed that the incident of the oil spillage occurred on April 7th, 2021, and that inquiry was deduced on April 12. 2021.
Recall that JIV is a statutory investigative firm that deals on cases of pollution and looks into similar causes of any documented incidents of spillage incurred by or indicting any organizations or oil firms in the nation. They also regulate and mediates between host communities, States, and Ministries of environments on related matters.
As a result of investigations conducted,  in Bayelsa, JIV while confirming the spill, disclosed that it was a result of a malfunction of equipment. They were able to detect and trace the functional casualty to an appliance blunder that affected nearby palm trees and fish ponds. The damages revealed that an estimated 1.34 hectares of land were contaminated by the leakage which was caused by a fracture on the pipe channels.
Responding to the situation on ground Shell representatives disclosed that they never had foreseen that the oil recovery would be concluded before the end of April, remarking that spillover was something that the company took seriously and kicked against as it was not acceptable to the company, who had always worked so hard to prevent such occurrence.
With the recent discovery and as a follow up to the investigations documented, environmental experts recommended that remediation of the site should be done and a replacement of sections of the pipeline be carried out immediately in order to rebuild its quality.