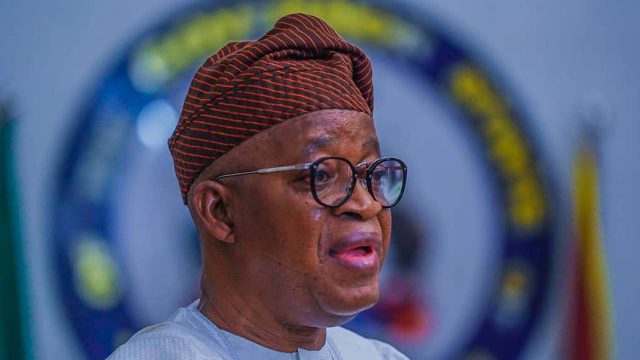 By Uche Amunike
The Osun State Governor,
Gboyega Oyetola
has released a statement of condolence to the family of the late former Military Administrator of Osun State, Col Anthony Obi, where he mourned his demise and lauded his contributions to governance in the state.
Speaking in the statement, which was signed by his Media aide, Ismail Omipidan, Gboyega described the death of the late administrator as painful and a big loss, not just to his family but also to Nigeria.
He described him as a brave, experienced and committed military officer who gave his best to Nigeria and Osun particularly, in a selfless and passionate way.
He stated that during Colonel Anthony Obi's time as a military administrator, he made great contributions to governance in Osun and remained one of the leaders who laid the foundation of the State and left footprints in the sand of time, adding that his legacies will always speak for him.
Hear him: 'On behalf of my family, government and the people of Osun, I extend my deepest condolences to the family of Colonel Anthony Obi (rtd). Though his death is devastating, I urge you to take solace in the legacies of selflessness, professionalism and service to humanity he left behind.'
Governor Oyetola, during his prayers, asked God to grant the soul of the late Col Anthony Obi eternal rest and his bereaved family, friends and associates, the Grace to bear the loss of his presence in their lives.
Recall that the deceased former Military Administrator of Osun state Col Anthony Obi (Rtd), who served as the Military Administrator of Osun state between August 1996 and August 1998 died on Saturday January 1, according to an announcement made by his family.
In a statement signed by Okenwa Aneke, on behalf of the Obi family, The deceased was described as a devoted father and loving husband who administered love, humility and discipline in everything he did during his time.
They described him as a lion, warrior and brave soldier while serving Nigeria as governor of Osun State and Abia State, respectively. They also described him as a brave man who shared his love with his family at all times.
Recall that the late Colonel Anthony Obi succeeded Captain Anthony Udofia as the Osun State Sole Administrator.
It was during Late Colonel Anthony Obi's tenure that the Ife Modakeke crises commenced in 1997 after he announced the movement of the headquarter of Ife East Local Government Area Council from Enuwa and Modakeke to Oke Ogbo
Note that generally, cultural identity, as well as economics and politics reflected in land ownership, payment of land rent and creation of local government, including location of its headquarters are some of the reasons why the Ife Modakeke crises took place, particularly as Ife considers itself as the 'landlord' of the Modakekes.
The conflict was however finally resolved after former President Olusegun Obasanjo announced a government-brokered a ceasefire in March 2000 and established a 27-member peace committee to handle the situation.