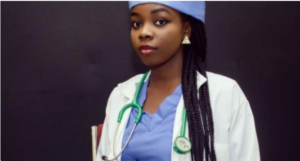 Chinelo Nwando Megafu, a dental surgeon, has died from the wounds she sustained in the deadly attack on the Abuja-Kaduna train on Monday night.
TheCable had reported that the train was on its way from Abuja to Kaduna when it was attacked by gunmen in Kateri-Rijana area of Kaduna.
The gunmen were said to have blown up the rail track after which they launched an attack on the passengers.
Several passengers sustained injuries during the attack, but as of the time of filing this report there is no official number of casualties.
Shortly after the attack, Chinelo posted on her Twitter handle that she was shot in the train, while calling for prayers from her followers.
Her tweet elicited varied reactions on the microblogging platform as some Twitter users empathised with her, while others described her tweet as "fake news".
Some Twitter users also said she could not have tweeted with gunshot wounds.
On Tuesday, the Nigerian Twitter space was flooded with posts saying the doctor has died from the gunshot wounds she sustained from the attack.
One of Chinelo's colleagues told TheCable that the doctor has died.
The development came 48 hours after gunmen attacked Kaduna international airport.
Some Twitter reactions: