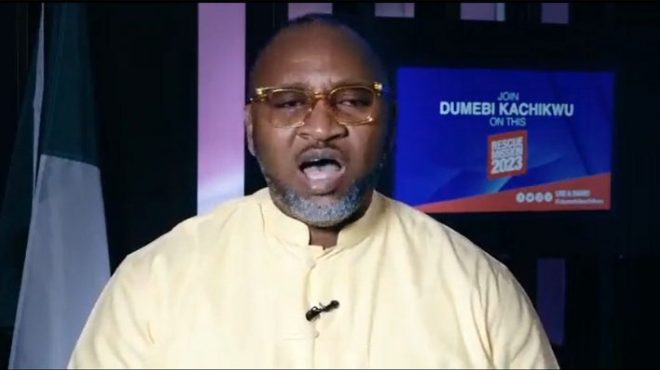 By Uche Amunike
The Action Democratic Party, ADC, appears to have been thrown into crisis , Saturday after it announced that their 2023 Presidential Candidate for the 2023 general election, Dumebi Kachikwu had been suspended , barely five months before the election.
In a statement released by the Deputy National Chairman (Politics) of the party, Bamidele Ajadi, Kachikwu's suspension was as a result of a lot of infractions, which included him speaking against the party's National Chairman, Ralph Nwosu.
On the same day, the embattled ADC Presidential candidate, Kachikwu, dismissed news about his suspension during a counter press conference and questioned the constitutional right of the National Working Committee headed by Ralph Nwosu.
According to both the Chairman and Secretary of the ADC Chairmen forum, Kingsley Ogga and Odion Osas, Kachikwu admitted that the embattled Ralph Nwosu had spent 17years as National Chairman of the ADC and was still begging for an extra one year extension.
Hear him: 'For some reasons, I believe best known to INEC, I or we don't know how he was able to hold on to that position for the last 17 years'.
'With the chairmen of different state chapters, it became known to me that the tenure of NWC was coming to an end and Nwosu was seeking an illegal or backdoor extension and that they were not in support of this. I told them that as the presidential candidate of this party, I will do everything within my power to ensure that I uphold the Constitution', Mr Kachikwu said.
On his part, Mr Nwosu stated, during a political programme on Channels TV, that Kachikwu's suspension was as a result of several events that took place after the party's national convention, three months ago. He stressed that every effort and consultation made to have him commence his campaign arrangements and have it running was to no avail because of his constant trips abroad.
His words: 'I have watched your clips today of how other parties are making consultations, they are opening their offices, they are doing different things, and frankly, all the efforts we put in to build the third largest party in Nigeria, where we had 12 persons contest for the presidency, seems to be going down'.
'We've been holding consultations with our presidential candidate, we have discussed different things and issues keep coming up. He has done overseas travels more than five times. I got involved with different organisation's including the Labour Organisation to join this movement. Then we succeeded in having 12 persons running for president, and then all of a sudden, ADC has been stampeded into almost motionlessness, and this will frustrate both founders and members of the party'.
'There was a time, about two months ago, when I thought that the national chairman was the issue and I offered to resign so that someone that the presidential candidate can work well with can take my place. I saw and still see Dumebi winning the presidency, and in our strategic compass, I see him winning. When I thought that we couldn't jam, I said that I'm ready to step down. After we finished discussing, leaders of the party said 'no, you can't step down', Nwosu said.
Nwosu made it clear that the ADC was ready to resolve the matter of Kachikwu being replaced at this time, if he is still in the race. He also denied the claim that he had exhausted his two tenures of 8 yrs each in office. He explained that he had already spent 17yrs, but that the condition of the ADC warranted it.