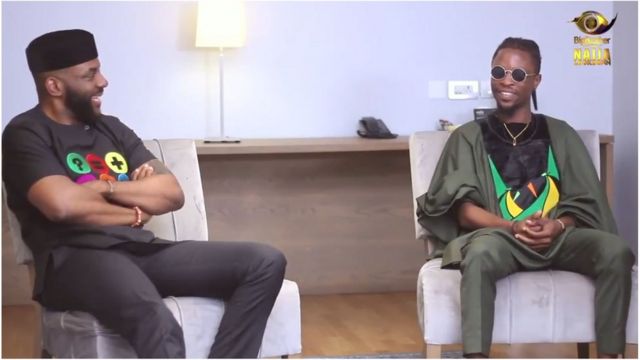 Olamilekan Agbeleshe, popularly known as Laycon, is the winner of the just concluded BBNaija 2020 season five lockdown episode, sat with Ebuka the reality TV host, on Monday September 28. 2020.
In Laycon's first interview with Ebuka after his victory, He relieved the whole experience at the grand finale and his shock at emerging victorious amongst so many wonderful and exceptionally unique housemates. He also gave his thoughts on what he felt about fellow housemates and the relationship he had with some of them.
On Kiddwaya, Laycon gave reasons why he became friends with Kiddwaya despite having issues with Erica. He said, " on a very good day every one would expect me to have beef or issues with Kiddwaya because we both had the same love interest and more so because they (Erica and kiddwaya) rubbed it in my face, but that did not deter me from building my own friendship with Kiddwaya… " I became friends with Kiddwaya because I liked him as a friend and brother." The UNILAG Graduate of philosophy later became comfortable with the relationship between Kiddwaya and Erica but wanted Erica to give him space. He said, "I don't know how I became friends with Kiddwaya, I just remembered that I told Vee that it almost feels like I am beginning to get comfortable with Erica and kiddwaya's relationship because I liked Kiddwaya as a brother."
When asked by Ebuka on his friendship with Vee he said, " I can't really recall how we became friends but am really happy I was friends with Vee in the house, she really helped me a lot."
Vee actually stood up for Laycon and was with him all the way, when he had issues with Erica, and seemed to have lost focus in the game.
When Laycon was told that some viewers felt he spoke badly of Erica to some housemates, Laycon insisted otherwise, and held on to his position that he never portrayed her in that way. He said " I have never been in that kind of situation before, I expressed myself to the people I felt would listen. I knew I wanted to stay away from her when she said nothing would happen between us but I still needed to talk about it as a way of closure for myself…I never said Erica was a bad person and did not portray her that way because I remembered saying I still cared about Erica even after everything." he added.
Erica was eventually disqualified after intense fight with Laycon.
Laycon said he only saw himself in second position behind Dorathy. " I never at any point thought that I would win. I asked myself why not Dorathy?" At the back of my mind I didn't even come here to win, I came here to promote my song and myself… when I saw how the top five panned out, I immediately placed myself in second position because Neo had been Nomimated before… Vee had been up before… Nengi, I have really not seen her up against major people, so in my head, it was Vee, Neo, Nengi, Me and Dora."
Laycon was indeed smart enough to do the permutations in his head after the last five finalist was made known, what he could not predict however, was the fact that he was going to be the eventual winner of the BBNaija 2020 lockdown season.
His fans who called themselves "THE ICONS" saw it coming and boasted about it on Social Media, and this was mainly possible because of his humility and simplicity which attracted a lot of followers fanbase and even major celebrities who took his case personal.
Today, fans and viewers of the show congratulate him for his show of maturity and intelligence, as well as his entertainment and creative qualities during the just concluded BBNaija 2020 season five lockdown episode.
Gift Joseph Okpakorese
Staff Writer