Davido's cousin, Bamidele Adeleke has finally replied Davido after he aggressively dragged him, for involving his late mother in his political ambition. You would recall how Davido called out Dele for contesting for the same position their Uncle Ademola Adeleke is contesting for in Osun State.
However, this morning, Davido called out Dele Adeleke again for badmouthing his mother in an article. Davido revealed that his Cousin, Dele is ungrateful and he can't believe he could say nasty things about his mom after she helped him while she was alive. He also added that Dele is saying all the rubbish from the house his father gave him.
Reacting to Davido's drags and call outs, Dele revealed that he never said anything bad about Davido's mother. According to him, it is fake news posted by some people trying to chase clout. Dele also confessed that he lost his mother at a tender age and he wouldn't want anyone to denigrate her or her memory.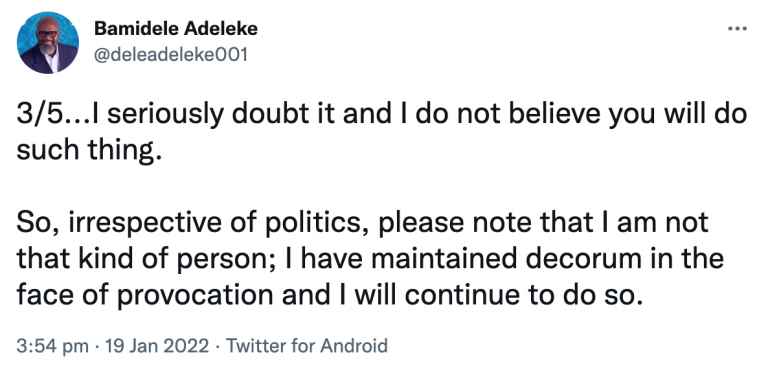 He further added that Davido shouldn't drag him because of his decision to contest for the Governorship election alongside their Uncle. Dele reminded Davido that he is free to exercise his democratic right and voting for whoever he feels is good for the position
Davido finally responded and told him that his long explanation on Twitter won't get him votes and he should remove the mask he is wearing (Stop pretending).