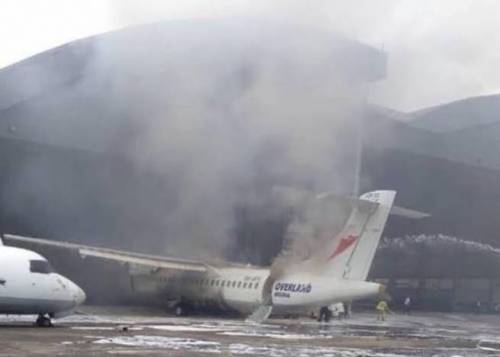 By Uche Amunike
A disaster was staved off, Wednesday, June 15, 2022, when a faulty Overland Aircraft with 33 passengers and 4 flight crew members escaped death as the brave pilot landed the plane that caught fire mid-air.
According to a statement released by the airline, Thursday, the Overland Airways implied that it's flight, OF1188 enroute Lagos from Ilorin experienced what it termed 'an unusual high turbine temperature' on one of its engines at about 7.50pm on Wednesday, June 15.
Part of the statement read: 'This occurred in the approach phase of flight and the aircraft landed very safely as the crew skillfully implemented their standard procedures for such abnormal situations.'
'All 33 passengers remained calm through the process and safely disembarked row by row in accordance with post-COVID-19 procedures after the aircraft came to a halt on the Murtala Mohammed International Airport Lagos runway 18 Right. No passenger was hurt in any way.'
In the statement, the Airways appreciated the professional interventions of the Federal Airports Authirity of Nigeria (FAAN), Nigerian Airspace Management Agency (NAMA), the Accident Investigation Bureau (AIB-N) and the Nigerian Civil Aviation Authority (NCAA) for their promptness and reassurance.
They expressed their regrets to the passengers for the inconveniences they experienced, while assuring members of the public of their full commitment to the safety of their services and passengers.
In the meantime, the spokesperson for Accident Investigation Bureau (AIB), Tunji Oketubi has confirmed that the bureau has commenced investigations involving the incident and that a team of investigators from the bureau has been deployed to the scene of the incident at the International wing of the Murtala Muhammed Airport to unravel what actually caused the accident.
In response to what the latest development was, he confirmed to pressmen that it was true, even though he made it clear that he was yet to get the full details of the development. He also gave the assurance that after proper assessment of the situation, the Bureau would issue a statement to the general public to give a clearer picture.
Hear him: 'AIB was notified of the serious incident involving overland aircraft on Wednesday. Our investigators were dispatched to conduct an investigation into the occurrence. The investigation is ongoing.'
On his part, the General Manager, Public Affairs of the Nigerian Civil Aviation Authority, (NCAA), Samuel Adurogboye stated that this development happens from time to time in the aviation sector.
His words: 'After they have carried out the necessary maintenance, there will be an inspection of the aircraft.'
'We cannot understand what led to this development until AIB, along with every other stakeholder in the aviation sector, conclude the inspection.'
Different reports have said that one of the Overland Aircraft engine caught fire mid-air while others said that the incident occurred in the approach phase of flight, however the reports of the AIB will give Nigerians a clearer picture of what truly took place.