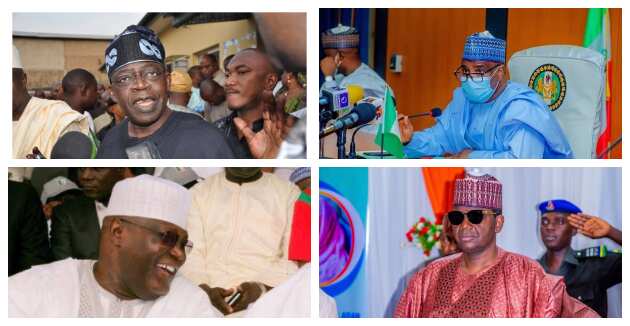 Although Asiwaju Bola Ahmed Tinubu has been making some very smart moves to endear himself to the north ahead of the 2023  elections, the future contest will definitely not be a walk in the park for this master strategist.
While the All Progressives Congress (APC)'s national leader continues to perfect his plan to clinch power come 2023, some politicians from the Peoples Democratic Party (PDP) will try to stop him from achieving his ambition and at worst make this almost impossible.
These powerful PDP pillars are all from the north which has held on to power more than any other region in Nigeria.
They are, Governor Aminu Tambuwal (Sokoto), Governor Bello Muhammad Matawalle (Zamfara) and Atiku Abubakar.
Governor Tambuwal
There is no denying that the Sokoto governor has been a pain in the neck for the APC especially in the north which for the most part is dominated by the ruling party.
More than winning the governorship elections both in 2015 and 2019, Tambuwal was a member of the APC before defecting to the PDP in 2018 and was a presidential aspirant on the same platform the same year.
Governor Matawalle
Riding on the wings of victory in the 2019 gubernatorial poll after the APC failed to conduct a primary election, Governor Matawalle holds sway in the prominent state of Zamfara where his predecessor, Abdul'aziz Yari, had been representing the long influence of the party.
Many political observers and analysts believe that the APC is bent on reclaiming the state over the fear of losing other parts of the north in 2023 Elections if Matawalle indicates interest in the presidency.
In fact, Tambuwal, who recently led a team of PDP governors to the state, in a bid to foil any possibility of defection by Matawalle, warned the APC to stay away from Zamafara which he claimed belongs to the PDP.
Atiku Abubakar
Having been a vice president of the country once and a presidential candidate of the PDP in the last general election, Atiku has become a household name when it comes to opposition politics in Nigeria.
It cost the APC much to hold on to its claims of victory in the 2019 presidential election solely because Atiku gallantly fought with lawsuits in efforts to prove that the poll was rigged.
Thus, if Tinubu will ever see himself on the presidential seat, he will have to overcome many hurdles from these political heavyweights.
Meanwhile, the alleged plan by Matawalle, Governor Bala Mohammed of Bauchi state and his Cross River state counterpart, Governor Ben Ayade, to defect to APC had made the PDP jittery.
The negotiations were being handled by the chairman of the APC caretaker committee, Governor Mai Mala Buni and Governor Yahaya Bello of Kogi state.
Source: Legit.ng