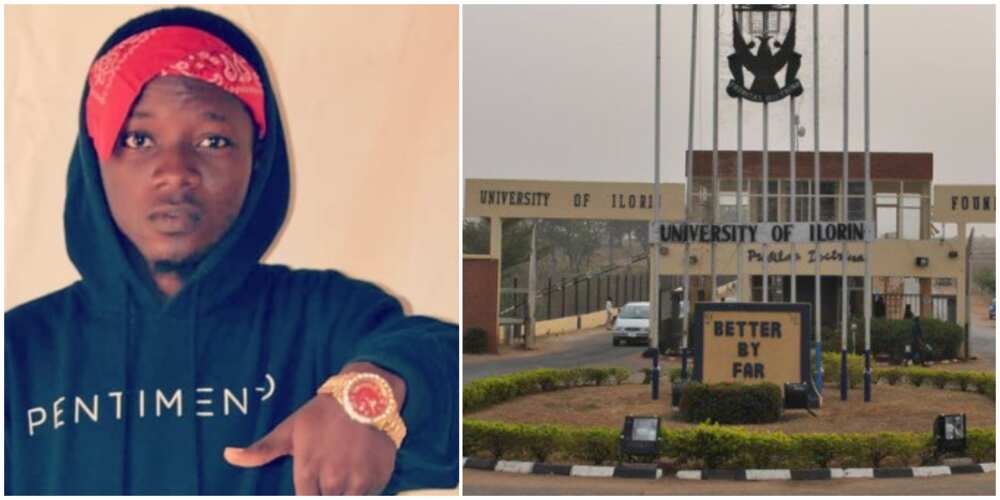 By Uche Amunike
Justice was served at the University of Ilorin (Unilorin), Monday, when news of final year lecturer-beating Unilorin Student's expulsion was made public.
The student, Salaudeen Waliyu Aanuoluwa of the Microbiology Department was found guilty of assaulting his lecturer and Project Supervisor, Mrs Rahmat Zakariyau.
In a statement released by the Director of Corporate Affairs of the University, Mr Kunle Akogun, the decision about the Unilorin student's expulsion was made by the student disciplinary committee where he was arraigned on Monday, adding that he had 48 Days to appeal against the verdict to the Vice Chancellor in case he feels unsatisfied with the decision of his expulsion.
In a letter addressed to Salaudeen by the University Registrar, his expulsion was announced and mandated to take immediate effect.
Part of it read: 'You will recall that you appeared before the Student Disciplinary Committee (SDC) to defend yourself in respect of an allegation of misconduct leveled against you. After due consideration of all evidences before it, the Committee was convinced beyond any reasonable doubt that the allegation of misconduct has been established against you. It has accordingly recommended to the Vice-Chancellor, who in exercise of the power conferred on him, has directed that you Salaudeen, Waliyu Aanuoluwa be expelled from the University'.
He was then asked to submit every property of the university in his possession, including his Student Identity card to either the Dean of students or his assistant, while making sure he keeps off the campus, henceforth.
The Unilorin student's expulsion spread like wildfire in the school campus, especially as the on-campus journal of the school made a comprehensive report on the incident.
It reported that Salaudeen allegedly went to the office of his project supervisor so to beg her to cover up for him for not  taking part in the  mandatory Students Industrial Work  Experience Scheme (SIWES) course which he missed due to unforeseen circumstances.
The campus Journal in their bid to dig into the reason for the  Unilorin student's expulsion, interviewed the embattled Salaudeen and he explained that the reason why he did not take part and the compulsory SIWES duty was that he was arrested and placed behind bars for two months.
He said that he visited a friend at the Allen Avenue in Ikeja, Lagos State. According to him while waiting for his friend, he felt the urge to urinate and did so, near a parked car. Immediately after, someone who must have washed the car came to him and accused him of being a thief. Before he could explain himself, a mob descended on him, served him the jungle justice treatment and handed him over to the police, where he was detained for a period of two months.
After the horrible experience in Lagos, he returned to Ilorin, back to school. That was when he approached Mrs Zakariyau to explain the reason for his absence to her and appeal to her to cover up for him, as he didn't miss the scheme intentionally.
The lecturer declined helping him and advised him to join the next set which will result in an extra year. He made a second visit on the fateful Thursday and she ordered him out of her office which made him lose his temper and attack her.
Hear him: 'I got angry, I don't know what came over me, I started arguing and she told me to leave her office, I told her if I don't leave, what is she going to do?'
"She then threw a mug at me which injured me and I started beating her," he added.
Salaudeen said the female lecturer didn't not fight back, so he went on to beat her and later dragged her out of her office to continue the beating.
'I dragged her out and she ran. I chased and kept beating her before people came. I tried to run but was later caught by the school security', he stated in the security cell of the institution where he was locked up since he was returned from 'F' Divisional Police station, Tanke in Ilorin, the Kwara state capital.