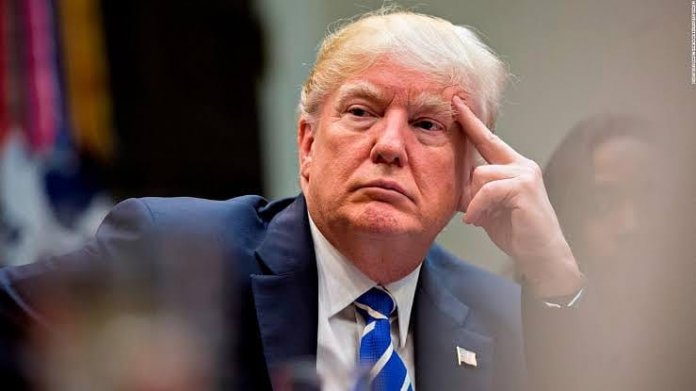 Martins Ifijeh, ThisdayLive
The United States President Donald Trump has vowed not to recognise President-elect Joe Biden as the elected 46th president of the country, saying the election was not only clearly stolen from him by thieves but also that the media had imposed the president-elect on Americans.
There were strong indications last night that his wife, Melania; son-in-law and Senior Adviser, Jared Kushner; and some allies are putting pressure on him not to embark on any legal battle against the results as this would put a dent on the country's democratic system, especially in the eyes of the world.
Trump, who in a tweet yesterday evening described the media as 'lamestream,' said: "Since when do the 'lamestream' media call who our next president will be? We have all learned a lot in the last two weeks."
Biden won the election Saturday after polling 290 Electoral College votes as against Trump's 214 votes. Results are still being counted from the three remaining states.
In a series of tweets yesterday, Trump, who is yet to declare his next line of action, said he clearly won the presidential election but that Democrats and big city machines were thieves and corrupt elements who clearly did not allow observers to see the manipulations done during the vote count.
He said: "We believe these people are thieves. The big city machines are corrupt. This was a stolen election. Best pollster in Britain wrote this morning that this clearly was a stolen election, that it is impossible to imagine that Biden outran Obama in some of these states. Where it mattered, they stole what they had to steal.
"We should look at the votes. We are just beginning the tabulation stage. We should look at these allegations. We're seeing a number of affidavits that there has been voter fraud. We have a history in this country of election problems. In Pennsylvania you had an order by how these ballots were authenticated, because if there's a problem in the system about authentication, that would seriously affect the entire election – And what concerns me is that we had over a 100 million mail-in ballot in cities like Philadelphia and Detroit with a long series of election problems to put it mildly."
In what appeared to be a consolation, he also tweeted that he had 71,000,000 legal votes – the most ever for a sitting US president, adding: "I won this election. I got 71 million legal votes. Bad things happened which observers were not allowed to see; this never happened before. Millions of mail-in ballots were sent to people who never asked for them."
Bush Congratulates Biden, Says Trump Right to Request Recount
In the meantime, a former US President, Mr. George W. Bush has offered his "warm congratulations" to Biden, describing the Democrat as "a good man, who has won his opportunity to lead and unify our country."
The two-term Republican, in a statement issued by his presidential center in Dallas, also congratulated Trump for his "extraordinary political achievement" in winning 70 million votes.
Bush's statement made him one of the country's most prominent Republicans to acknowledge Biden's victory.
Bush agreed that Trump had "the right to request recounts and pursue legal challenges."
"The American people can have confidence that this election was fundamentally fair, its integrity will be upheld, and its outcome is clear."
"I will be praying for you and your success. Now is the time to heal deep wounds. Many are counting on you to lead the way,"
"We must come together for the sake of our families and neighbors, and for our nation and its future.
"There is no problem that will not yield to the gathered will of a free people."
Will Trump Challenge the Results in Court?
While Trump has continued to share his displeasure with the outcome of the result, his delay in conceding defeat suggests he may head to the court to challenge the outcome of the contest.
But it appears some close allies of the president have started to discuss with his campaign team to concede defeat and accept the election outcome in good faith.
For instance, Trump's son-in-law and Senior Adviser, Jared Kushner has told him to concede defeat in other not to put America's democracy to ridicule, according to reports by CNN yesterday.
There are also indications that the First Lady, Melania Trump is currently pressuring her husband to concede defeat and accept the election loss.
Though the first lady has not publicly commented on the election, she has privately weighed in with her opinion, a source also told CNN.
Trump asserted in a statement from his campaign, moments after CNN and other networks projected that Joe Biden will become the 46th President of the United States, that Biden is rushing to falsely pose as the winner and that the race is far from over.
"I will not rest until the American people have the honest vote count they deserve and that democracy demands," Trump said in the statement, which explains that the campaign's legal battle may begin soonest.
Republicans Split over Trump's False Claim to Election Fraud
As Trump continues to make claims against the integrity of the presidential election, die-hard loyalists believed he is on track while some Republicans have subtly or vigorously condemned his claims, with some saying they were outrightly false.
According to a Republican senator from Kentucky, Senator Mitch McConnell, "Here's how this must work in our great country. Every legal vote should be counted."
Notably absent from Mr. McConnell's statement was any suggestion that Democrats were stealing the election through an elaborate national conspiracy that included pollsters and the news media as Trump asserted with no evidence in a rambling news conference.
It also implicitly rejected Trump's calls for a halt to vote-counting in states where his early leads have been threatened or eliminated.
In a stinging statement, Senator Mitt Romney of Utah said that Trump, while free to request recounts and present valid evidence of fraud, "is wrong to say that the election was rigged, corrupt and stolen — doing so weakens the cause of freedom here and around the world, weakens the institutions that lie at the foundations of the republic, and recklessly inflames destructive and dangerous passions."
Atiku, PDP Congratulate US President-elect, Biden
Meanwhile, former Vice President Atiku Abubakar and the Peoples Democratic Party (PDP) have congratulated Biden.
In his congratulatory message, Atiku said he hopes that the election of Biden will improve bilateral relations between Nigeria and the United States as well as present a united front against the fight on terror and global insecurity.
Atiku said Nigeria and the United States are two nations, united by a common language, stating that the first major trip by the leader of an independent Nigeria was the July 25, 1961 White House visit of the golden voice of Africa, the late Sir Tafawa Balewa, under President John Kennedy.
According to the former vice president, "Nigeria and the free world, have much to learn from your victory, especially your pronouncement that you would not be a president for only those who voted for you. May such sentiments echo and re-echo globally.
"Not only do I congratulate you on your victory, but I also urge you to build on US-Nigeria relations, especially on widening the African Growth and Opportunity Act (AGOA) for seamless interplay with the African Continental Free Trade Area (ACFTA)."
He explained that only by fair trade will Africa fulfill its potential, adding that a prosperous Africa is good for the United States and the world.
The PDP has also congratulated Biden and Americans for a successful and a peaceful election in strict adherence to democratic principles and extant laws of their country despite the intense competition.
The PDP in a statement issued yesterday by the National Publicity Secretary, Mr. Kola Ologbondiyan, said that the election is a lesson to leaders that power resides with the people and that there is a limit to how any individual can hold a people to ransom.
It said: "Our party holds that the United States' presidential election presents lessons to our emerging electoral system, particularly on the independence of the electoral body as well as showing respect for the rights of the citizens to democratically choose their leaders, irrespective of preferences or predilections of incumbents.
"Indeed, the manifest non-interference by the security forces and the judiciary in the US election calls out the current situation in our country where security agencies and compromised judicial officers are used to muzzle election and subvert the will of the people as largely witnessed in the last five years, particularly in the 2019 general elections."
PDP explained that the US election serves as a strong lesson to Nigeria on the need to strengthen its institutions while focusing on the processes and rules instead of strengthening individuals.
The main opposition party charged President Muhammadu Buhari to draw lessons from the post-election remarks of the US president-elect by addressing the divisive tendencies, nepotism and marginalisation which characterise his administration as well as other actions and policies that threaten the stability, unity and development of the nation.
The PDP urged Biden to use his new office to promote world unity, peace, global economic, political and international trade collaborations with a focus on Africa as well as the developing world.
"Our party recalls that the United States and Nigeria have a long history of robust diplomatic relationship based on mutual respect and cooperation in critical sectors, with many enduring cultural, political, economic and social affinities, which should be strengthened for more global development," it said.
The party wished Biden a successful tenure and urged Nigerians to use the US election as a catalyst and preparatory template to consolidate on the democratic processes ahead of subsequent general elections in the country.