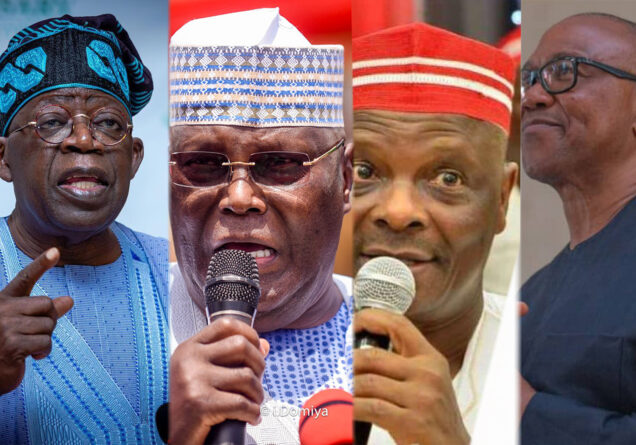 The presidential candidate of the New Nigeria People's Party (NNPP) Senator Rabiu Musa Kwankwaso has likened the rise of the Labour Party to that of Andrews Liver Salts.
Kwankwaso, who spoke at Chatham House, London on "Nigeria's 2023 elections: service delivery and policy alternatives" said although he initially wanted to work with the Labour Party, he discovered that the party was only under serious media hype.
He made the statement while responding to a question on whether he would consider stepping aside and working with the Labour party candidate, Peter Obi.
Kwankwaso said: "The issue of Labour. You see, that is the problem we have. The gentleman that asked the question, I am sure is from a particular part of Nigeria and belong to a particular group.
"You have a party that is based on ethnicity and religion…, of course, that is the difference the Labour Party and our party, which is a national party, the New Nigeria People's Party.
"While we are accusing leaders of being one thing or the other negative, the followers must learn how to be Nigerians and not coming from one part of the country.
"Let me say that I was one of those that initially wanted to work with Labour Party. Unfortunately, at that time, the Labour Party was under serious media hype and therefore, they could not see reason and is still not seeing reasons.
"Why say that I should withdraw? I wish you did not have to go to that extent. You would have said I should consider working with Labour Party or PDP or APC. People here don't even know what is happening. I want to say that our party, the NNPP is the only growing party in Nigeria today.
"We have seen the maximum any party especially the Labour party can go. To us, it's like Andrew's liver salt. It came with a lot of hype and now, it is coming down. Just take note of it. Our party, the NNPP is the only party that is now getting the support. Forget about the big people who are actually the problem of our country.
"We have succeeded in locking down northern Nigeria today in terms of votes and not working in the southern part of the country. The difference is that the north knows us more than the south.
"If you were from the north, you would not have made that statement for Kwankwaso to withdraw for Labour Party. You should go and look at my credentials. I hold a PhD in civil Engineering. Check your candidate and see what he has.
"I have been in the system for over 30 years. I was a civil servant for 17 years. I was Deputy Speaker of the House of Representatives in 1992. I was an elected delegate to the constitution conference. I was an elected governor of Kano state for eight years.
"I will tell you what I told them when we sat down. If anybody wants Kwankwaso to withdraw, let us bring criteria. Anytime I have a better candidate, I will be ready to talk to him".
The statement made by Kwankwaso concerning the Labour Party excited members of the NNPP, APC and PDP.
In his reaction, Bayo Onanuga, the Director of Media and Publicity for the APC presidential campaign, said "Kwankwaso has coined an apt metaphor for Peter Obi and his Labour Party: an Andrew Liver Salt that rises and then collapses. This is the truth that will shock Obidients on 25 February."
Another supporter of Bola Tinubu and APC joked: "My well-meaning Nigerians. This is to inform you that there's a change in one of the political parties, the name is Andrew Liver Salt ( ALS Party). Logo and slogan will be upload soonest."
Abdul Rasheeth, Special Assistant on Media to Atiku Abubakar also retweeted Kwankwaso's comment on his page to mock Labour Party.
Meanwhile, the supporters of Labour and Obi did not back down in the defence of their party and candidate.
One Enoch Ikechukwu said; "Kwankwaso said Peter Obi won't win because he is a regional candidate. Obidents (supporters of Peter Obi) let's surprise them."
Another supporter of Obi said: "They have called us all sort and you think Andrew Liver salt will hurt us? Lemme tell you, Andrew liver salt's function is for purging out impurities We will purge out PDAPC and retire old crooked politicians with Peter Obi."
One Sylvester Omoru also said: "All you mikano (Atiku supporters) & agbado guys (Tinubu supporters) are talking about the immediate rise and fall of Andrew Liver Salt. You skip the main reason ALS was produced, the effect when consumed. ALS is a lifesaver. This is Peter Obi's destiny. He'll fix Nigeria."