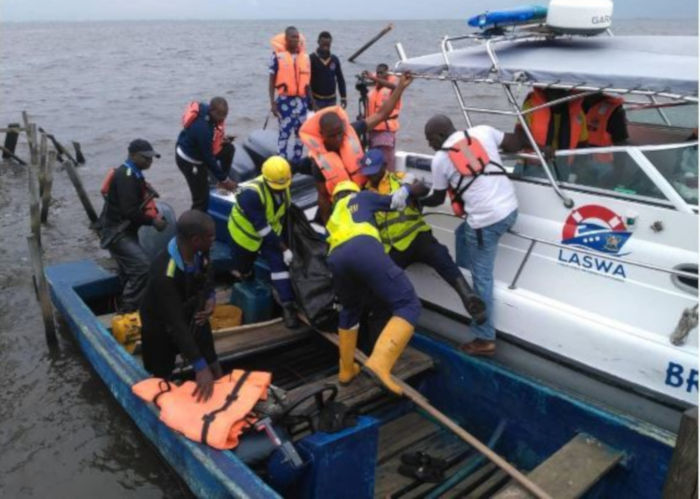 By Uche Amunike
The three missing corpses of the three medical students who drowned during the Calabar boat mishap that happened at the Marina Resort in Calabar, Cross River State, have finally been recovered in the early hours of Monday.
Recall that the students, who were members of the Nigerian Medical Students Association (NIMSA), were drawn from different universities nationwide and converged in the state for their annual Health Week.  They were on a boat cruise as they tried exploring the city of Calabar, when their speed boat capsized at Marina Resort in Cross River State on Saturday.
Soon after the Cross River State police spokesperson,  Irene Ugbo gave the confirmation of the Calabar boat mishap, efforts were intensified to see that the three corpses were recovered after 11 of the students were rescued.
Governor Bassey Otu of Rivers State expressed his dissatisfaction at the tragedy of the Calabar boat mishap and ordered that investigations were carried out to find out if the safety of the medical students was in anyway compromised and vowed to sanction anyone who was found guilty of that.
He maintained that his administration was committed to protecting the sanctity of life and an enabling environment for both business and tourism and would not tolerate any act that would lead to a derailment of their objective.
He has since commended the  Nigerian Navy and local villagers whose swift response aided in rescuing 11 of the students and already united  with their families.
Meanwhile, the Ahmad Bello University Medical Students Association has released a statement, confirming that two, out of the three recovered corpses were  students of the Ahmadu Bello University in Zaria. They were identified as Mustafa Tukur and Kabiru Hamza and were both final year medical students of the university.
Until his death, the late Mustafa was the Vice President of the Medical Students Association of the  University.
The statement partly read: 'Both students were exceptional individuals, known for their dedication, compassion and academic prowess. They had a promising future ahead of them, and their loss was deeply felt by their families, classmates, professors, and everyone associated with the medical program.'
'It surely was a painful exit, but we take solace knowing too well that they both lived a fruitful and impactful life. They will always be remembered for using their sojourn on earth wisely and well. They added to what they found on earth but did not subtract. They made and didn't destroy, and they left things better than they found them.'
The 3rd victim was a medical student from the University of Uyo.
The Calabar boat mishap is not the first one in recent times in the country as 103 people reportedly died in a boat accident after their boat capsized on their way back from a marriage ceremony.
Meanwhile, Governor Otu has instructed that every Cruise boat operation is indefinitely suspended at the Marina Resort, moving forward.