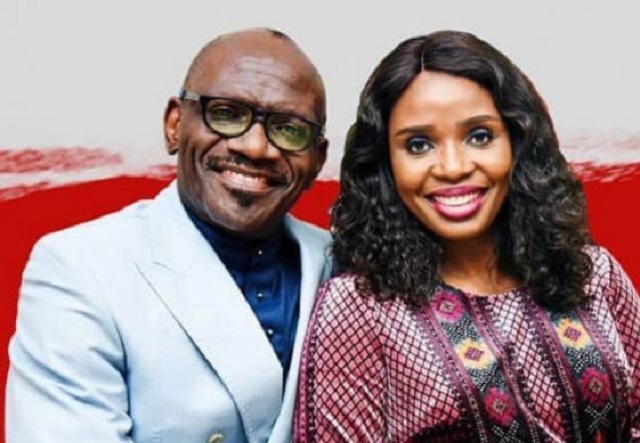 By Uche Amunike
The South African born wife of Pastor Taiwo Odukoya, who died, Tuesday, after a two year battle with cancer and eleven beautiful years of a marriage that produced two boys, Pastor Nomthi Odukoya certainly left her footprints in the sands of time.
Her loss came as a blow, not just to her husband, Pastor Taiwo Odukoya, her biological and step children, not mentioning family and friends, but also to the Christian community in Nigeria.
The late 47year old Senior Pastor of the Fountain of Life Church, Ilupeju, Lagos was born Rosemary Simangele from South Africa, but fondly called Pastor Nomthi.
She was a life coach, writer, educationist and a great inspiration to members of her congregation.
One of the things that made her very popular, shortly after she married Pastor Taiwo Odukoya was the release of her critically acclaimed children's book titled, 'No! Don't Touch Me There'.
It was a book she wrote to encourage children that suffered abuse to I have the confidence confront their parents or trusted adults and inform them of such improper behaviour. Parents, educationists who specialized in child body safety and experts used her book as a reference point over the years.
The late Mrs Odukoya was respected for her  passion for writing numerous children's books that addressed issues like gender equality, child abuse, bullying and life lessons.
Members of her congregation held her in high esteem and always looked forward to hearing her preach mainly because of her unique style of preaching the gospel.  On Thursdays, for instance, whenever she mounted the pulpit, her mode of greeting with her congregation was usually the question, 'how are you'? And they will very loudly reply, 'I'm enjoying my life'. Her bubbly reply to that will be, 'I'm enjoying mine too'. She was deeply loved by her congregation for her bubbly attitude and constant smiles.
The late Pastor Nomthi was a true source of inspiration to so many people as she used her books and messages to equip parents, educators and even children and how to overcome daily challenges in their lives.
In her journey through education, her primary education was in her country, South Africa and she schooled at Natal College of Education between 1996 and 1999 before obtaining her Master's Degree from the University of Liverpool. She is an accomplished author and some of her best sellers include 'Help! They are Fighting Again', 'Enjoy your Life', A Bully is not a Hero', 'Boys and Girls are Different but Equal' and so many others.
She also had, till her death, a foundation known as 'Wazi Foundation', through which she carried out several advocacy initiatives that advanced children's welfare.
Pastor Nomthi's love story started when she met her husband, Pastor Taiwo Odukoya at Triumphant Church International, where she worshipped in London. He came to minister the word of God. According to her she did not have her eyes on him as she only saw him as a man of God whose message, she found amazing and absorbing, so much so that she had to buy one of his books titled 'Home Affairs'.
She revealed that after the conference, she was informed by her pastor that there was somebody interested in her, but because she was seeing someone else, she showed no interest. The relationship ended eventually and afterwards, she informed her pastor.
She eventually met Pastor Taiwo Odukoya after his stopover in London and the rest is history.
Their wedding in January 2010 at Civic centre Lagos, brought together the creme-de-la-creme of Lagos High Society.
The likes of Michael Okonkwo, Enoch Adeboye, Itua Ighodalo, Paul Adefarasin and David Oyedepo were part of their guest list.
Nomthi enjoyed a beautiful relationship with her stepchildren Jimmy, Tolu and Toby, throughout her marriage. Little wonder Tolu and Toby were both in her bridal train. She had two sons from their union, Timileyin and Jomiloju.
Tributes from the lives she touched poured forth thus:
From her husband: 'She gave me 11 beautiful years of marriage and two wonderful boys, who I know will be very significant in life. I loved her with all my heart, but who am I to fight with the will of God. The truth is, at one point in our lives, we all will have to say goodbye. So for now, till we meet again in glory, Goodbye Nomthi'.
From her step-son, Jimmy Odukoya, a Nollywood actor: 'For we do not grieve as though we have no hope, for we are confident of this one thing. To be absent from the body is to be present with the Lord. The pain we feel @pastornomthi is for us who you leave behind for we will miss you. We will take care of Dad and the boys ! We love you but we know God loves you more! Continue to dance in the bosom of our Lord! Till we meet again!'
Her step daughter, Tolu Ijogun, wrote: 'Aunty Nom… You were such a beautiful light, an authentic Christian, and a woman that truly loved God. You were such a fighter; Cancer didn't win; God wanted you all to himself and called you home. To say we will miss you is an understatement'. Thank you for Tim-Tim and Jom-Jom. Thank you for loving my Dad the way you did. No more Pain Aunty Nom, rest in the bosom of our Lord till we meet again to part no more… Good night Aunty Nom.'
Recall that Pastor Taiwo Odukoya was married to the Late Bimbo Odukoya who died in the ill fated Sosoliso plane crash of 2005.