The build-up to the just-concluded presidential election was characterised by interesting activities, with the political scene parading some personalities that brought verve and youthful energy to the fray.
A number of young Nigerians indicated interest in occupying the highest office in the land, and buoyed by the signing of the Not-Too-Young-To-Run bill into law by President Muhammadu Buhari on May 31, 2018, they pushed with determination to change the status quo.
Although the Independent National Electoral Commission (INEC) approved a total of 91 new and existing political parties to participate in the poll, 73 parties fielded candidates in the Presidential Election.
The candidates included Muhammadu Buhari of the All Progressives Congress (APC) who won the election, and Atiku Abubakar of the Peoples Democratic Party (PDP) who came second.
Others were Omoyele Sowore of the African Action Congress (AAC); Olufela Durotoye of the Alliance for New Nigeria (ANN), and the Young Progressive Party (YPP) candidate, Kingsley Mogalu.
However, amid the crowded field of candidates, was a contestant about whom nothing was known by most Nigerians but who would later prove to have been somewhat of a dark horse in the presidential race.
At the end of the election, Felix Nicolas of the Peoples Coalition (PCP) polled more votes than all his co-contenders, except those of the APC and PDP who were the frontrunners in the contest.
He scored a total of 110,196 votes to come third in the election.
Perhaps, Nicolas' performance in the election has put an end to the series of debates and controversy about who is most popular among the relatively young candidates in the race, particularly among the trio of Sowore, Durotoye, and Moghalu.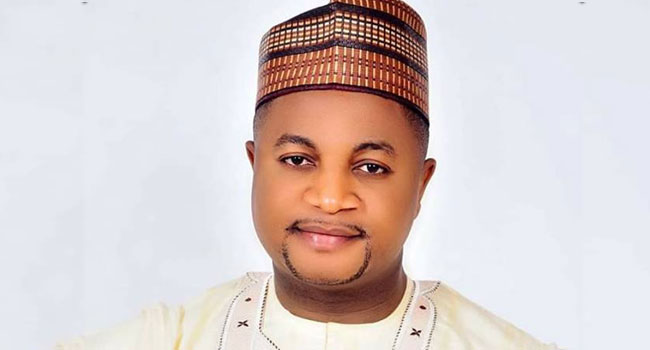 The PCP presidential candidate was closely trailed by Obadiah Mailafia of the African Democratic Congress (ADC) and John Gbor from the All Progressives Grand Alliance (APGA). Both polled 97,874 and 66,851 votes respectively.
A further breakdown of the results announced by INEC reveals that Yusuf Yabagi of the Action Democratic Party (ADP) came sixth with 54,930 votes; Chukwuma Eke of Grassroots Development Party of Nigeria (GDPN) emerged seventh with 41,852 votes; and Ibrahim Hassan of African Peoples Alliance (APA) came eighth with 36,866 votes.
One of the 'three famous' candidates – Sowore – made the top 10 list of candidates, although he came behind the candidate of the Social Democratic Party (SDP), Donald Duke, who had 34,746 votes.
The AAC candidate polled a total of 33,953 votes ahead of Moghalu and Durotoye who scored 21,886 and 16,779 votes respectively.
However, the candidates of Change Advocacy Party (CAP), Eliagwu Abah; Alliance for a United Nigeria (AUN) Angela Johnson; and We The People Nigeria (WTPN), Peter Nwangwu, completed the list of presidential hopefuls, polling the least number of votes — 1,111, 1,092, and 732 respectively.
See the full result of candidates as announced by INEC below;
| | | |
| --- | --- | --- |
| SN | PARTY | TOTAL VOTES POLLED |
| 1 | A | 19,209 |
| 2 | AA | 14,380 |
| 3 | AAC | 33,953 |
| 4 | AAP | 8,902 |
| 5 | ABP | 4,523 |
| 6 | ACD | 11,325 |
| 7 | ACPN | 7,223 |
| 8 | ADC | 97,874 |
| 9 | ADP | 54,930 |
| 10 | AGA | 4,689 |
| 11 | AGAP | 3,071 |
| 12 | ANDP | 3,104 |
| 13 | ANN | 16,779 |
| 14 | ANP | 3,586 |
| 15 | ANRP | 4,340 |
| 16 | APA | 36,866 |
| 17 | APC | 15,191,847 ……… WINNER |
| 18 | APDA | 26,558 |
| 19 | APGA | 66,851 |
| 20 | APM | 26,039 |
| 21 | APP | 3,585 |
| 22 | ASD | 2,146 |
| 23 | AUN | 1,092 |
| 24 | BNPP | 1,649 |
| 25 | CAP | 1,111 |
| 26 | CC | 2,391 |
| 27 | CNP | 1,874 |
| 28 | DA | 2,769 |
| 29 | DPC | 5,242 |
| 30 | DPP | 14,483 |
| 31 | FRESH | 4,554 |
| 32 | FJP | 4,174 |
| 33 | GDPN | 41,852 |
| 34 | GPN | 4,924 |
| 35 | HDP | 1,663 |
| 36 | ID | 1,845 |
| 37 | JMPP | 1,853 |
| 38 | KP | 1,911 |
| 39 | LM | 1,438 |
| 40 | LP | 5,074 |
| 41 | MAJA | 2,651 |
| 42 | MMN | 14,540 |
| 43 | MPN | 2,752 |
| 44 | NAC | 2,279 |
| 45 | NCMP | 1,378 |
| 46 | NCP | 3,799 |
| 47 | NDCP | 1,192 |
| 48 | NDLP | 1,588 |
| 49 | NEPP | 1,524 |
| 50 | NFD | 4,096 |
| 51 | NIP | 2,248 |
| 52 | NNPP | 6,111 |
| 53 | NPC | 10,081 |
| 54 | NRM | 6,229 |
| 55 | NUP | 5,323 |
| 56 | PCP | 110,196 |
| 57 | PDP | 11,262,978 |
| 58 | PPA | 21,822 |
| 59 | PPC | 8,979 |
| 60 | PPN | 4,622 |
| 61 | PT | 2,613 |
| 62 | RAP | 2,972 |
| 63 | RBNP | 1,792 |
| 64 | RP | 2,388 |
| 65 | SDP | 34,746 |
| 66 | SNC | 28,680 |
| 67 | SNP | 3,941 |
| 68 | UDP | 3,970 |
| 69 | UP | 1,561 |
| 70 | UPN | 1,631 |
| 71 | WTPN | 732 |
| 72 | YES | 2,394 |
| 73 | YPP | 21,886 |
See a breakdown of votes garnered by Sowore, Durotoye, and Moghalu below:
| | | | |
| --- | --- | --- | --- |
| STATES | AAC | ANN | YPP |
| 1)ABIA | 212 | 88 | 720 |
| 2)ADAMAWA | 282 | 162 | 109 |
| 3)AKWA IBOM | 222 | 95 | 118 |
| 4)ANAMBRA | 124 | 45 | 4,091 |
| 5)BAUCHI | 183 | 46 | 112 |
| 6)BAYELSA | 126 | 37 | 50 |
| 7)BENUE | 309 | 201 | 557 |
| 8)BORNO | 269 | 29 | 78 |
| 9)CROSS RIVER | 242 | 88 | 217 |
| 10)DELTA | 1,626 | 320 | 497 |
| 11)EBONYI | 205 | 683 | 192 |
| 12)EDO | 3,106 | 273 | 531 |
| 13)EKITI | 400 | 88 | 68 |
| 14)ENUGU | 219 | 141 | 1,379 |
| 15)GOMBE | 165 | 78 | 39 |
| 16)IMO | 467 | 119 | 676 |
| 17)JIGAWA | 226 | 66 | 67 |
| 18)KADUNA | 243 | 261 | 196 |
| 19)KANO | 416 | 114 | 200 |
| 20)KATSINA | 186 | 82 | 61 |
| 21)KEBBI | 276 | 99 | 53 |
| 22)KOGI | 250 | 89 | 87 |
| 23)KWARA | 401 | 422 | 140 |
| 24)LAGOS | 8,910 | 6,946 | 5,733 |
| 25)NASARAWA | 75 | 45 | 44 |
| 26)NIGER | 324 | 145 | 113 |
| 27)OGUN | 3,196 | 1,509 | 553 |
| 28)ONDO | 4,414 | 311 | 1,224 |
| 29)OSUN | 1,022 | 268 | 189 |
| 30)OYO | 4,014 | 1,896 | 1,608 |
| 31)PLATEAU | 268 | 796 | 442 |
| 32)RIVERS | 372 | 365 | 415 |
| 33)SOKOTO | 181 | 124 | 84 |
| 34)TARABA | 116 | 35 | 80 |
| 35)YOBE | 137 | 37 | 36 |
| 36)ZAMFARA | 186 | 24 | 44 |
| 37)FCT | 583 | 652 | 1,083 |
| TOTAL VOTES | 33,953 | 16,779 | 21,886 |
Source: Channels TV NG