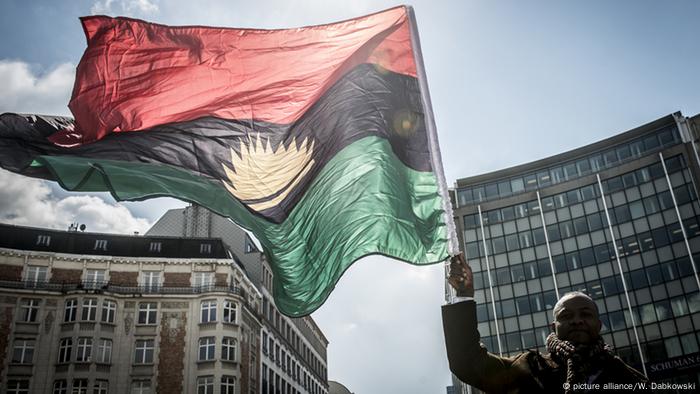 THE QUEST FOR BIAFRA BY NNAMDI KANU AND HIS SURROGATES: ARE WE OUR OWN WORST ENEMY?
For most of us that experienced the Nigerian/Biafran civil war between 1967 to 1970, the pain and suffering that we endured either as adults or children calls for post war physiological therapy.
Luckily for
Nnamdi Kanu
, he was a toddler during the war and from all indications doesn't understand the word PAIN- be it pain from hunger and starvation or the pain of wounded soldiers some of whom will die or if they are lucky enough will survive with some kind of disability.
The current murky situation in my Southeastern part of Nigeria which is gradually turning into a state of anarchy prompted my decision to voice my opinion. Some returnees from diaspora are now afraid of stepping on their motherland for fear of attack by operatives of surrogates of IPOB or law enforcement officials who could mistake them as members of the former. What an absolute state of disarray.
It should not go without saying that the current centrally run Federal government of Nigeria has exhibited gross marginalization of Southeasterners, be it the area of appointments or overall development of the region. Hence there is justifiable reason for agitation for inclusion or secession- but that must be done in a wise manner.
The fact that Nnamdi Kanu has access to modern radio waves shouldn't grant him the audacity to use his forum as a platform to disseminate false information to the public which is the propeller for apparent breakdown of law and order in the Southeast.
It is true that the escapades of Fulani herdsmen in the southern region of Nigeria is troubling, and also a fact that the ruling government  has exhibited gross ineptitude towards addressing their mayhem, however, the need for a unified voice of reason is a necessary factor towards either a peaceful resolution or otherwise by leaders in our communities.. One singular voice of inciting anarchy is a negative tool to achieve our goal.
When Nnamdi Kanu was released from the Department of Security Services(DSS) detention in Abuja after a protracted incarceration, he was indeed congratulated as an illustrious son of the land. Leaders of thought like the Late Doctor Dozie Ikefide Sr, (The Former Leader of Ohaneze Ndigbo) invited him to Nnewi to chart a way forward, Nnamdi Kanu in his reckless disregard for dissenting opinions, stormed out of the meeting saying that *It was either Biafra or nothing." Disregarding the fact that bloods have been shed for this cause before he was born.
Whatever condemnations or disdain  that we may have against our politicians, the fact remains that without government and politics, we will all live in a state of anarchy, which is clearly the  evolving situation on a daily basis in the Southeast where establishment structures as well as business outfits are being razed down (Most of which are owned by citizens of the Southeast). Suffice to count the innocent souls that are lost in this unplanned and senseless quest for secession. Meanwhile Nnamdi Kanu, the equivocator of this evil, rests comfortably in his secret hideout from where preys on uninformed people's emotion with his so-called  "Radio Biafra."
If the Federal government with iher arsenal unleashes equal measures based on the apparent lawlessness in the Southeast, it will amount to bloodshed, destruction of business enterprises and loss of lives with underlying consequences of further banditory, hunger and starvation.
The Southwesterners in their agitation against the breakdown of peace and security in their region have maintained a diplomatic resolve of consultations with stakeholders as a necessary approach to resolving the insecurity or disenchantment with the Federal government. Other than the collective action by people from all tribes and regions of the country during the #ENDSARS demonstration.  The Southwesterners have for most part been law abiding.
My advice to my fellow Ndigbo is to guard their uninformed lads to desist from the subscription to the Prophet of Doom called Nnamdi Kanu. If he is so  consumed about actualization of Biafra by any means, he should come out of  hiding and lead his followers on the battlefield.
The people of Southeastern origin of Igbo descent, other than some of our politicians who have failed us, are blessed with men of timber and calibre who can assist in the successful actualization of Biafra if that is our biggest political hunger.We must not succumb to the myopic style of Mr Kanu with his constant threat and insult to ladies and gentlemen who disagree with his approach
Simply put, leaders are born and have an inherent spirit of martyrdom in their blood. Leaders do not hide out of sight to use a propaganda based radio network to incite the less informed to break societal norms.
We must stand up against this self acclaimed Biafran Leader who does not have any inkling about what we stand for. And I say to him, "Nnamdi Kanu, you don't know war, you don't know Biafra." And no man is an Island." You gotta listen up bro or shut the F…. up."
Ike Agbatekwe
Editor@Large
Life and Times News
Los Angeles, California