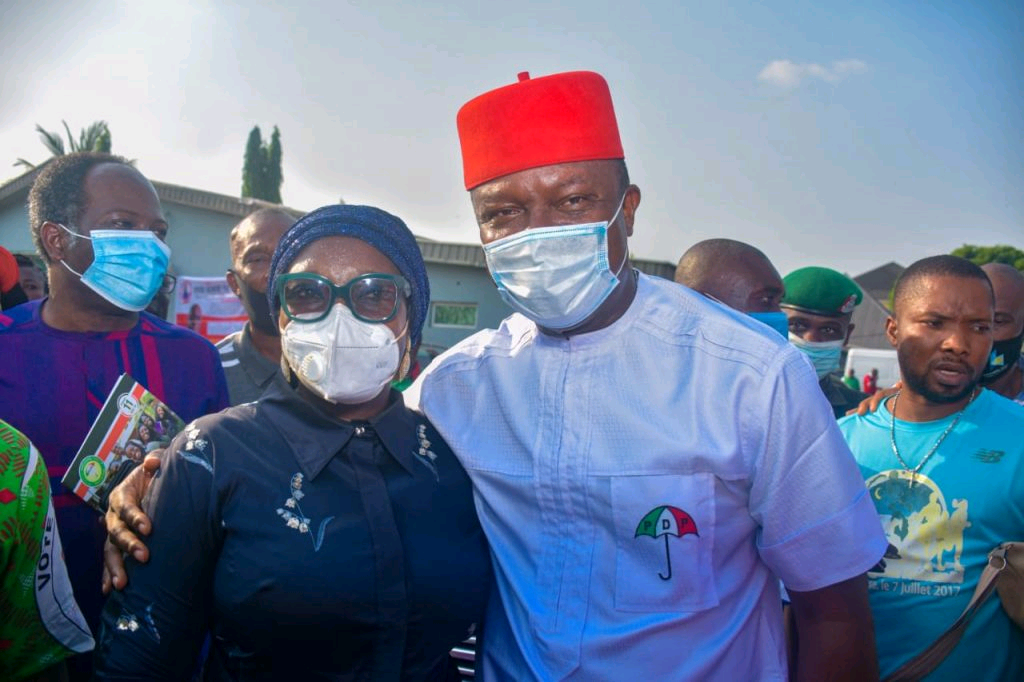 Uche Amunike
In its bid to take over the Anambra State Government House in November, the Peoples Democratic Party, PDP, has recorded a major milestone by appointing Senator representing Anambra Central at the National Assembly, Uche Ekwunife as the chairperson of Valentine Ozigbo Governorship Campaign Council.
This was disclosed at a press briefing, August 8, in Abuja at the residence of Prince Uche Secondus, National Chairman of the PDP for the November election with Senator Uche Ekwunife in attendance.
Also at the briefing were Chairman of the PDP Governor's Forum, Gov Aminu Tambuwal, Governor Ahmadu Fintiri of Adamawa state and Governor Udom Emmanuel of Akwa Ibom state, who joined the meeting via phone conference.
Ekwunife's appointment was birthed by a high-powered Party reconciliation effort initiated by the PDP Governors Forum.
Recall that a panel of five governors was set up to reconcile all former aspirants with the party's flag bearer and all other aggrieved stakeholders of the PDP in Anambra during the last meeting of the governors forum held in bauchi, July 2021.
The members of the panel were Governor Aminu Tambuwal, Governor Ahmadu Finitri, Governor Udom Emmanuel, Governor Godwin Obaseki of Edo state and Governor Samuel Ortom of Benue state.
PDP National Chairman, Prince Secondus declared that Senator Ekwunife's appointment showed that the PDP's internal dispute resolution mechanism is effective and that the benefits of her appointment will be exponential.
His words: 'With this milestone, coupled with other plans that will be unveiled soon, PDP is set to regain Anambra in 2021. We have a history of doing political exploits in elective office contests in the state, especially at the National Assembly level, and we are set to replicate our successes in November.
On his part, Gov Tambuwal extolled the duo of Senator Ekwunife and Mr Val Ozigbo, adding that,
'the PDP Governors' Forum was tasked to do what was necessary to reconcile with Senator Ekwunife and other key stakeholders to ensure we enthrone Valentine Ozigbo as a full member of our forum'.
'The Forum, therefore, set up a 5-governor committee of Sokoto, Adamawa, Benue, Edo and Akwa Ibom States. This announcement marks the first major milestone of the exercise, and we are elated,' Tambuwal reiterated.
Senator Ekwunife, in her brief remarks, said that she was honoured to be named as the Chairperson of the State Campaign Council of Valentine Ozigbo, whom she called her brother and friend, and urged all PDP faithful to put in their very best to ensure that the party wins the governorship race.
Mr Ozigbo responded by lauding Senator Ekwunife's political virtues, while expressing his joy over her new position in his campaign organization.
He appreciated the leadership of the PDP and all the PDP governors for their commitment and asked them to stay focused in ensuring that the party wins the election.
Also present at the briefing were Hon Tim Egboka, Director in VCO Campaign Organisation, Hon George Ozodinobi and Chief Tony Emelife, who accompanied Ekwunife to the event.
Recall that Valentine Ozigbo, a business mogul and philanthropist, emerged as the winner of the keenly contested PDP primary election on June 26, 2021
His victory is regarded as one of the most inspirational stories in Nigeria's recent political history.
Ozigbo named Mrs. Azuka Enemo, a seasoned Administrator, an academic, and a former two-time Commissioner of Local Government Affairs, as his running mate on July 29, 2021, a decision that has boosted the PDP chances of victory in the forthcoming election.
Observers and analysts have described Ozigbo as 'the candidate to watch' in the governorship race of Anambra state.