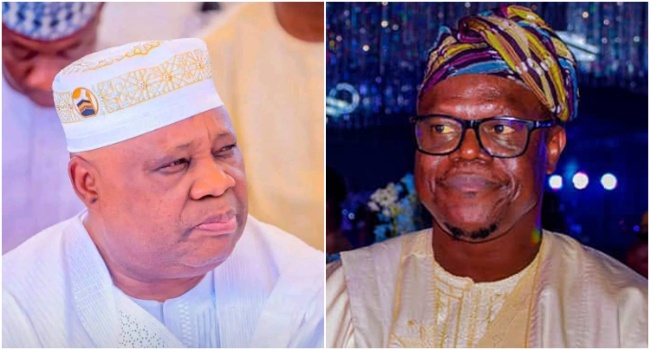 immediate past spokesperson for the Nigerian Senate, Ajibola Basiru has tackled Osun State Governor, Ademola Adeleke following the mild drama that played out during Eid prayer held at the State capital, Osogbo, in the wee hours of Wednesday.
TRIBUNE ONLINE reported Senator Basiru who had arrived at the prayer ground located at Oke-Baale area in the State capital was said to have allegedly sat at the spot reserved for the governor.
Minutes later, when Governor Adeleke arrived, efforts were allegedly made to prevail on the federal lawmaker to leave the space reserved for the governor but this yielded no result and further resulted into commotion.
The spokesperson to the governor, Olawale Rasheed, however, claimed there was attempt to assassinate his principal by the opposition — stirring mixed reactions among the residents in the State.
Reacting, Senator Basiru stated that those accusing him of trying to assassinate Governor Ademola Adeleke of Osun State should come forward with their "facts and figures" to prove such claims. 
"I did not see any seat earmarked for Governor Adeleke and I did not see any protocol of the governor and I did not also see an advanced party," Basiru disclosed on Channels TV's Politics Today.
He also threw a jab at the governor's spokesperson who, according to him, "does not know the definition of assassination" alluding that "he who asserts a fact must prove the existence of that fact".
The former lawmaker also stated that he was rough-handled by armed thugs who wanted to remove him from the Eid ground.