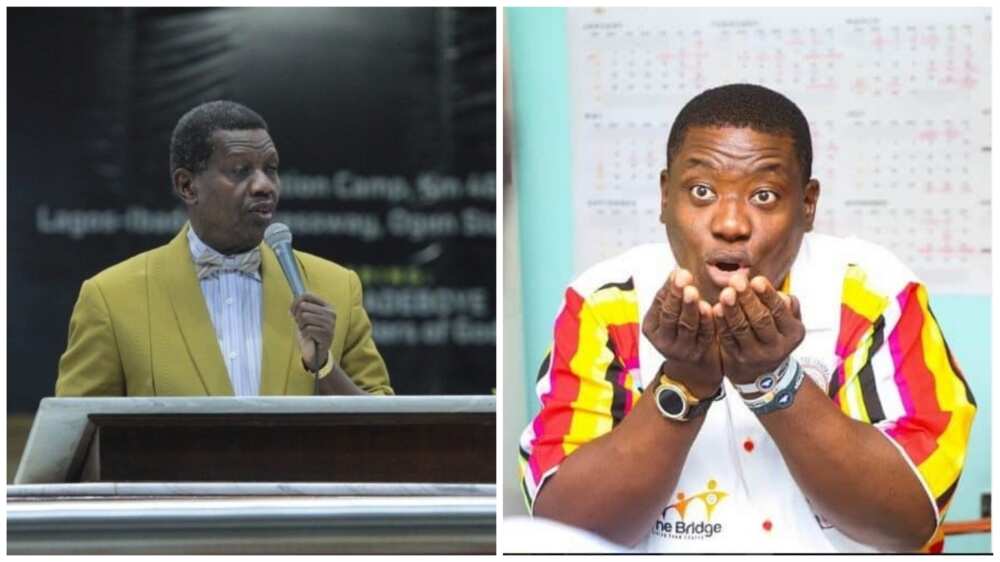 By Uche Amunike
Tempers seem to have cooled off as the General Overseer (GO) of the Redeemed Christian Church of God (RCCG) Pastor Adebayo's son, Leke Adeboye tendered his apology for calling some pastors of the church 'goats'.
Recall that the erring Pastor Leke Adeboye, who doubles as the GO's Senior Personal Assistant, went out of line when he called some Pastors in the church 'goats', for preaching after his father's sermon last Sunday, as according to him, no pastor was supposed to entertain any sermon on Thanksgiving Sundays after his father's sermon had been broadcast live.
Resultantly, the RCCG has taken measures to discipline him over his unguarded comments and he has apologized on his verified Instagram account, Thursday, for his conduct.
His statement, which was titled 'My Sincere Apology' reads: 'I wish to use this medium to tender my unreserved apologies for the statement made from my social media handle about some of our esteemed Pastors', he said.
'The disciplinary measure taken by the Mission is well received and this period will be used to reflect and introspect'.
'I wish to crave your indulgence to please forgive my extreme statement which I wish to emphasize was absolutely not intended to insult or malign'.
'I also wish to apologise profusely to the entire leadership and Pastors of our beloved church who might have been hurt by this statement.'
Even though many social media users have positively reacted to Pastor Adeboye's son's public apology, some others dismissed it as a rehearsed speech.
Monday Jato, (@jato_Monday) a tweeter user tweeted: 'Good. Let's put the matter behind us and move on. The church is marching on and the gates of hell shall not prevail. Satan has lost the battle.'
As for another tweeter, Hessojay Hegemony (@soj_moz), however, the RCCG Pastor Adeboye's son's apology was not genuine. His tweet: 'How does calling someone a goat not be intended to insult or malign? He knew exactly what he was doing. He should own up and apologize heartily.'
 Dawari Cottrell (@dawari_Cottrell)'s tweet, on its part, goes thus: 'But how…Leke Adeboye…and this goat thing. Thought been 'Greatest of All Times' at what you do it's a good thing. Why apologize! Lol! What's the issue? I'm lost, Doc'!
Recall that the offending Instagram post by Pastor Adebayo's son, which is now presently deleted humiliated the Pastors who preached the messages after his father had preached a sermon. The post attracted public outrage where many social media users condemned his unguarded statements, terming it inappropriate and calling for his suspension.
However, as for Reverend Canon Selome Kuponu, the Assistant Priest at St Michael's Anglican Church, Ojo and Senior Lecturer in Christian Studies at the Department of Religions and Peace Studies at the Lagos State University, he sees nothing wrong in RCCG Pastor Adebayo's son's utterances because it was his personal opinion and not the church's opinion.
His words: 'If the pastors are not 'goats', they should just ignore him and not allow unbelievers to interfere in what is not their business'.