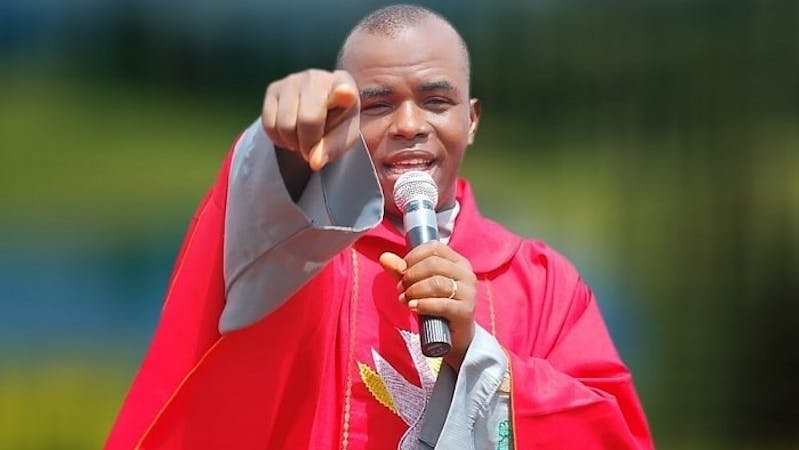 A Nigerian cleric has recently claimed that the Presidency of the federal republic of Nigeria is being surrounded mostly by cabals who are corrupt and are determined to mislead Buhari the nation's president, by feeding him with false and negative informations.
Rev. FR Mbaka who is the Spiritual Director of Adoration Ministry, Enugu, in a statement made during a Homily in the first Sunday of the month of November 2020, said that the President, Major General Muhammadu Buhari (retd.), is being fed with lies by the people he surrounded himself with.
Mbaka also accused security men in Enugu State of killing and dumping several bodies of some #EndSARSprotesters into the Onyeama valleys.
The controversial Catholic priest, who is widely known for his spiritual prowess and who has always been vocal in political issues, disclosed this during his sunday ministration, and asked president Buhari to apologise to the country, especially the youth, on behalf of himself and his predecessors, who had also caused Nigerians so much pain.
Mbaka, while delivering a message titled, 'Impure Heart', at the 2020 All Saints Day Holy Mass, stated that pure heart begets pure spirit while impure heart begets evil spirit.
He alleged that many youths were being detained in various correctional centres across the state and the country, declaring that it was rather the Nigerian leaders that should be in those correctional centres.
Mbaka warned that the detention and extrajudicial killing of pro-Biafra agitators should cease forthwith, saying, "They should not touch any of those Biafra boys o!"
Clarifying that his message was not targeted at any particular government or individual but bad governance in general, Mbaka added, "This is not about #EndSARS or IPOB. Nobody is fighting any government; we are fighting bad governance.
"Few days ago, at Miliken Hill, after New Market, (in Enugu), people discovered corpses of those that were shot and killed during the recent protest. They dumped people's corpses there while families of those young men and women continued searching for them.
"That is why I am telling you that Nigeria can never be the same again. Did you expect these young men to keep watching the country being swindled and looted dry by the so-called leaders?"
He said, "Buhari, who could have been a solution to this, succeeded in encircling himself with criminals and hooligans. People, who do not just tell him lies but rather, they magnify lies; lies with NAFDAC number – and feed him."
This statement of the radical cleric is bound to provoke the thoughts of many and send a positive signals to the hearts of Nigerians which would in turn create an awareness on the minds of youths and all well meaning citizens of the nation, who are already furious and unsatisfied with the present administration of president Buhari especially with the lack of development, and most annoyingly, the incessant killings of citizens by terrorist, hoodlums, robbers, and even those who are meant to protect and save lives and properties.
For many persons, Nigeria is at the point of a meltdown, it is like a volcano waiting to erupt if nothing is done to remedy the situation soon enough.
The questions now on the minds of most Nigerians are; Can Nigerians persevere till Buhari's tenure is over and wait for another election to be conducted? Are Nigerian Youths willing to accept the usual status quo and past lies of former political juggernauts who have failed them over the years since independence? Will Human rights activists, genuine political and religious leaders as well as the families of bereaved victims of the incessant killings stand by and do nothing over the death of fellow citizens, families and loved ones?
Time alone will tell the direction the pendulum of Nigerians patience will swing.
Gift Joseph Okpakorese
Staff Writer