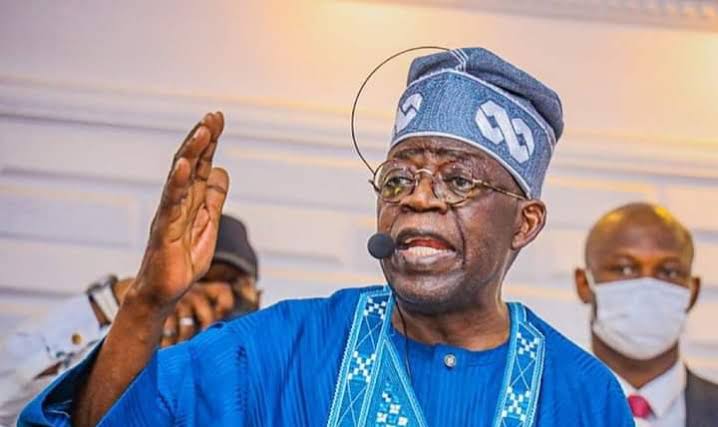 By Uche Amunike
President Bola Ahmed Tinubu has tasked lawmakers, during a meeting held at the State House Conference Centre, Abuja, Thursday, to decry party politics and make Nigeria their priority always, as they carry out their duties in the 10th National Assembly.
Speaking, during a joint session of the National Assembly, which is made up of senators and members of the House of Representatives across all political parties, he stated that working in one accord would go a long way in ensuring that they choose good leaders in the National Assembly.
Speaking to Newsmen, Adamu Ranga, the member-elect representing Ningi/Warji federal constituency in Bauchi State, said that President Bola Ahmed Tinubu called for a united front, even though it was clear that he did not give his support for any of the candidates running for the Senate or House of Representatives leadership.
His words: 'Mr President spoke to the general assembly both the Senate and the House of Representatives in order to ensure that we have a solid government. Second, he emphasized that he will perform an open-door policy for everybody.'
'Whoever wants to see him can see him without any hindrance. And whatever you want to discuss with him, he will give you that privilege to discuss.'
'He further stated that the president enjoined all lawmakers to make their constituencies a priority as their primary job was to be representatives, urging both the senators and the House members to elect good leaders.'
Professor Paul Nnamchi, who is the member-elect for Enugu East/Isiuzo Federal Constituency, during his interview with newsmen, also averred that President Tinubu advised all lawmakers to endeavor to uphold national interest.
Hear him: 'He appealed that we should forget about party politics and face national interest. That was the major part of his speech.'
'He didn't mention anybody's name to be voted for. Maybe he is appealing, but I didn't hear anybody's name', Nnamchi stated.
On his part, the former Speaker of the House of Representatives,  Femi Gbajabiamila and now, Chief of Staff to President Bola Ahmed Tinubu,  who was also present at the meeting,  lauded the president for convening the meeting and stated that it would enhance the mutual relationship that existed between the executive and legislative arms of government.
Also in attendance, at the meeting were Vice President, Kashim Shettima, former Akwa Ibom State governor and major runner in the race for Senate Presidency,  Godswill Akpabio, as well as the former governors of Ebonyi state, Dave Umahi, as well as Edo State, Adams Oshiomole. Sani Bello, Aliyu Wammako and Osita Izunaso were also at the meeting  as well as contender for position of Speaker, Tajudeen Abbas. Governor of Zamfara State, Abdul'Aziz Yari was however, notably absent, as well as Deputy Speaker of the House of Representatives,  Ahmed Wase.
The meeting is one, out of the several interactions that will be held between President Bola Ahmed Tinubu and lawmakers, even as the 10th National Assembly prepares to be inaugurated on June 13, 2023.