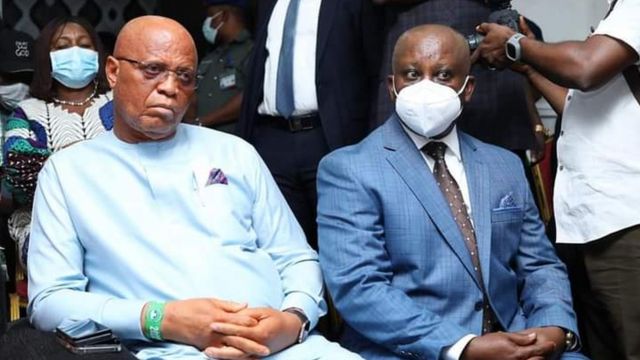 Uche Amunike
The General Overseer of God's House of Refuge in Uyo, Akwa Ibom State, Pastor Ezekiel Atang is dead.
Atang, who was a renowned relationship expert, author and public speaker died three weeks before his 50th birthday and news of his death has been widely circulating in the Nigerian social media space.
News of his death was first posted on Facebook on February 21, 2022 by his friend and South African based Pastor, Charles Awuzie. It was also confirmed by his fellow Pastor and friend, Kingsley Okonkwo who posted thus on Facebook: 'My brother and my friend, my partner in family life mandate to the body of Christ. You left an indelible mark, and unforgettable legacy, you spoke with clarity and conviction, loved by all, we will definitely miss you'.
'I received the invitation to your 50th birthday celebration same day you went to be with the Lord. I'm happy I spoke to you and saw you a few days before you went to be with the Lord, we love you – you will never be forgotten on this side'.
Pastor Ezekiel Atang founded his Church, God's House of Refuge, Uyo in 2006. He is widely known both in Nigeria and beyond, for his passion for solving different marital crises in different homes. This made him introduce the popular program known as 'Singles Frank Talk'.
He has written many books including the Best Seller, Understanding Sex; Road Signs to Destiny; Overcoming Masturbation and Lord, I am Still Single, Why? His other works include Communication without Contention; Transforming your Marriage in 40 days and others.
He is also the founder of Fresh Wine for Couples International, an organization that is formed to enrich marriages and relationships through seminars, conferences and Marriage schools. They have been known to hold their conferences in places like Ghana, Chicago and Philadelphia.
He is committed to lowering the global divorce rate, the world over as much as possible, instilling a sense of destiny in the youth and restoring biblical marital and family values. As a pastor he focuses on bringing up change to people who will be agents of changing in their own time as a pastor.
Pastor Ezekiel Atang hails from Ikot Udota in Eket Local Government Area of Akwa Ibom State.
The Akwa Ibom State Governor, Udom Emmanuel has since paid a condolence visit to the residence of the late Pastor Ezekiel Udom where he commiserated with the immediate family of the late Evangelist, shortly after his demise two days ago.
The late pastor is the fourth child of his parents, Lt. Cdr. Friday Atang and Head- Sister Rebecca Friday Atang. He attended Nigerian Navy Primary School in Apapa, Lagos and his secondary school education was at Etinan Institute and finished from Ikot-Ekpene's prestigious Federal Government College. From there, he attended the University of Calabar where he studied Marketing and graduated with a bachelor's degree.
Atang's widow, Dr Dara Atang, is a medical practitioner, recording artist, songwriter, singer and co-pastor to him. Their union is blessed with three children: Levi, Olive and Ephraim.