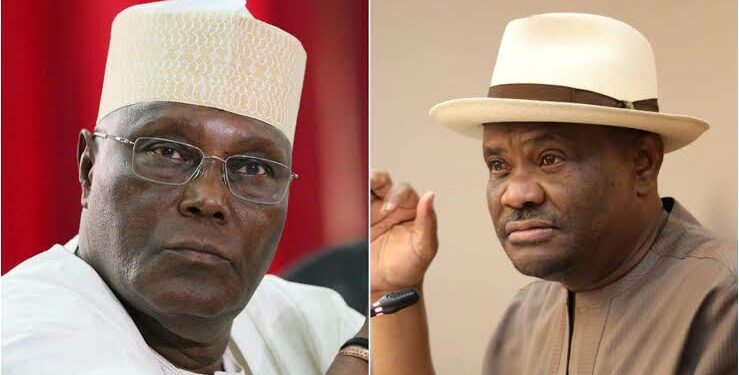 The Rivers State Government Wednesday evening announced the cancellation of the approval earlier granted the Presidential Champaign Council of the Peoples Democratic Party, PDP for the use of the Adokiye Amasiemaka Stadium for its presidential campaign scheduled for February 11, 2023.
The cancellation is coming less than 48 hours after the Rivers state governor, Nyesom Wike had threatened to deal with the national leadership of the party for forcing to withdraw Emmanuel Ukala SAN as counsel to the Rivers state PDP in cases between the PDP and Accord and other parties in the state.
Wike had angrily reacted to the move and threatened to respond to the action which he described as "anti party activities".
So it was not surprising when a letter signed by Barr. Christopher Green, State Commissioner for Sports and addressed to Rt. Hon. Aminu Tambuwal, Governor of Sokoto State and Director General of the PDP Presidential Campaign Council announcing the state government's decision to "withdraw the approval earlier given to you for the use of the stadium".
The government gave its reasons for the withdrawal this; "Credible intelligence available to the government of Rivers State and recent developments now show that your presidential campaign organization is working in collaboration/cahoots with a faction of the All Progressives Congress APC in Rivers state led by Tonye Patrick Cole and that is the intention of your presidential campaign organization to accommodate and share the approved facility for your campaign with the said faction of the all Progressives Congress APC.
"Government records show that the activities of the APC in Rivers state have always been marred by violence due largely to irreconcilable internal conflicts within the party including shootings and killings in the course of protests arising from the nomination process of delegates for primaries and detonation of explosives in the course of campaigns (Explosion Rocks APC Campaigns in Rivers.
"The Rivers state government is unable to risk damage to or destruction of the very valuable and priced asset, the Adokiye Amasiemaka stadium, which your use of the same in collaboration with your Tonye Patrick Cole APC faction will definitely expose it to.
"In the circumstance, the Rivers government has come to the painful but inevitable decision to withdraw the approval earlier given to you for the use of the stadium."