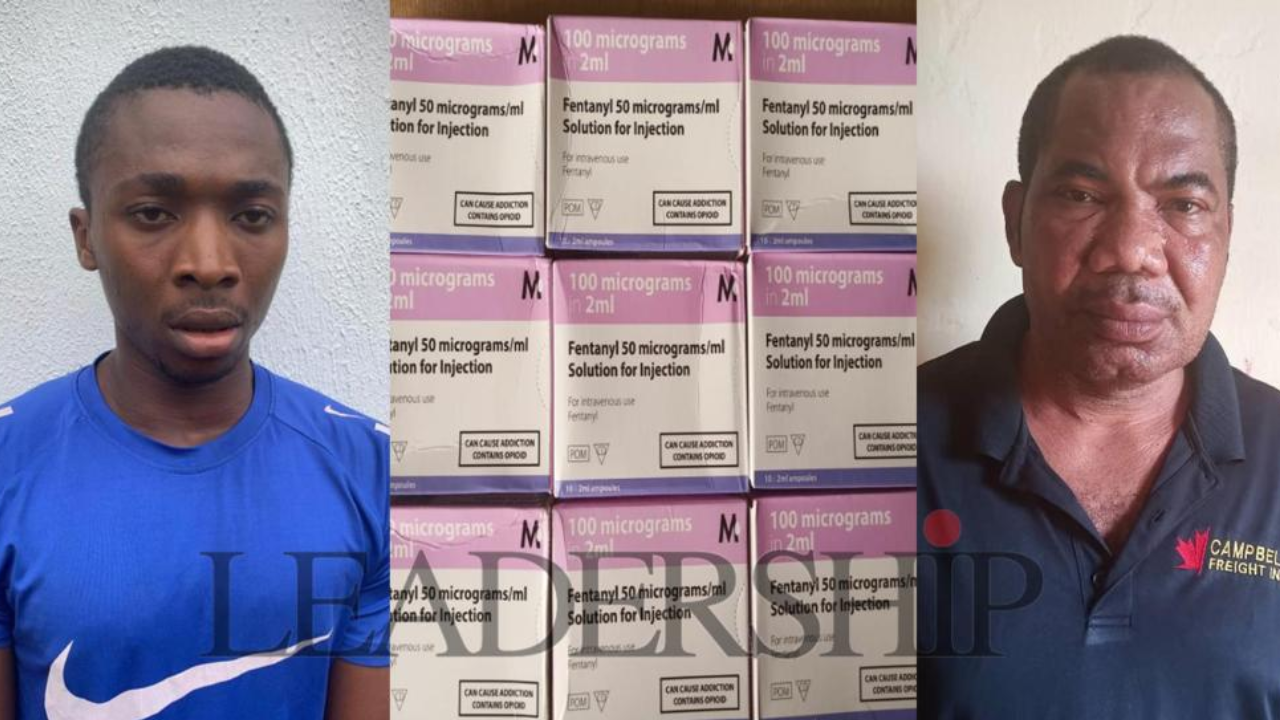 By Uche Amunike
Officers of the National Drug Law Enforcement Agency (NDLEA), have busted members of a cartel involved in the Illicit trafficking and importation of lethal synthetic opioid, known as Fentanyl.
Fentanyl is a highly potent synthetic opioid drug mainly used as an analgesic. It is a 100 times more potent than morphine and its major clinical utility is for managing pain in cancer patients and those recovering from painful surgical operations. It is also used as a sedative.
Owing to the high potency of fentanyl, it is easy to manufacture it and also smuggle it in among other abused narcotics. It is also stronger than Tramadol and is able to cause mass casualty among the population of youths who are the main targets of these cartels.
According to the NDL EA spokesperson, Femi Babafemi,  arrests have been made of two members of the cartel. They are Odoh Collins Oguejiofor and Oliver Chigozie Uzoma, who were picked up at Ogbogwu Market at the Onitsha Head Bridge, situated at the Onitsha South Local Government Council of Anambra state.
According to Babafemi, the well-planned clinical operation happened after the anti-narcotics agency on Tuesday, November 22nd, 2022, got the information that some criminal elements were planning to flood the Nigerian market with the drug, which is presently the reason for over 70% overdose deaths and also a major contributor to fatal and non-fatal overdoses in the United States of America.
Note that the United States Centre for Disease Control and Prevention (CDC) stated that Fentanyl's potency is 80% more than morphine and 100% more than heroine.
Hear Babafemi: 'Following credible intelligence and synergy with local and international partners, the NDLEA was able to mobilise necessary assets to trace the illicitly manufactured drug to the Ogbogwu market, Onitsha Head Bridge, reputed to be the largest drug market in West Africa, after months of undercover monitoring.'
'Convinced that the Agency has gathered sufficient evidence to nail the suspects, Chairman/Chief Executive Officer, Brig. Gen. Mohammed Buba Marwa (Retd), ordered a deployment of operatives to pick members of the syndicate one after the other.'
'Odoh Collins Oguejiofor was the first to be arrested while on a business mission with packets of 100 microgrammes of Fentanyl, while the arrest of Uzoma, who is a major dealer in other illicitly manufactured pharmaceutical opioids, including Fentanyl, followed.
He stated that packs of fentanyl were recovered from Odoh, while varied quantities of controlled and banned drugs, including Fentanyl were seized from Uzoma.
Speaking, on the arrest of the cartel members, the NDLEA boss, Marwa, lauded all the officers of the agency that were involved in the operation, while encouraging them to intensify the crackdown on other members of their cartel who may have gone underground, lest they do further harm to the public health, especially the youth population.
His words: 'In the meantime, I'll like to thank our international partners for the huge confidence in us and their support and partnership for the benefit of humanity. In the same vein, I'll urge parents and other stakeholders to be vigilant, alert and warn their young ones against attempting experimenting with this illicit substance.'