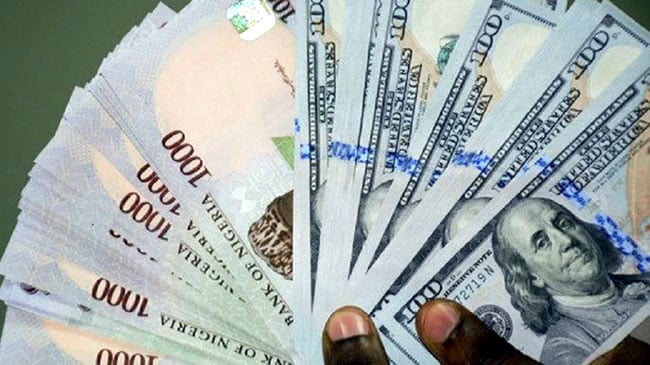 By Uche Amunike
As at Tuesday November 9, 2021 the naira exchange rate has become stronger both at the official and parallel markets.
The data obtained from the FMDQ Security Exchange, where foreign exchange is traded officially, has shown that the Naira exchange rate to the US dollar opened at N413.57 to $1 on Tuesday, November 9 even though it closed at N414.55 to $1 on Monday, November 8 2021, showing an appreciation of N0.098.
Relatively, dealers at the Parallel (Black) market on Tuesday, November 9 2021, said that the naira exchange rate to the US dollar was N570 which gives it a one naira appreciation margin from N571 to $1 it exchanged on Monday and Friday.
The Central Bank of Nigeria has however displayed N410.82 to the greenback as of Monday, November 8 2021 as against the N411.29 to $1 displayed on Friday, November 5, 2021.
The Apex bank also displayed the British Pound Sterling at N555.1411 on Monday, November 8, to the Sterling as against N553.0205 to $1 displayed on Friday.
Ever since the Central Bank carried out her last adjustment in August 2020, the naira exchange rate has constantly hovered around N410 to $1 on its website homepage which has represented the official exchange rate in the past.
Significantly, the naira exchange rate displayed on the website has historically been referenced as the official exchange rate of the country, even though government transactions have been converted since 2021 by using the existing exchange rates at the official NAFEX window.
Recall that in March, the Minister of Finance, Zainab Ahmed, informed newsmen that the Nigerian government adopted the NAFEX exchange rate as the official rate of conversion for FAAC allocations, making it clear that any business transaction involving foreign exchange in Nigeria will be done with the prevailing NAFEX exchange rate as the official exchange rate.
Noteworthy is the fact that the Central Bank of Nigeria (CBN) does not recognize the parallel (black) market as it has directed individuals who want to engage in foreign exchange to do so through their respective banks.
At the black market in Uyo, dealers exchanged the currency at N560 and sold at N565 to $1 on Wednesday, while at the FCT, the naira was exchanged at N565 and sold at N568 to $1 on the same rate it has been trading since the opening of the week sales.
On the other hand, available data has shown that after the CBN introduced the policy of suspending Foreign Exchange (FX) supply to Bureau De Changes (BDCs), a total of 6 banks generated N145.6billion income from trading in foreign exchange in nine months of 2021, as against the N47.16 billion they generated, 9 months prior of 2020, from trading in the FX market.
The six banks are Union Bank of Nigeria Plc, Guaranty Trust Holding Company Plc (GTCO), United Bank for Africa Plc (UBA), Sterling Bank Plc, Wema Bank Plc and Access Bank Plc.