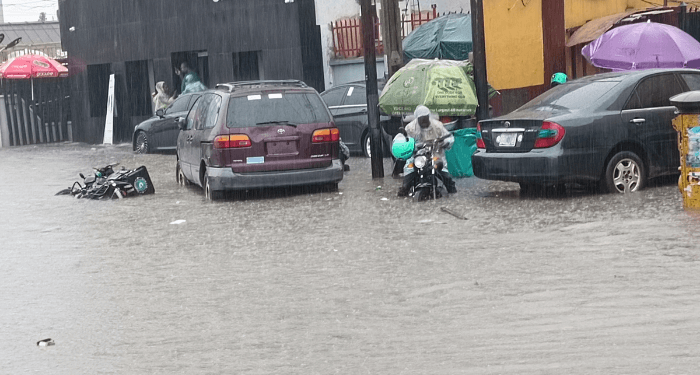 By Uche Amunike
Not less than 7 lives have been lost to flood disaster in various areas in Kwara state, this year, especially the Patigi riverine community in Patigi Local Government Area which has been worse hit by the Kwara flood.
Just last week, at least 2800 people and 1300 households were affected in the aftermath of the Kwara flood disaster that submerged large hectares of farm lands and houses.
This was disclosed by the Managing Director, Hydroelric Power Producing Areas Development Commission (HYPPADEC), Alhaji Abubakar Yelwa, during an interview with Newsmen during the flag-off distribution relief materials worth N50 million to victims of the Kwara flood disaster.
According to the HYPPADEC, part of the items procured were 1300 mattresses, 200 cartons of bathing soap, 500 bags of rice and 250 cartons of detergents among others.
They had earlier flagged off their medical outreach program to provide healthcare and prevent the spread of any epidemic in Lafiagi, Edu Local Government Area of the state.
Yelwa, who was represented by the commission's Director, Environment and Community Development, Mahmud Muhammed, sounded a note of warning to inhabitants of the riverine communities to vacate the area as the worst disaster was likely going to happen soon.
The Managing Director, who stated that the relief materials cost N40-N50 million, added that it might no longer be possible for the federal government to provide the resources with which to grant relief materials to affected persons owing to the recurring flood disaster in the area, as a result of dwindling resources.
HYPPADEC, according to him, was contemplating sponsoring a bill to promulgate a law that will stop people from being resident certain kilometers away from riverine communities to avert continuous loss of lives and property.
He condemned the refusal of riverine area residents and victims of previous flood disasters to move into the IDP camps set up by the government.
His words: 'That is the big challenge we are having with my people, they continued to turn their deaf ears to flood warnings for decades. Move out of this zone, they will not heed,' he said.
Asked if lives were lost in the flood ,Yelwa said, 'We have received report of five to seven people who have lost their lives in the state.'
A resident, Mohammed Kolo, affirmed that the damages caused by the Kwara flood amounted to the tune of hundreds of millions of Naira and that sadly, the victims now have to pay between N1,500 and N2,500 per head to ferry in a paddling canoe to their various homes.
'Even that one is very risky, anything can happen. The cannoes are being operated by individuals who charged between N1,500 to N2,500 per head. If you are alone you will be charged N1,500 but if you are with a machine is N2,500 per head.'
'Depending  on its size, the canoe cannot take more than 20 persons and 7-10 machines at a go in oder not to capsized,' he said.
He reiterated: 'Most of the people have left their homes, those that are still there hang their wrappers up and sleeep their at night.
'The worst thing is that after the flood some people will not be able to return to their homes because most of the houses  have been destroyed.'