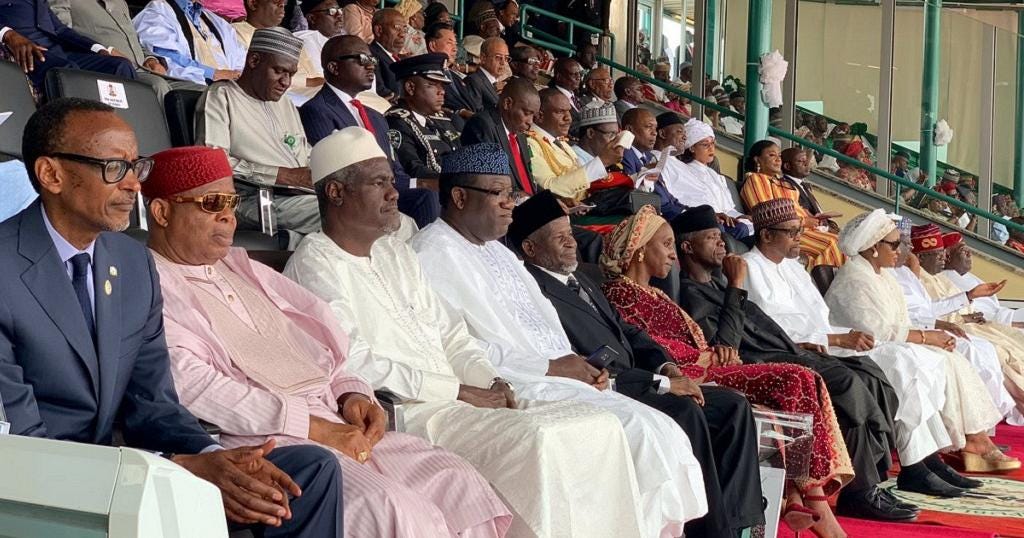 I received numerous interesting responses to my recent column titled "Is It Peter's Obi's Election?"
No respondent contested my suggestion that the former governor, for all his imperfections—and there are quite a few—remains the most compelling candidate in the lineup of 2023 presidential aspirants. Nor did any deny that Obi's candidacy has sparked a spree of enthusiasm across the country, but especially among young and educated Nigerians.
Still, one man dismissed Obi's momentum as a fleeting social media trend. "Elections are a ground game, not a competition on Facebook or Twitter," he said. "And when we get to that game, the battle will be between the PDP and APC." He went as far as asserting that Obi's run was a misadventure. According to him, the former governor's savviest move would have been to run as a vice presidential candidate to former Vice President Atiku Abubakar. In that event, he said, Obi could have struck a deal with Atiku to be a single term president. In four years, the former governor would have a clear path to the presidency.
Another correspondent pointed to Obi's apparent difficulty convincing any major northern politician to be his VP sidekick. For him, unless the former governor is able to attract a politically visible and electorally viable northerner, his presidential quest is doomed. News reports indicate that Obi's efforts to woo former Governor Rabiu Kwankwaso of Kano State into becoming his sidekick have gone nowhere. One of Kwankwaso's political associates has pooh-poohed the idea of his man playing second fiddle to Obi.
To be sure, the ex-governor and his Labor Party are running an unconventional, even counterintuitive, campaign. It's as if Obi has forged a style that combines the best attributes of two of Nigeria's best known practitioners of the art of politics. In his attention to the minutia of social indices and disciplined articulation of policies, he appears to cleave to the late political sage, Obafemi Awolowo. When he works an audience, he comes across as aspiring to the charisma of Nnamdi Azikiwe.
---
On paper, then—every other thing being equal—he should do well. If, in the end, he's left in the dust, consigned to the column of the also-ran, it won't be chiefly because he lacks a solid VP prospect from the North. Instead, such unimpressive outing would owe to a peculiar malady of Nigerian politics.
In the field of politics, Nigeria tends to be dominated—if not monopolized—by men who are utterly broken in physical or psychic terms. In fact, it might appear to an observer of our political life that Nigerians go out of their way to recruit or embrace leaders who, in spirit, body or both, are verifiably diminished.
Former President Olusegun Obasanjo relishes the role of first critic of Nigerian leaders. Yet, if he strikes many as a legitimate quartermaster of errant politicians, it is because of widespread amnesia about his own execrable conduct as president. When he ran Nigeria for eight years, Obasanjo behaved less like a democratic leader than an emperor. Impunity and imperiousness were the hallmarks of his statecraft. He sought to emasculate the national assembly. When the courts ruled against him, he simply ignored them. For him, elections were "do-or-die" affairs, and he marshaled the agencies of state power to cow his political opponents and snatch many an election. It was broadly understood that his vaunted war against corruption was being waged only against those in opposition camps. If you were close to the president, even if you reeked awfully of corruption, you were shielded from arrest. Under his watch—indeed, possibly at his instigation—thugs were deployed to Anambra State to lay waste to public property. He lent his presidential imprimatur to the criminal excesses of a few self-styled political godfathers. When Nigerians demanded that he fix their country's perennial electric power woes, he swore on his honor to do so. He then squandered $16 billion on ostensible power projects, leaving his country in as much darkness as he found it.
Obasanjo is a portrait of physical fitness. He moves at the brisk pace of a much younger man. On the dance floor, he can hold his own. Yet, for all that physical vigor, he's a broken man. In divorce filings, one of the ex-president's sons accused his father of sleeping with his wife. One of his daughters wrote a widely circulated scathing letter in which she renounced him. In a shocking memoir, his first wife accused him of battering her numerous times. How then did Nigeria end up with such a man as the captain of its ship of state?
---
Umaru Musa Yar'Adua became Obasanjo's self-chosen successor. The man's health was so wretched that he was often a no-show at campaign stops. On one occasion, while Yar'Adua lay in a hospital abroad, it fell to Obasanjo to quell rumors of the candidate's demise. Dialing Yar'Adua at his location in a foreign hospital, Obasanjo put him on speaker and asked the now famous, comical question, "Umaru, are you dead?" Despite Yar'Adua's ravaged health, he was wangled into office as president. In office, his most significant act was to travel to one foreign country to another to attend to his medical troubles.
At his death, his VP, Goodluck Jonathan, inherited the presidential office. A soft-spoken man who carried himself with a reserve reminiscent of his early life as a shoeless youth, he was likable as a person, but retiring as a leader. His apparent inability to rein in his loquacious wife and a litter of political personalities mirrored an indecisiveness that marked—and ultimately derailed—his tenure.
As if Nigeria had not suffered enough under the ministrations of Obasanjo and others, in came Muhammadu Buhari as president in 2015. The man had spent so many years seeking to be president, but you could see no sign that he had any vision of what to do once he secured power. Like Yar'Adua, he's spent a huge chunk of his presidency looking after his health—in foreign hospitals. Besides that, he has presided over the sharpest devaluation of Nigeria's prospects in its history.
---
A major question for 2023 is whether Nigeria's obsession with hiring broken men as leaders will endure. Should Obi turn out an underwhelming candidate in next year's election, it may well be for the perverse reason that he's not broken enough, in body or mind, to be considered for the job of running Nigeria.
Okechukwu Ndibe, better known as Okey Ndibe, (born 1960) an acclaimed Nigerian novelist, political columnist and essayist  was born in Yola, Nigeria. He is the author of Arrows of Rain and Foreign Gods, Inc.
Ndibe has worked as a professor at several colleges, including Connecticut College, Bard College at Simon's Rock, Trinity College in Hartford, Connecticut, and Brown University.
We are honored that he brings his sharp intellectual depth and years of political activism to write for Life and Times.