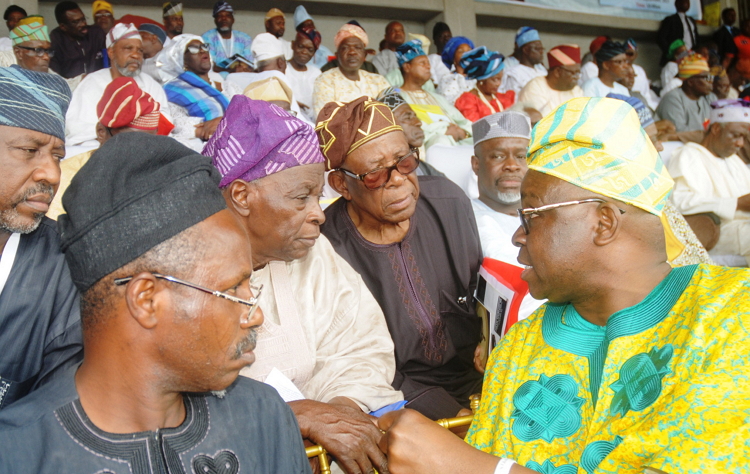 Gift Joseph Okpakorese
According to media correspondence, The Guardian, they have intimated the general public with the news of the ongoing debates that ensued amongst a majority of Yoruba rulers and elders, who were insistent upon the self-determination agenda being advocated by some critical stakeholders in the Southwest.
In the opinion of the Yoruba Council of Elders (YCE), the motions by Sunday Adeyemo (Igboho) and his partners might deplete the Yoruba race and lead to self-extinction, if not properly managed.
Reacting to the present situation of things in Osogbo last week, concerning this lingering crisis, Chief Kunle Olajide, the Secretary-General of YCE, on behalf of the group, shared his thoughts, criticizing the decision by Sunday Igboho, Prof. Banji Akintoye, and others for announcing that the Yorubas are no more part of Nigeria. This criticism by Chief kunle was as a result of the fact that Akintoye, who happens to be the ruler of Ilana Omo Oodua, was noticed beside Igboho in a viral video, endorsing and commenting that, "if that is what the Yoruba people want, so be it."
Nonetheless, Olajide emphasized that any endeavour by the Yorubas to disintegrate from the federation, without an adequate strategy, would spell serious negative consequences, destruction, and a great magnitude of suicide for the Yoruba people. He continued stating that, despite the previous maltreatment of the Yorubas since the inception of Nigerian, departing the country, however, was the wrong decision and would not be the absolute remedy.
The Minister of Interior and former governor of Osun State, Rauf Aregbesola, In line with the opinions of Olajide, advised against it, stating that calls for separation by some ethnic groups are "expensive and can be disruptive." He made this disclosure while commenting on his investiture as grand patron by the Nigeria Union of Journalists (NUJ), Southwest Zone, and conferment of the award of excellence in leadership, held at the Premier Hotel, Ibadan.
Olajide However expressed the view of the Yorubas stating that; "Our position in the YCE is that nobody is happy with the Nigeria of today; we are not happy at all, especially the Yoruba nation. The Yorubas are suffering the greatest loss in the Nigeria project. We have invested greatly in this country, but the country has continued to drag us down.
"Yes, all these agitations with this rising crescendo are due to the frustration of our youths and they are justifiably angry because their future is at stake. Nevertheless, we must moderate their actions.
"That Nigeria ceases to exist from March 17 is illusory effusion. We can't rush to take actions that are bound to consume us. We must use our talents to read the barometer of the state of the country correctly and then chart our ways to victory and success".
"If you go to war where you are grossly disadvantaged, you are committing mass suicide, and as elders in the Yoruba nation, we will not lead our people to commit mass suicide.
"Everybody is free to say whatever he likes; you can say there is no Nigeria, but in reality, you can see that Nigeria exists. At the height of anger is insanity. What we are seeing in this Federal Government doesn't give cause for cheers at all.
"The country is collapsing before our very eyes and we have never been this polarised like this in the history of Nigeria that I know. So, everybody who is angry has the right to be angry and there is anger everywhere you go in Nigeria, not only in the Yoruba nation, including Katsina, the home state of the President
"Therefore, for me, this administration has to retrace itself, otherwise, the country will implode before its eyes."
He continued; "I am surprised that Akintoye, a professor of History, could be part of such illusory effusion. Where did they get the mandate? Who gave them that mandate? Where did the Yoruba people meet? And when I talk about Yoruba, you would agree with me that we have elected constitutional government in place. We voted for them; we have governors, state assembly members, national assembly members.
"How can a handful of people, irrespective of professorship, just sit down somewhere and pronounce Nigeria dead? Was that how Nigeria was pronounced alive in 1914?
"There are processes of accomplishing any goal or objective anywhere in the world. You haven't called us together, our elected governors were not there, our monarchs were not there and you just make pronouncements. You are exposing the mass of our people to danger because a constituted government has the right to protect the sovereignty of a nation.
"The Federal Government, failing as it is, bad as it is, still has a duty to, at least, keep this country one. And anybody who is making inflammatory and inciting statements is doing that at his risk and the risk of his constituency.
"Akintoye lacks the mandate to speak for the Yoruba people. We must seek constitutional means to reject the 1999 Constitution."
Aregbesola stated: "Besides, those who take the precipitate action of resorting to armed conflict often plunged their land and people to ruin from which there may not be an exit option.
"Nations are often locked in civil wars of mutually assured destruction in which peradventure one side wins, the victory will turn to ashes because the cost of victory is the loss of everything that was fought for."
Stressing the need for unity, he said that the building process is always very tortuous, adding "From all studies I am familiar with, welding together a heterogeneous people with disparate cultural and historical background is a long and tortuous process that can suffer colossal reversal at any time, irrespective of the progress already made, if the actors are not careful," citing the cases of Yugoslavia, Czechoslovakia, Ethiopia Soviet Union, and others.
"It is, therefore, anathema for me to accept ethnicity as a basis for the development of space and people. It is a fact of history that every division fostered by sectionalism will not stop until the minimum division is reached.
"The best way to go is to do away with the mindset currently at play that Nigeria is a lie and therefore must be balkanized. We are truly a diverse nation, but the strength in our diversity is immeasurable if only we would unite in its recognition.
Nigeria's destiny and purpose are very clear and they are divine.
"The argument that the current political configuration holds down the country may be admissible to a large extent, and we need to adjust our structure, both politically and economically.
"With the challenges we face in Nigeria today, I see an opportunity for us not to break up or break down, but to break open. Open up to ourselves in truth, so that we may appreciate each other, understand each other, honour each other and live together in peace and prosperity."