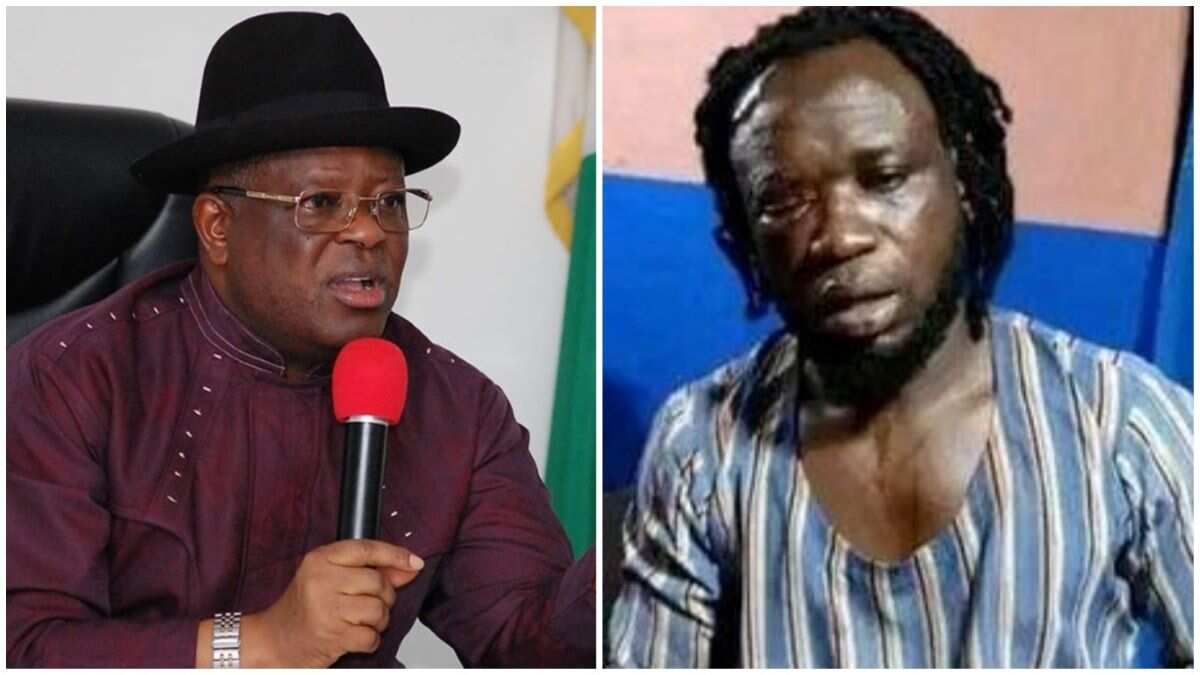 By Uche Amunike
A popular musician in Ebonyi State, Kelvin Obinabo, has ended up in hospital after being allegedly attacked and tortured by an Aide to Governor David Umahi, Machiavelli Uzo, for refusing to perform the campaign song of the Governorship candidate of the All Progressives Congress , APC, Mr Francis Nwifuru.
Narrating his ordeal, the musician informed newsmen, Tuesday, that Uzo, who is the Coordinator of Ohaozara Development Centre in the Ohaozara Local Government Area of the state, alongside his loyalists tortured and beat him to stupor on Saturday and locked him up in a dark room.
According to him,  the Chairman of the Local Government Area, Mr Consider Ajah, hired him to perform at the burial ceremony of his mother-in-law. At nightfall, he instructed his crew to pack up so they could leave. That was when all hell broke loose.
Hear him: 'It was at that point that the Ohaozara Development Centre Coordinator,  Machiavelli Uzo, emerged from nowhere and ordered me to play the campaign song of the APC governorship candidate in the state', he said.
According to the embattled musician, he refused to do so because, he had finished his performance for the event he was hired for and besides, he wasn't hired for a political event, but a burial ceremony.
However, he had no choice than to go on with the performance, after Uzo threatened to attack him if he dared refuse his request. His words: 'At that point, I had no choice and for the sake of peace, I picked up the microphone and started playing the song for him.'
'After about 20 minutes, I dropped the microphone; but Mr Uzo again ordered me to pick up the microphone and play until he was satisfied.'
'But I refused to sing and instead ordered my crew to pack up so we could leave the scene. At this point, the coordinator and his thugs descended on me, beating me with different weapons.'
'After beating me to almost a comatose state, they whisked me into a room in the compound and locked me up.'
'The police in Ohaozara later arrived, rescued me from the room and took me to the Alex Ekwueme Federal University Teaching Hospital, Abakaliki, for treatment', he explained.
Ibinabo stated that while his ordeal lasted, the Ohaozara Council Chairman was not present.
On his part, however, Machiavelli Uzo claimed that he had no hand in the attack of the Ebonyi state musician. He went on to say that they were friends which was why he pleaded with him to
 sing a song for him, to which he agreed.
Hear him: 'After that, we went inside the house and were making merry but after some time, he (Ibinabo) said he wanted to go outside and check something.'
'The next thing I heard was a commotion with some people beating him and chasing him into the house. I was also surprised by the action of his attackers like others inside,' he added.
The Ebonyi State Police Spokesman, Chris Anyanwu, when contacted, said he was not aware of the incident and promised to meet with the DPO of the area to get details and give newsmen a more detailed report. He appealed to all parties to remain calm while the needful is done.