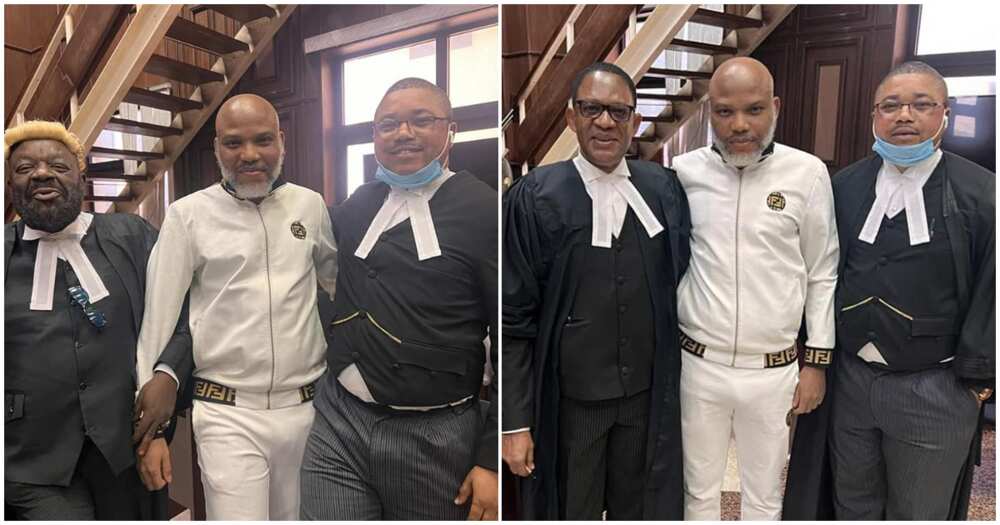 By Uche Amunike
The leader of the outlawed Indigenous People of Biafra (IPOB), Mazi Nnamdi Kanu, has finally been allowed to undergo his medical examination in an unnamed hospital in Abuja, after over one year of requesting to have access to his doctors for an independent medical examination as granted by the Federal High Court, Abuja in October 2021.
Speaking, through a statement released and signed, Saturday, by counsel to Nnamdi Kanu, Ifeanyi Ejiofor, his client received medical attention on Friday.
The statement partly read: 'We  are pleased to inform you that Onyendu Mazi Nnamdi Kanu met with his choice personal physician yesterday (Friday) in a hospital in Abuja, outside the facility of the State Security Service (SSS),' he said.
'As part of the protocol, I witnessed the consultation. The medical examination was seamless and productive, and he (Kanu) will be progressing to the next stage soon.'
Recall that after unsuccessfully getting the SSS to permit Nnamdi Kanu to visit his medical doctors as ordered by the Federal High Court in 2021, his lead counsel,  Mike Ozekhome sued the SSS at the Federal High Court, Abuja, praying the court for an order granting Kanu unhindered access to medical doctors of his choice for his health condition in a suit marked FHC/ABJ/CS/2341/2022.
Counsel to the SSS, A.M. Danladi submitted that the court should ignore the application,  with claims that records show that Nnamdi Kanu was 'clinically stable and had been receiving adequate medical attention while in their facility.
Justice Binta Nyako, however ordered that Kanu is granted access to his medicals for an independent medical examination, citing Section 7 of the Anti-torture Act, 2017, which provides that a person who is in detention or undergoing custodial investigation is permitted to demand a physical and psychological examination by an independent and competent doctor of his choice after interrogation.  He shall however, be supervised by the SSS, by recording and sealing the whole process for reasons of security.
Nnamdi Kanu returned back to the DSS custody on Sunday according to his Counsel, Ifeanyi Ejiofor, who told newsmen that he witnessed the medical examination which was very seamless and productive.
His words: 'Sequel to our avowed assurance to always keep Ezigbo UmuChineke abreast of pertinent happenings, especially with Onyendu's health status, welfare, and update on his legal matters, we are pleased to inform you that Onyendu Mazi Nnamdi Kanu met with his choice personal physician yesterday in a hospital in Abuja, outside the facility of the State Security Service.'
'As part of the protocol, I witnessed the consultation. The medical examination was seamless and productive, and he will be progressing to the next stage soon.'
Relatively, Kanu has warned Biafra Agitator, Simon Ekpa, to put an end to every sit-at-home order in the southeast. In a hand written letter, which he authorized to his special counsel, Aloy Ejimakor, he instructed Ekpa to make a public announcement, stating that he (Ekpa) has received a direct order from him (Kanu), to cancel any pending sit-at-home in place at the moment.'