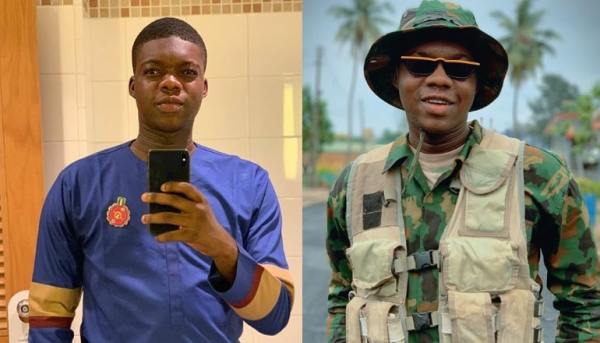 By Uche Amunike
Nigerian Navy spokesperson, Suleiman Dahun, has confirmed that popular comedian, Ahmed Gafar, also known as Comedian Cute Abiola, who was declared missing, Monday, by his colleague, Mr Macaroni, is detained in Naval custody.
Mr Dahun stated that the young comedian cum Naval Officer was in custody for violating the Armed Forces Social Media Policy.
He explains that the policy specifies the rules of engagement of personnel, as well as salient regulations concerning their usage of social media and matters of official concerns.
Comedian Cute Abiola  was asked to report to the office from his leave to defend himself during his leave, but he ignored their call and exhausted the period his leave lasted. This was what led to his arrest after he resumed and reported to his office on Monday.
Dahun went further to issue a press statements to debunk the trending news that Comedian Cute Abiola was missing and acknowledged that he is in their custody.
Part of the statement read: 'The attention of the Nigerian Navy, has been drawn to an online news story which claims that naval personnel, OSCOMP Abdugafar A, who incidentally is a popular comedian known as Cute Abiola, has gone missing'.
'The Nigeria Army wishes to debunk the false news report currently trending online. OSCOMP Abdugafar is currently under custody in his unit for breaching the Armed forces social media policy and refusal to obey a particular order'.
Dahun reiterated that it was expedient for their personnel to obey the provisions made and allowed by the Armed Forces Social Media Policy in the way they use social media platforms as these policies are made to protect the integrity of activities concerning the armed forces.
He explained that it wasn't the first time comedian Cute Abiola  will be arrested for going against the Nigerian Armed Forces Social Media Policy.
In 2020, he was arrested after his birthday pictures in the naval uniform went viral, but was released on May 4, 2020.
Concerning his recent arrests and detention, he posted a video of himself wearing the military uniform and wielding a gun. It was a scene he shot in Funke Akindele's comedy-drama,  Jenifa's Diary.
Then Nigerian Armed Forces Social Media Policy is enshrined in the Armed  Forces Act of 2017. The law allows for use for ways to use social media by military personnel and this includes the extent to which members of their families are allowed to use social media
The guidelines say that personnel are not allowed to post their pictures or those of their colleagues in military  uniforms or pictures containing military structures, platforms and other military related items. It also states that military personnel are expected to warn their family members against controversial conduct and social media.
'Personnel will be held liable for any security issues arising from postings in respect of them by civilian friends or relations. They are, therefore, to educate their friends and relations as necessary regarding military security and what should not be posted on social media,' the guideline reads.
Finally, the policy sldo stipulated that actions on Social Media that are regarded as offences and punishment are to be meted out.