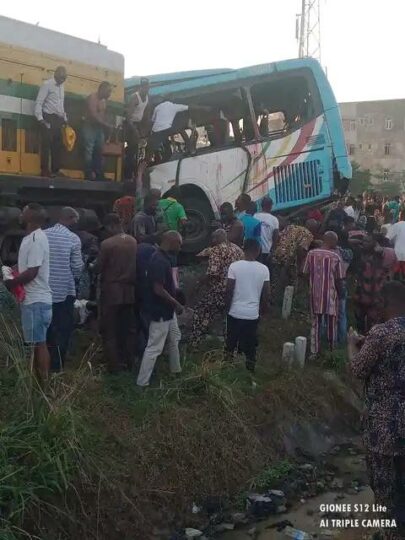 A Viale BRT bus with an unknown registration number and a train were involved in an accident at the PWD bus stop, off Old Works Road in Ikeja, Lagos, on Thursday morning.
Investigation revealed that the immediate cause of the accident was reckless driving on the part of the BRT bus driver.
He was trying to beat the train traffic signal leading the moving train to ram into the bus.
Unfortunately, two adults were confirmed dead and several others were seriously injured.
The injured victims have been administered first-aid treatments by the medical team of Lagos State Emergency Management Agency (LASEMA).
They have also been transported to the trauma centre at Lagos State University Teaching Hospital, LASUTH Ikeja for further treatment.
The LASEMA's LRT at Cappa alongside LRT at C3, LRU paramedics at C3, Onipanu, Cappa, LASAMBUS officials, Nigeria Police Force, LASTMA, LNSC, and Nigerian Army are responders present at the scene of the incident.