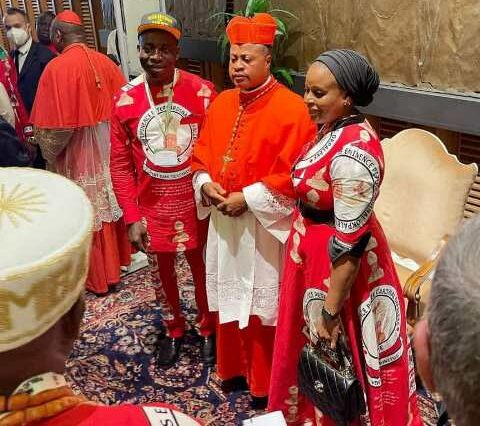 By Uche Amunike
The Catholic Bishop of Ekwulobia Diocese in Anambra State, Bishop Peter Okpaleke is one, out of two African bishops and the only Nigerian who made the list of the new Cardinals appointed by Pope Francis, Saturday, at the St Peter's Basilica, Vatican City, Rome.
The college of cardinals, which is made up of senior priests that aid the Pope in overseeing the affairs of the church are usually helpful during the Papal elections in the Basilica as they also cast their votes in the election of a new Pope. These new cardinals appointed by Pope Francis are an addition to this college of cardinals and their number has now increased from 208 to 229.
Recall that the newly appointed Peter Okpaleke was shabbily treated by the local clergy and laity of Ahiara diocese, Imo state after his consecration in 2013. He was appointed Bishop of Ahiara diocese, in 2012. Exactly one year after, he was posted to Ahiara diocese as Chief Shepherd, but he was never accepted by his flock as they carried out a protest, Clergy and laity alike, saying they wanted an Indigene of their town as bishop and Okpaleke should go.
Okpaleke was forced to tender his resignation as a result of his rejection and was left with no choice than to leave Ahiara. He however remained in the Catholic Diocese of Awka, helping out in different ways, until he was ordained Bishop of the newly created Ekwulobia diocese, Anambra state in April, 2020.
This is perhaps, why the Catholic faithful have been overjoyed, seeing his name in the list of new Cardinals appointed by Pope Francis over the weekend.
Speaking, during an interview with Vatican City News, the new Cardinal talked about his joy at receiving the news of his appointment and how his pastoral experiences helped in giving him inspiration in his new role.
His words: 'We know that all things work for good for those who love God'.
Okpaleke stated that he considered his own unworthiness and shortcomings, but by the Grace of God, it had pleased the Holy Spirit working in the Church. He stated that God granted him peace like he had never experienced during his trying moments.
Hear him: 'Jesus talks of this type of peace in John 14:27. Now, I know what Jesus meant; that he gives us peace; not the kind of peace that the world gives.'
'Ours is a providential God who, in spite of seeming confusion and randomness, directs history to his purpose and invites all to open themselves up and contribute their own God-given energies, insights, and talents to the Divine project of making the face of the Earth to reflect more clearly, the Kingdom of God'.
The Anambra contingent was impressive as Presidential candidate under the Labour Party, Peter Obi was in attendance. Obi, who described the new Cardinal as a blessing to the Universal church, extolled him for his patience, understanding and general demeanor which has served as a propeller In his priestly journey.
Governor Chukwuma Soludo and his wife were also In attendance. He described the day as historical as it fell on same day as the 31st anniversary of the creation of Anambra State.