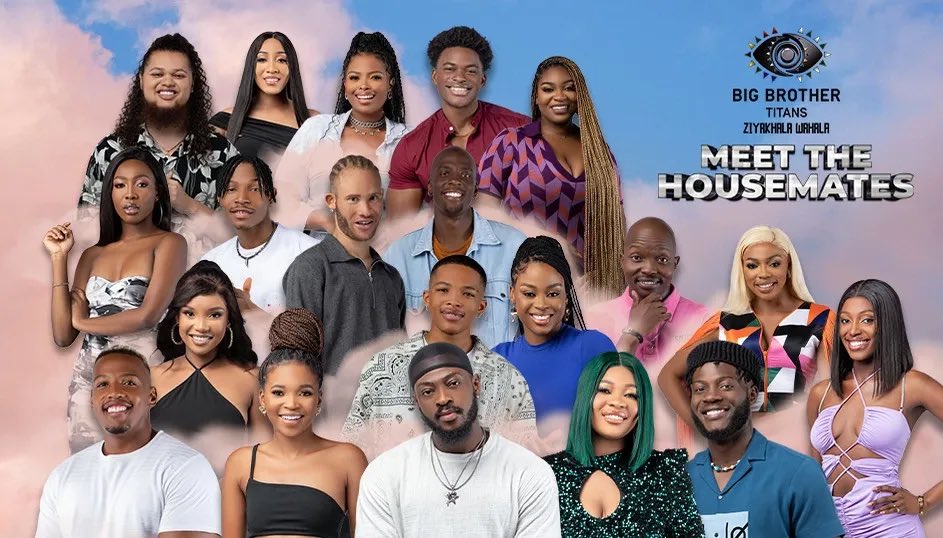 By Uche Amunike
Twenty Big Brother Titans housemates have converged for the 2023 edition of the Big Brother show, as they kicked off the much awaited reality show amidst a lot of excitement, Sunday, to compete for and produce one winner for the star prize of a whooping $100,000 by the end of the show.
In the past, the reality show featured only Nigerians in Big Brother Naija, while the Big Brother Africa version featured housemates from across the continent. The Big Brother Titans, however, will feature only Nigerians and South Africans.
The first caller in the house was a  25 year old lady from South Africa called Cossy who described herself as fun loving, but 'serious minded.
After Cossy, a second housemate was unveiled. His name is Yemi Cregx and he stated that he really looked forward to learning a lot about South Africans while the show lasted.
Cossy and Yemi hit it off almost immediately like old friends and Cregx at a point, was seen helping Cossy to adjust her wig, sparking off social media buzzes, shortly after.
The duo were not the only Big Brother Titans Housemates in the house for too long, as they were joined by other housemates from both countries.
Juicy Jay, Khehla, Nelisa, Khosi, Ipeleng, Yaya, Thabanq, Justin and Tsatii and Mmeli joined the house from South Africa, while Olivia, Marven, Jenni O, Blaqboy, Jaycee, Ebubu, Yvonne, Nana and Kanaga.
The popular reality show has been gaining different reactions from the social media as it is, as most Nigerians say that it is coming during a significant time in Nigeria when everyone should have their hands on deck to prepare for the general election in February.
The organizer of the show, who is the Managing Director and Chief Executive Officer of MultiChoice Nigeria, John Ugbe, has however said that it was totally unavoidable not to pair South Africans and Nigerians in one house due to the popularity of the reality show.
In reaction to comments by critics that the show would distract a lot of Nigerian youths from the forthcoming elections, Ugbe stressed thatNigerian youths are responsible people who know their priorities.
His words: 'As two of the biggest economies in Africa, it was only a matter of time before something like this would come up. Just like there has been a clash of music genres such as afrobeats (Nigeria) and amapiano (South Africa), there was bound to be something of this nature.'
Significantly, an announcement was made during the show by the Independent National Electoral Commission (INEC), enlighteningNigerians on the process to undergo in order to collect their permanent voters cards.
The Big Brother Titans housemates would be in the expansive and beautifully designed Big Brother house for the 72 days that the show would last and features like the Head of House games, tasks, diary sessions and Friday night parties will still be part of the show.
Co-hosts will be Nigerian Ebuka Obi-Uchendu and South African Lawrence Maleke.