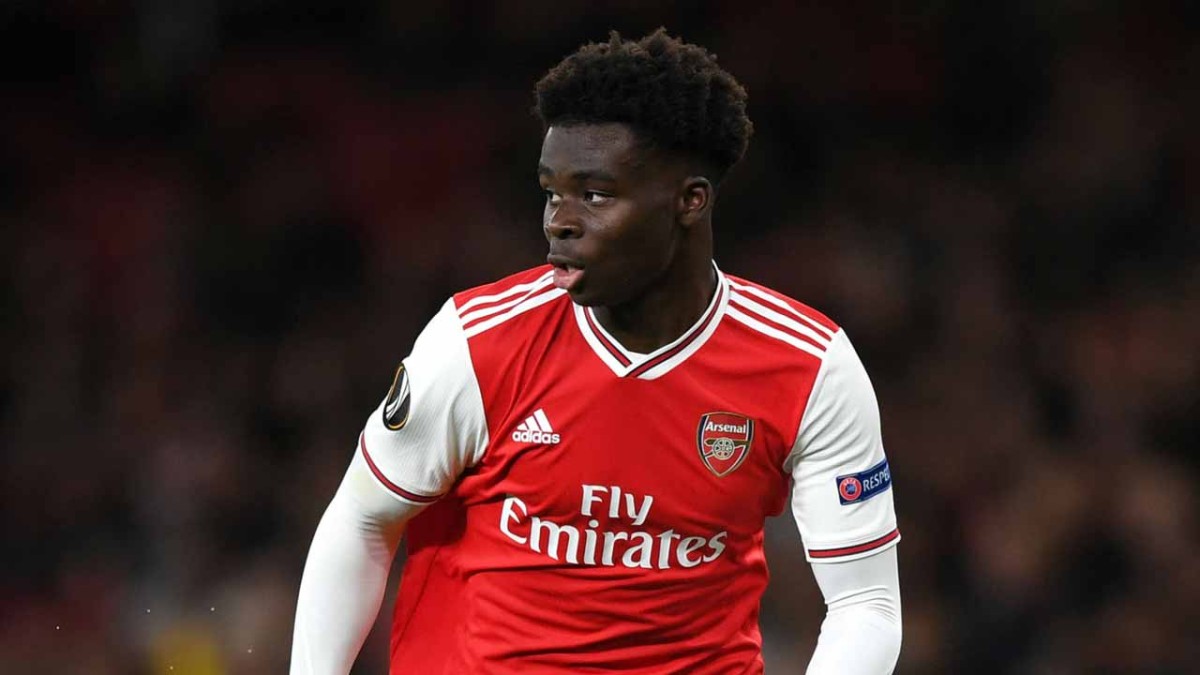 By Uche Amunike
Twenty-one year old Arsenal and England
Star, Bukayo Saka, has shown great philanthropy by paying for the surgery fees of 120 Nigerian children who just underwent life threatening medical surgeries bordering on Inguinal hernias and brain tumors, in the country, as he gears up to take part in his first World Cup, after being called up by Gareth Southgate's England squad.
The young Arsenal star is among the players that teamed up with popular youth charity, BigShoe, in recent times, to make a difference in the lives of ailing children. He was backed up specifically by Mesut Ozil, Paul Pogba and Phillip Lahm to support children in the city of Kano, which is the second largest in Nigeria.
Shortly after the successful surgeries, Bukayo Saka stated on Bigshoe's twitter account: 'For me, it's important, you know, that every child has the same opportunity to achieve their dreams and if I can do anything to help, like the surgeries, you know, I really wanna do this. So yeah, it was very important to me to do this.'
'It makes me very happy, especially when I see the kids happy, I can see their parents are happy and, you know, they can go on with their futures and achieve their dreams and have every right to do it. So yeah, I'm happy and I just want to do more and more and more to help as much children as I can.'
'You know, I don't think this was about me, it was about, obviously, the 120 children. So, as long as we satisfied them, this was more important and I think we did. So yeah, I'm happy. I just feel like it's about finding the right platform and trusting the right people to deliver this for you, and I'm happy I found you guys, BigShoe, and you helped me to deliver this project. Together, BigShoe, our goal is to help the children', he stated.
The surgeries were carried out, mid-October successfully by a team of doctors at the Prime Specialist Hospital,  who handled the different cases and took care of all the ailing children. It took place in the large city of Kano, where a lot of children were greatly affected by myriads of ailments.
Bukayo Saka, born in Ealing, England, is an English professional footballer who plays as a winger, left-back or midfielder for Premier League Club, Arsenal and the England National Team. He is known for being incisive and creative on the field and considered one of the best and youngest football players in the world.
His first-team club career was spent with Arsenal where he ended up being one of her most prolific and influential players. Apart from winning an FA Cup and an FA Community Shield, he was named Arsenal Player of the season, after his performance during the 2020/21 and 2021/22 seasons.
Before he made his debut for the senior team in October 2020, Saka represented England at various youth levels. He played for English squads, both at UEFA Euro 2020 and 2022 FIFA World Cup.