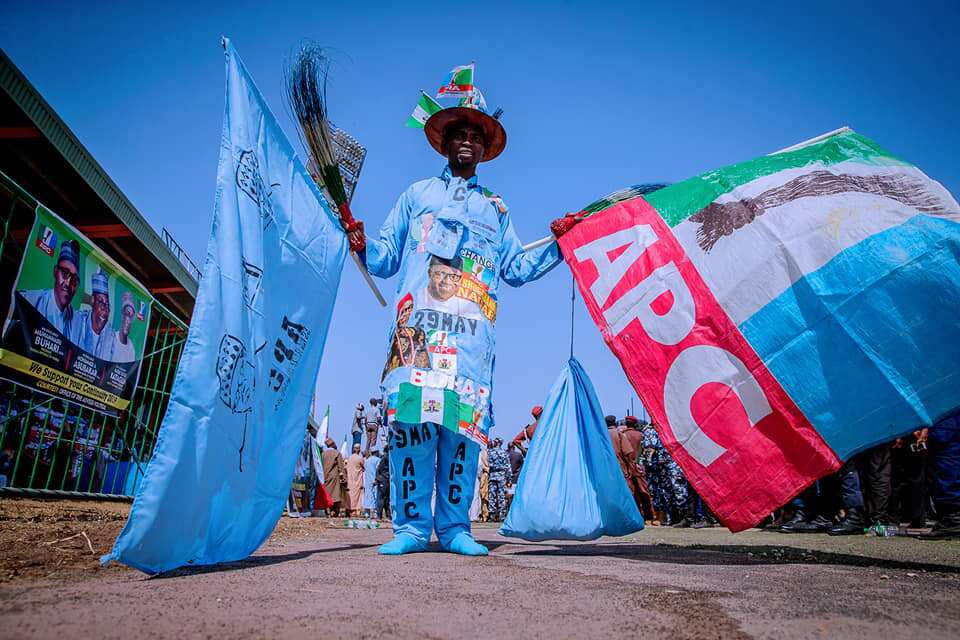 By Uche Amunike
The All Progressives Congress (APC) national convention which is billed to hold on February 26, 2022 seems unlikely to take place as the Independent National Electoral Commission (INEC) is yet to be notified of their convention even though it's just 3 days to the deadline.
Speaking to newsmen on Tuesday, the INEC National Commissioner for Voter Education and Publicity, Mr Festus Okoye made this assertion, while reiterating that the commission had not been notified of any convention.
According to the Electoral Act, it is mandatory for all political parties to notify INEC of any planned convention at least 21 days before the event.
This clearly shows that since the APC National Convention is expected to be held on February 26th, the party has till February 5 to submit its notification to the Independent National Electoral Commission.
It's still not clear why the APC is yet to do the needful, even as all efforts made to get a response from the party remained frustrating as the Secretary of the APC Caretaker Committee, John Akpanudoedehe did not respond to an inquiry, Tuesday evening.
The peace committee which was set up with the intention to make peace between all warring factions in over 13 States has submitted their interim report on Monday, but pleaded for an extra one week in order to complete their report. The committee is headed by Senator Abdullahi Adamu, who is also a former governor of Nasarawa state.
Speaking with newsmen after submitting his committee's interim report, Adamu disclosed that the reason why his committee requested for an extra week was because they wanted to explore avenues of achieving absolute reconciliation of aggrieved members, as not less than 47 petitions are presently filed by aggrieved party faithful from different parts of the country.
He however said that the caretaker committee of the party which is headed by Governor Mai Mala Buni is free to decide if they want to stick to the recommendation of his committee or not, before the conduct of the APC national convention scheduled to take place, February 26.
His words: 'Reconciliation is a work in progress. Until we get the final report from the national secretariat, we cannot say it is successful. We cannot declare our own work successful. We will be more deceitful if we do so. For us, we can say our work is inconclusive'.
'As of today, we still have petitions coming in. People are still trooping in to come and see us. And we cannot in all fairness stop them. Nobody can pronounce with certitude on political conflicts that are based on ego, in some cases, perception. None of us have control over that.'
In response to the interim report of the Senator Adamu-led committee, Senator Ken Nnamani who is a member of the Caretaker/ Extraordinary Convention Planning Committee (CECPC), stood in for the Chairman, Mai Mala Buni as he expressed gratitude to Adamu and his team while averring that the committee's findings will help in no small measure, to ensure a successful APC national convention as well as the general election.
The APC has been engaged and crises in several states including Zamfara, Delta, Osun, Kwara, Rivers, Benue, Akwa Ibom, Kaduna, Bauchi, Oyo and most recently, Kebbi state.