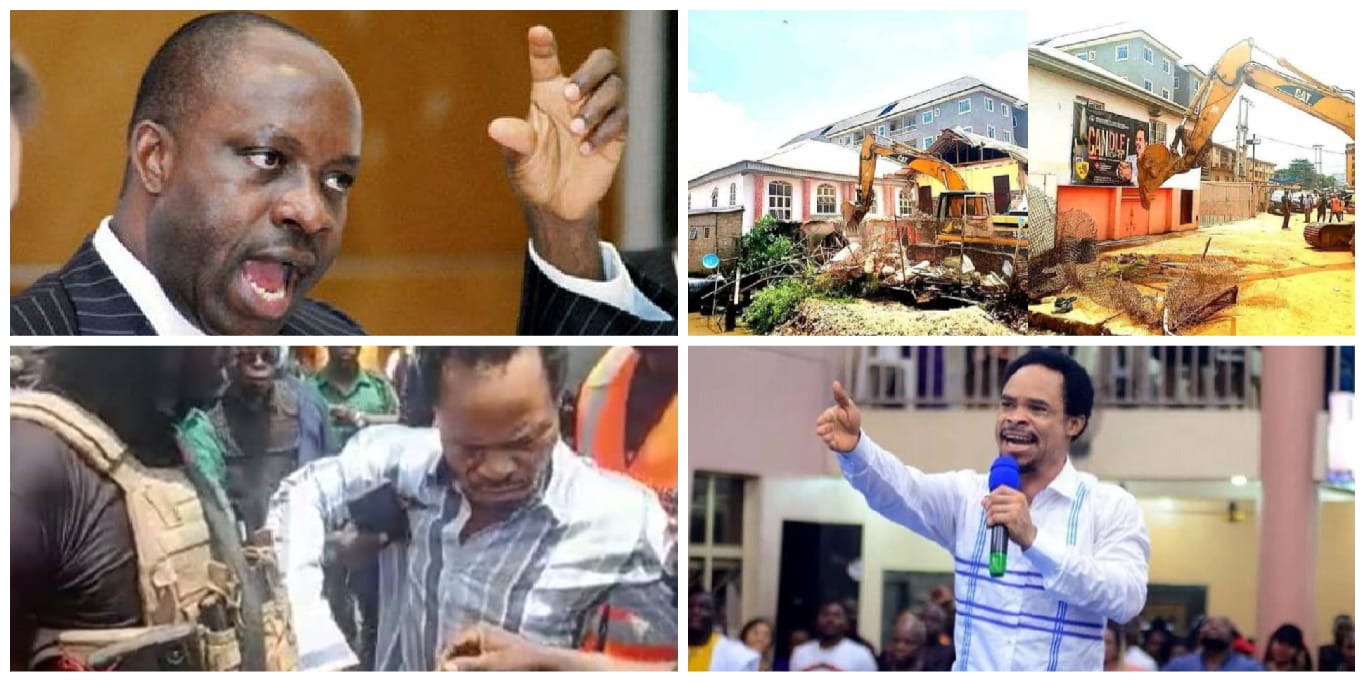 By Uche Amunike
The Anambra State Government has demolished some parts of popular Cleric, Prophet Odumeje's Church, known as Mountain of Holy Ghost Intervention and Deliverance Ministry, Thursday, as a part of the resolve of the government to remove all illegal structures obstructing development in the state.
The prophet, Chukwuemeka Ohanaemere, popularly known as Odumeje in Onitsha and environs, was aware that the demolished parts of his church building, precisely the Security Office and the building housing the generating set had earlier been marked for demolition by the state government, as far back as April, for encroaching on a huge canal and blocking the water ways.
Governor Soludo also warned, shortly after he took over office that 200 houses would be demolished, having been marked for the exercise, at the commercial city of Onitsha, even as he explained the need to begin the evacuation of affected buildings to landlords.
These were his words: ' You will see us in action if you disobey. The government will come hard on anyone who attempts to disturb the flow of work. We have all it takes to demolish the buildings, just dynamite and the buildings go in a few seconds. We are not coming for a second meeting again with you people. There are so many dumpsites near residential buildings and water must find its course even if you try to stop it. We don't want to use force to do it because we are people oriented.
A viral video showing the cleric being manhandled by security agents elicited social media reactions, with some people condemning both the manner in which he was physically harassed and the demolition itself. Some others however commended the state government for taking that bold step in order to clear the area of such illegal structures which contributed in no small measure, to the blockage of free flow of drainage, stating that the demolition of Prophet Odumeje's church should serve as a deterrent to other property owners who see themselves as people who are above the law.
Recall that when Governor Soludo came on board, he did mention that one of the major plans he had for the state was to turn around major urban areas in the state like Onitsha, Ekwulobia, Nnewi and Awka to livable mega cities which will help him to enforce minimum best practices and standards for the ease of transport, electrification, communication, public conveniences and recreational facilities.
Shortly after the demolition of some parts of Prophet Odumeje's church was made public, Governor Soludo released a statement through his spokesperson, Christian Aburime in order to address the concerns of the general public.
Governor Soludo stated that all developers and landlords affected were given over two months notice from April 2022, to remove such illegal structures and they remained unruffled. Apart from Prophet Odumeje's church building, some other shops and perimeter fences were also demolished, he affirmed.
He was however silent on the physical harassment meted out to the embattled cleric.